Ladies, it's officially happened. Channing Tatum is off the market.
The Magic Mike has broken hearts across the globe, after announcing his engagement to Zoë Kravitz after two years of dating. The couple have been dating since August of 2021 after meeting on the set of Zoë's directorial debut Pussy Island. 
From then, the iconic couple have gone from strength to strength, and if Zoë's ring finger is anything to go by, they're now ready to take the step.
The pair attended Kendall Jenner's Halloween party over the weekend. Despite Channing Tatum dressing as a man-sized baby (fanny pack slung over one shoulder and all), all eyes were on the sparkler on Zoë's hand. 
Here's everything we know about the 7-carat cushion-cut diamond solitaire set in 18k yellow and blackened white gold.
What Does Zoë Kravtiz Engagement Ring Look Like?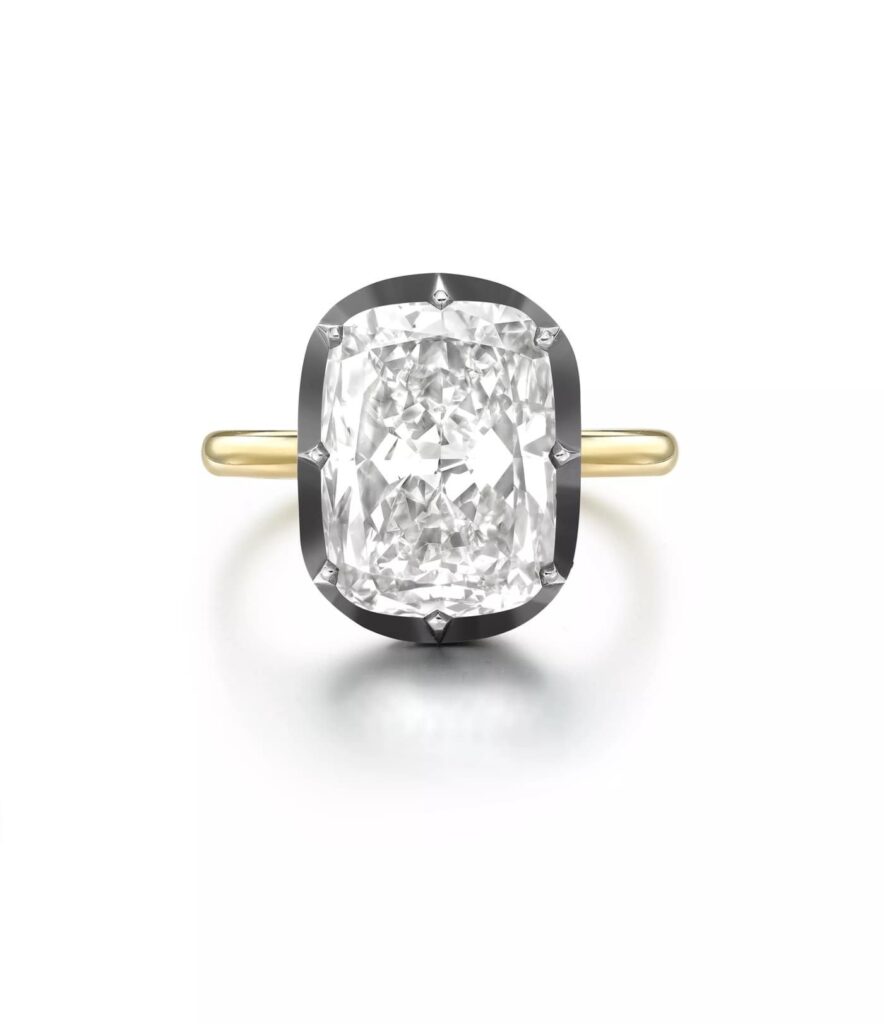 Zoë Kravitz is a style icon with a penchant for vintage jewelry, so it's no surprise that her engagement ring from Channing Tatum is anything but ordinary.
Made of 18k yellow and blackened white gold, the sparkler features a 7-carat cushion cut diamond in a solitaire setting. 
Considered to be an antique cut with a distinctive look, cushion cut diamonds are romantic cuts. They have a timeless appeal, combining a square or rectangular shape with rounded corners. The rounded corners provide a gentle, softer look compared to sharp-cornered shapes and are perfect for those who prefer a vintage look.
Who Designed The Ring?
This is speculation, but I'd say we're pretty close. If we were to make an educated guess, we'd say that the ring is from London jeweler Jessica McCormack.
Zoë's ring is a button-back engagement ring, which is a type of ring that has a button-shaped metal piece at the back of the setting, allowing the center stone to sit comfortably on the skin. These are a signature design of Jessica McCormack and Zoë has a long standing relationship with the brand. Her enduring love for jewelry designer Jessica McCormack has been no secret. In an interview with Vogue.com, Zoë expressed her deep admiration for McCormack's vintage-inspired pieces, which manage to exude timeless elegance while still feeling refreshingly contemporary.
We're going to put two and two together and say it's likely we know who's behind the sparkler.
With that in mind, I'd estimate Zoë's ring to be worth $300,000, but we won't get confirmation from the couple anytime soon. The pair are renowned for being private and pretty low-key in general — in fact, it's rare to hear them reference the relationship at all. 
In fact, Zoë took us all by surprise last year by giving us an insight, saying, "He makes me laugh and we both really love art and talking about art and the exploration of why we do what we do. We love to watch a film and break it down and talk about it and challenge each other."
Congratulations to Zoë and Channing — roll on the wedding.