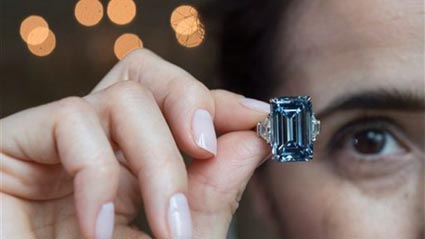 Trust us, you need to see this right now…
A 14.62-carat diamond is impressive enough as it is, but this 14.62-carat BLUE diamond is simply out of this world. The 'Oppenheimer Blue' as it's known was once owned by mining big-shot Philip Oppenheimer. If the name sounds familiar, it should – the Oppenheimer family built the world's most famous diamond mining company, DeBeers, and Philip oversaw its London operation. When he died in 1995 this incredibly rare blue gem (which up until then had been in his personal private collection) passed through a number of hands, and this month it finally made an appearance at a public auction in Christie's Geneva branch.
The Oppenheimer Blue is the largest stone of its kind to ever go under the hammer. It was expected to beat the world record set last November of $48.4 million for the 12.03 carat 'Blue Moon of Jasmine' blue diamond, which was bought by a Hong Kong billionaire for his 7-year old daughter.
After 20 minutes of intense bidding, the Oppenheimer Blue ended up being sold to a private collector for a mind-blowing $50.6 million, claiming the title of the most expensive polished diamond ever sold at auction and smashing its pre-auction valuation of $38-45 million. This time around, the identity of the buyer has not been revealed.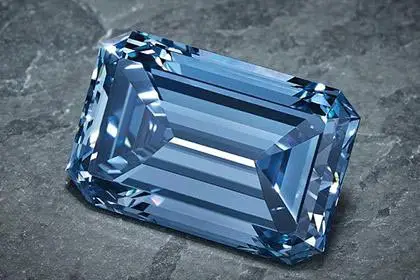 Blue diamonds are not only very rare, but they're also usually quite small and nowhere near 14 carats in size. Small blue diamonds of just 2 carats whip the jewellery world into a frenzy, so you can imagine the hype that surrounded the Oppenheimer Blue. By comparison, a 813 carat uncut white diamond sold for $63 million this month too. Seems like a bargain, doesn't it!?
There's no saying what incredible piece of jewellery this beautiful blue diamond will be added to, but for now it's an emerald cut set as the centrepiece of a ring with two trillion cut baguette white diamonds on either side. As you can probably guess, we'd say yes to this baby in a heartbeat!