Well, sales of replicas of her engagement ring. And for good reason too…
The Duchess of Cambridge, formerly known as Kate Middleton and now the wife of the British royal family's Prince William, wears one of the most famous engagement rings in the world. It's so famous it even has its own dedicated Wikipedia page – seriously! It was bought by Prince Charles in 1981 to mark his engagement to Lady Diana Spencer, who would later become the much beloved Princess Diana.
Diana selected the ring, which at the time cost £28,000, from Garrard jewellers. It consists of a 12 carat oval blue ceylon sapphire surrounded by 14 white diamonds in an 18 karat white gold setting. It was available in the jeweller's public collection for anyone to purchase; a surprising choice for royalty who usually opt for custom made pieces.
When Diana tragically died in a car accident in 1997, her young sons William and Harry chose mementos of hers to keep; Harry picked the ring and William chose a gold Cartier watch. They later swapped, and many years later when William decided to propose to Kate, he knew he wanted to use Diana's ring so that she could still be a part of such a happy moment in his life.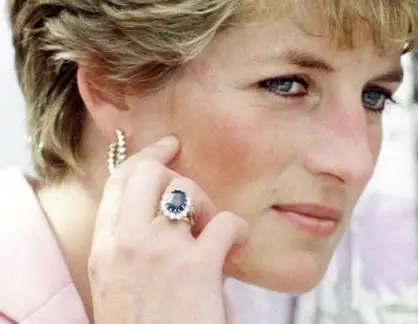 So, Kate wears the ring happily, the entire world is envious, and that brings us up to the present day. Now, the gift shop in Kensington Palace (the estate where William and Kate reside) has launched a Princess Diana jewellery collection. Along with a matching necklace and earrings, the sapphire engagement ring was set to be the centrepiece of the collection, until they were abruptly told not to supply it to the gift shop.
Many suspect the turnaround came directly from the royal family. The engagement ring is a hugely meaningful and sentimental piece for both William and Kate, and the rest of family surely agree that it would be somewhat disrespectful to Diana's memory to sell replicas of it. Plus, Kate probably wouldn't want to see so many people wearing her ring every day!
We have to admit, we can absolutely see where they're coming from and totally respect the decision. So if you want to get your hands on a replica of Kate's ring, best to go down the custom made route. Sorry!