Engagement ring and wedding traditions are changing. The bands we wear on our fingers don't really have a functional purpose anymore, apart from being a telltale sign for the opposite sex that you're definitely not single. But they still come with plenty of romance and symbolism, and they're pretty to look at too! So now that the rules are allowed to be broken, what are your options when it comes to wearing wedding bands and engagement rings? And which one is best for you? We take a look at the choices…
Wedding Band Only
Many couples these days are foregoing engagement rings entirely, using wedding bands as their symbol of marriage and commitment instead. This choice has a lot of positives. Wedding bands are usually overlooked entirely when there's an engagement ring involved, so waiting until your wedding day to put a ring on it can add an extra special meaning to the moment. It also gives you a chance to marry your personal styles through your weddings bands; you can have complementing finishes, matching metals, and really have fun with the design. If you already have an engagement ring, then you may feel the need to choose a wedding ring that matches it rather than something totally unique to your relationship and your marriage. And hey, wedding bands were around long before engagement rings, so this is arguably the ultimate traditional choice.
Engagement Ring Only
Conversely, there are plenty of brides-to-be who are foregoing wedding bands for pretty much the same reasons. Their engagement ring also functions as a wedding band and is used as one during the marriage ceremony. It makes day to day wearing a tad more practical, that's for sure. Some brides don't like wearing rings, so an engagement ring is more than enough for them. Others don't want anything – especially not a wedding band – to take away from the impact their engagement ring makes. And it also eliminates the aforementioned hassle of choosing a wedding band to fit and complement your first ring. You most likely forked over a lot of cash for your engagement ring, so why not let it take centre stage?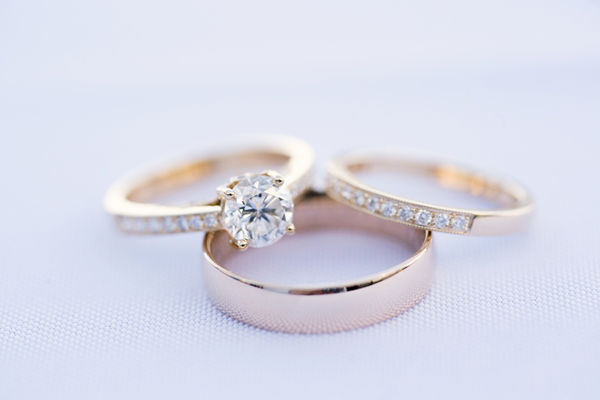 Both on One Finger
The most common option, and the one that's often thought of as the most traditional, is wearing your engagement ring and wedding band on the same finger of your left hand. Tradition aside however, there are a few good points to be made about this choice. Your wedding band doesn't have to be a plain ring in gold or platinum; it can be strategically used to enhance the appearance of your engagement ring. Consider not one, but two pave diamond wedding bands either side of your engagement ring – voila, your ring gets a beautiful diamond halo that makes it look like one giant piece of bling. You can also style your wedding band to match or complement your engagement ring, blending two pieces into one seamless design. It adds a certain finesse, not to mention some beautiful symbolism of your past and future meeting as one.
Both on Different Fingers
Traditions aren't as cut and dry or as obligatory as they used to be. If you're a non-traditional but still kind of traditional bride, what's stopping you from wearing both an engagement ring and wedding band, but on different fingers? Not only will you get double the bling, but it negates the need to have matching or complementary bands – you can get just as creative with your wedding band as you did with your engagement ring. It also means you can choose two completely different designs, and mix and match according to your outfit or your mood – if you wear either one of the two on your ring finger, your marital status will still be clear to all.