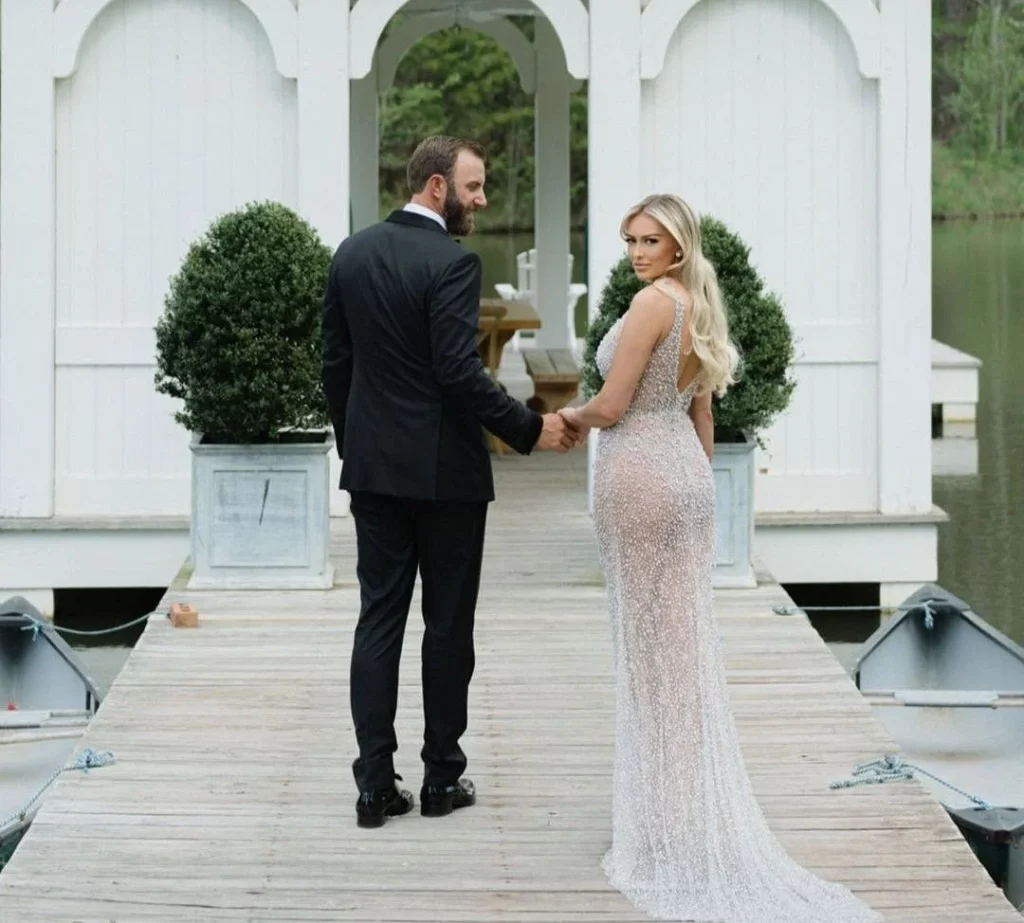 Source: Sportskeeda
Paulina Gretzky, the talented model, actress, and daughter of the legendary hockey player Wayne Gretzky, has captivated us with her stunning engagement ring. 
Today, we're giving you the inside scoop. From the design, to the jeweler, and everything in between. 
Here's everything you need to know about Paulina Gretzky's engagement ring.
What does Paulina's Engagement Ring look like?
Paulina Gretzky's engagement ring is a striking testament to her sophisticated and glamorous taste. The ring features an impressive 5-carat round brilliant-cut diamond, elegantly set in a diamond-encrusted platinum band. The harmonious blend of classic beauty and contemporary elegance creates a statement piece that perfectly captures Paulina's vibrant personality.
The round brilliant-cut diamond is the epitome of classic beauty and unparalleled sparkle. With 58 expertly crafted facets designed to maximize light reflection, this cut offers exceptional brilliance and fire, making it the ideal choice for those seeking a dazzling and timeless engagement ring.
What makes the choice of a platinum band special?
The platinum band of Paulina Gretzky's engagement ring adds an air of enduring elegance and durability to the design. Platinum is a strong and long-lasting metal, making it an ideal choice for a ring that symbolizes a lifetime commitment. Its natural, silvery-white hue perfectly complements the dazzling 5-carat round brilliant-cut diamond, enhancing its beauty and creating a stunning effect.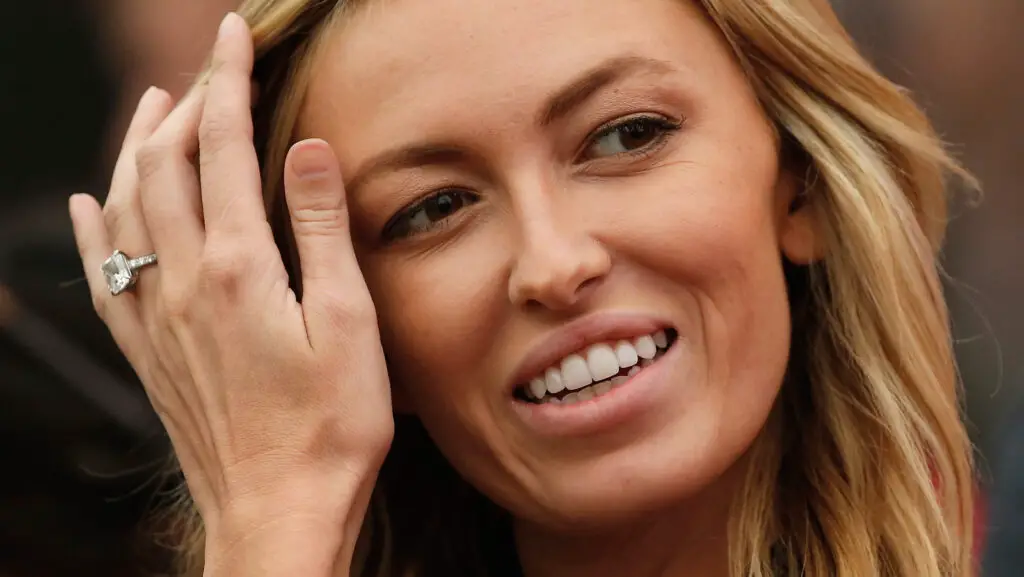 Source: Nicki Swift
Who is the jeweler behind Paulina Gretzky's engagement ring?
Paulina Gretzky's engagement ring was masterfully crafted by the renowned jeweler Jason of Beverly Hills. Jason of Beverly Hills is a renowned luxury jewelry designer and creator of some of the world's most exquisite and iconic pieces. The eponymous brand was founded by Jason Arasheben in 2005, and since then has become a go-to destination for Hollywood's elite and discerning clientele seeking one-of-a-kind and high-end jewelry. 
Based in Beverly Hills, California, Jason of Beverly Hills is also renowned for its exceptional collection of engagement rings, which are designed to capture the essence of everlasting love and romance. From classic and timeless designs to contemporary and avant-garde styles, each engagement ring is expertly crafted with unparalleled attention to detail and the highest quality materials.
What sets Jason of Beverly Hills apart in the world of engagement rings is its dedication to customization and personalization. Each ring can be tailored to the individual tastes and preferences of the client, ensuring that every piece is as unique and special as the love it represents. Jason shared his insights on crafting Paulina Gretzky's engagement ring, saying, "It was an honor to collaborate with Dustin to create a ring that truly reflects Paulina's personality and style. The 5-carat round brilliant-cut diamond, paired with the diamond-encrusted platinum band, creates a harmonious and luxurious piece that perfectly represents their love story."
Paulina's fiancé, Dustin Johnson, shared his thoughts on the ring as well, saying, "Working with Jason of Beverly Hills to create the perfect ring for Paulina was a fantastic experience. We wanted a ring that would capture her unique blend of elegance and glamour, and the final design exceeded our expectations."
How did the couple's love story influence the ring design?
Paulina Gretzky and Dustin Johnson's love story is one of shared passion, dedication, and unwavering support. Their bond is a testament to the power of love and commitment. The exquisite design of Paulina's engagement ring, with its classic beauty and contemporary elegance, perfectly captures the essence of their unique connection.