Hey, it's an easy mistake to make… or not!
If you've ever been engaged, or if someone close to you has ever gotten engaged, you'll relate to this story… until the celebrity shows up, of course. Charlyn Willis got engaged to her boyfriend Dennis just before Christmas, and naturally she was pretty excited about it. As one does these days when one gets engaged, she sent a snap of her gorgeous new engagement ring to her sister… except said sibling never replied. Weird, right?
Turns out in her excited state, Charlyn had gotten one digit of her sister's phone number wrong, so the picture of her glittering new engagement ring sent to someone else entirely. In fact, it sent to none other than Sarah Michelle Gellar, better known to 90s TV watchers as Buffy the Vampire Slayer! Many celebrities take no heed of fans sending them messages, but Sarah isn't most celebrities. Instead of ignoring the mishap, she instead personally replied!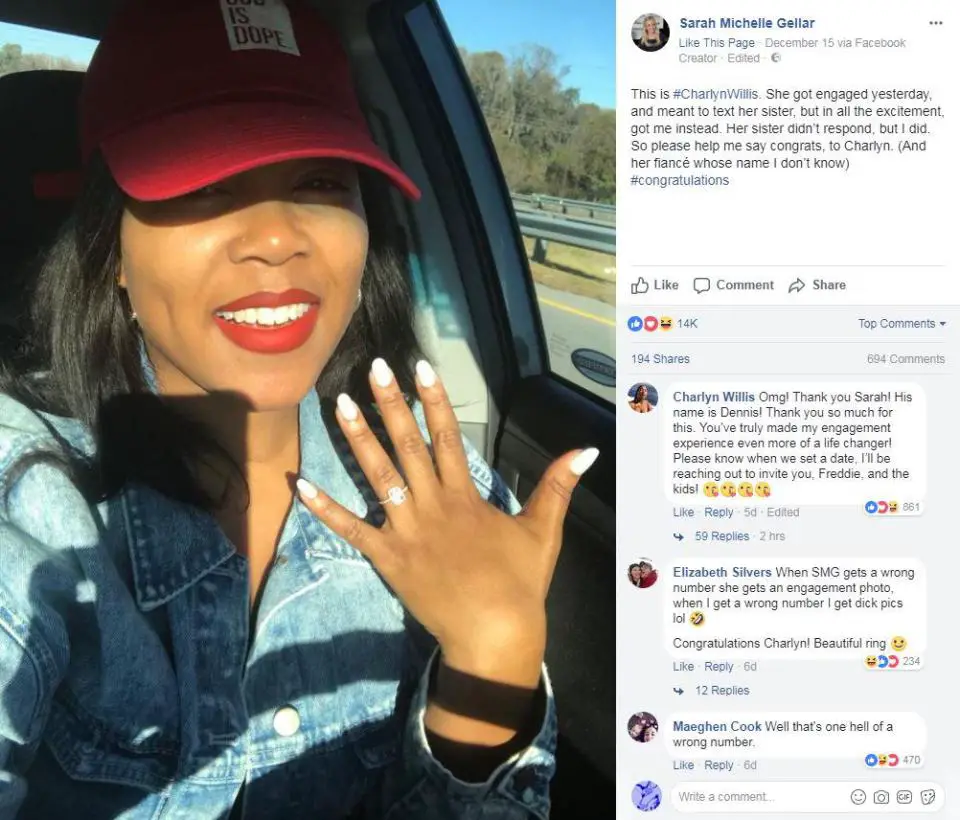 Sarah shared the misdirected photo on her own Instagram, writing "This is Charlyn Willis. She got engaged yesterday, and meant to text her sister, but in all the excitement, got me instead. Her sister didn't respond, but I did. So please help me say congrats, to Charlyn. (And her fiance whos name I don't know)." How cool is that?
Charlyn was obviously delighted, writing back to Sarah "Omg! Thank you Sarah! His name is Dennis! Thank you so much for this, you've made my engagement experience even more of a life changer! Please know when we set a date, I'll be reaching out to invite you, Freddie, and the kids!"
We wish Charlyn and Dennis all the best, and we really hope Sarah and Freddie show up to the wedding!