So you found the perfect engagement ring. Planned the perfect proposal. She said yes, and now you're planning the perfect wedding – congratulations! While it's easy to get swept up in floral arrangements, cake tasting, venue selection and all the rest, there's one part of your wedding day that often gets overlooked. It's a pretty important part, because it's the only part of the day that you'll keep with you every single day thereafter…. Your wedding ring!
Here's our guide to choosing the perfect wedding bands for both of you…
For Her: Match the metals
The one 'rule' you really should abide by with her wedding ring is to match its metal to her engagement ring. Not only does it make them look like a pair, it also prevents scratching. Different metals have different levels of 'hardness' – platinum is much harder than gold, so when a platinum ring rubs up against a gold one, it will scratch and scuff it very quickly. If she really likes the mismatched look however – or if she wants to work the stacked rings trend – just make sure the metals are of similar hardness. Ask your jeweler how best to maintain them in top condition, too.
For You: Choose a complementing design
There's no rule that says your wedding band has to match hers. If your styles are completely different, why should your rings be the same? However since you're officially joining your lives forever, having one matching detail is a sweet touch. You could choose the same metal but opt for a completely different design, take one element from her ring like an engraving or secret stone, or take the overall look of her ring and complement it so they look like a pair when side by side. After all, it's both differences and similarities that makes your partnership work, right?
For Her: Enhance the engagement ring
Since she'll be wearing her engagement ring and wedding ring on the same finger (if she's sticking to tradition), the wedding ring should enhance rather than overshadow the engagement ring. Stick to small stones – diamonds or gems with very delicate hues – and an understated design. If her engagement ring is heavily detailed, choose a pared back version of the design for the wedding band. Better yet, choose one element of the design to reflect – just not the big diamond on top! Finally, match the metals in type, colour or hardness as we said before (preferably, match all three).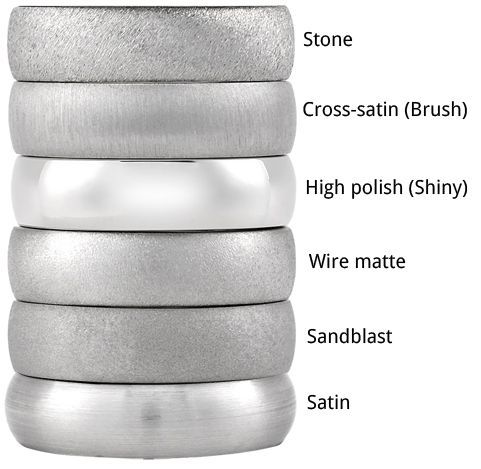 For You: Select a finish
Most modern grooms end up choosing a plain band in gold or platinum, foregoing gemstones for a cool and unique finish instead. You can be traditional and stick with a sleek and polished finish, but there is so much choice out there – be brave and bold! A matte or brushed finish is very modern and sophisticated; a hammered finish gives a unique, rugged look; engraving and inlays allow you to put your own stamp on a design… there's plenty you can do to make your wedding ring awesome instead of average. Keep in mind our previous point about your design complementing hers, then let loose!
For Both: Consider shape
When we say shape, we're talking about the edges, width and thickness of your ring – we're not asking you get a square or triangular ring! The most traditional and comfortable shape is the Court shape – slightly curved on both sides, with flat edges. The Flat Court is a contemporary update to this, with the top side flattened. The D-shape is the opposite to the Flat Court (i.e. flat bottom, curved top), and there are also Flat and Concave shapes to consider. It's really a personal choice of style and comfort. Don't rush into a choice – try all options on ring your finger for at least a couple of minutes and see what feels best.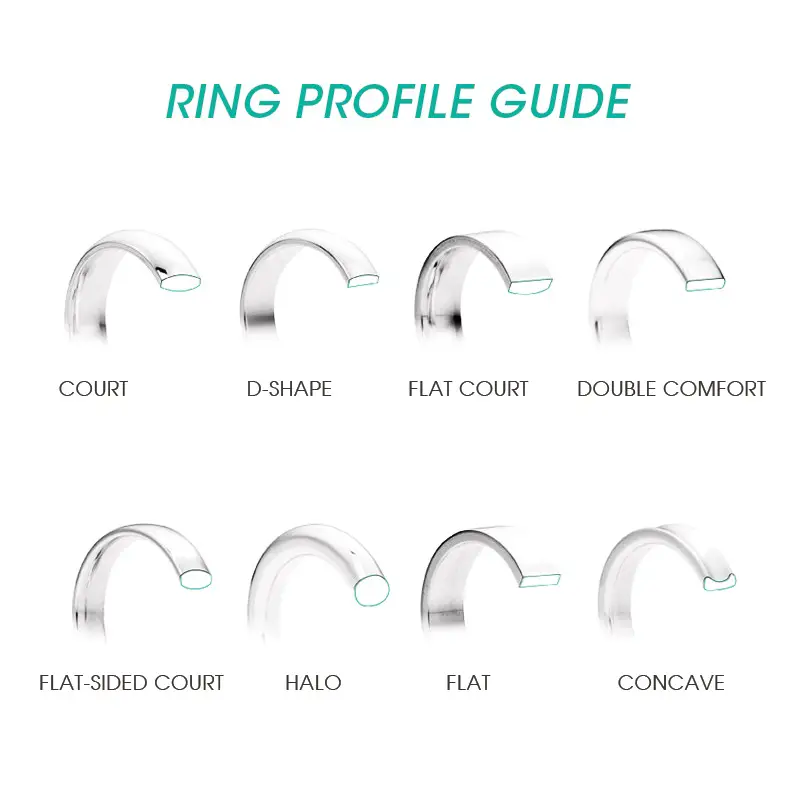 For Both: Don't forget the bigger picture
We can't stress this enough. Remember; you're going to wear this ring for the rest of your life! Sure, it's probably not the most important decision you'll ever make – but it's worth taking some time to get it right. Consider how much maintenance your ring will need over time, like if it will need replating or polishing, and how often. If you work with your hands a lot, factor this into your decision; you'll need a design that can handle more wear and tear. And if after a few months or years you end up hating your original choice, don't worry – that's what ring upgrades are for!
If you follow our tips, we have no doubt you'll find the perfect wedding ring – for both of you – in no time. Happy ring hunting.