It's one of the most famous engagement rings in the world, but what's the story behind it?
Prince Charles and Lady Diana were one of the most famous couples in the world for pretty much the entire 1980s, and remained so until their separation in 1992. Prince Charles was (and still is) the son of Queen Elizabeth and the heir to the British Empire. The enchanting Diana Spencer came from an aristocratic family, and became Lady Diana when her father inherited the title of the Earl of Spencer in 1975. As we all know, she tragically died in a car crash in 1997, leaving behind their two boys William (aged 15) and Harry (aged 12).
Diana and Charles moved in the same royal social circles and apparently met just twelve times before they got engaged in February 1981. The first time was in 1977 when Diana was just 16 and he 29. In fact, he was dating her older sister Lady Sarah at the time! By 1980 a romantic relationship had developed between them, and Charles took Diana to meet the Queen and the rest of the royal family at Balmoral. With the Queen's approval, Charles began an 'official' and no longer secret courting of Diana in London, proposing a few months later.
The engagement was publicly announced on 24 February 1981, and Diana's ring was unveiled to the world. In an unusual move for a royal, Diana selected a ring from Garrard, a long standing London-based jeweller to the Crown – but it was not a unique or custom made piece. Anyone with the money (a not exactly budget friendly £28,000, but still) could walk into Garrard's establishment and buy the same piece for themselves.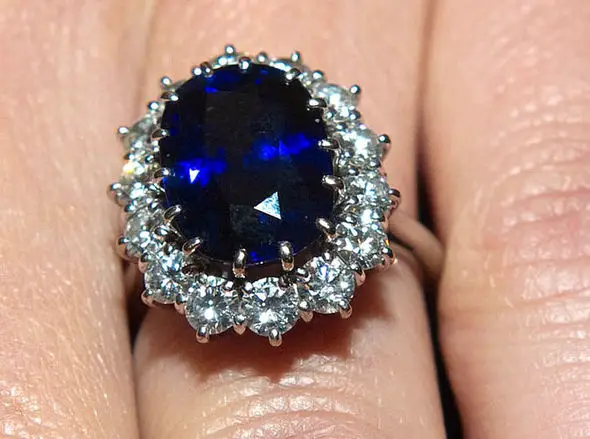 Diana chose an engagement ring with a 12-carat oval blue sapphire as the centrepiece. It's surrounded by 14 solitaire white diamonds and is set in 18 karat white gold. Contrary to what some sources say, Diana did not choose this ring because it was the biggest. She knew she wanted a sapphire, and Garrard had a around half a dozen designs for her to peruse. Her selection was not in fact the biggest on offer, but she felt it was the most beautiful. Other sources say she chose it because it reminded her of her own mother's engagement ring.
Diana was regularly photographed wearing the ring, even after she separated and later divorced Prince Charles in 1996. Her sudden and untimely death in 1997 left everyone shocked and devastated, but nobody more so than the teenage princes William and Harry. Left without a mother, they were allowed to choose some of her most prized possessions as keepsakes, to remember her by and to seek comfort from during what were surely the most difficult years of their lives so far. William chose her stunning Cartier Tank Francaise watch, while Harry opted for the most famous engagement ring in the world. It seemed as though the ring would be hidden from public view for some time.
Some years later when William was attending St. Andrew's University, he met the woman who would one day become his wife, Kate Middleton. Love blossomed, and by 2010 he was ready to pop the question. With his younger brother's blessing, WIlliam and Harry swapped their mother's mementos so that WIlliam could propose with much loved and much missed mother's engagement ring. In the words of the Prince, giving Kate the ring was his way of 'making sure his mother didn't miss out on his wedding day'.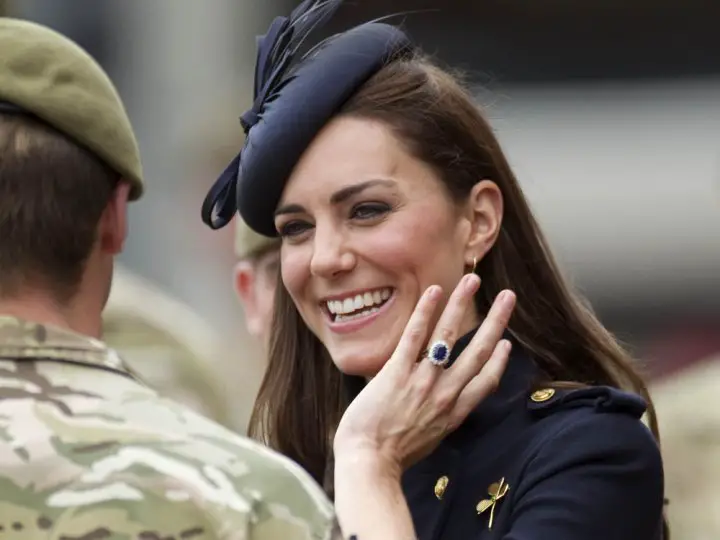 Despite Kate having the ring resized to fit her finger (using two platinum studs rather than interfering with the metal band), Diana's engagement ring has soared in value thanks to the bittersweet story attached to it. Its estimated worth is now £300,000, but if you ask us it's invaluable. We really love seeing Kate wearing this stunning piece and keeping Diana's legacy alive.