Adding your birthstone to your engagement ring is a fantastic way to make it personal. Whether as the centre stone, as a colourful accent or as a hidden detail, there's plenty of ways to give your bling a unique touch. Here's what you should know about your birthstone if you're considering this for your ring…
January: Garnet
Garnet is not considered to be a precious gemstone, but it does have an attractive, ruby red hue. It clocks in at around 6.5 – 7.5 on the Mohs scale, meaning it's a medium hard gem. That makes it not the best choice for a centre stone as it can scratch or chip pretty easily, but one or two small accent stones (in a halo setting or pave band, for example), are fine.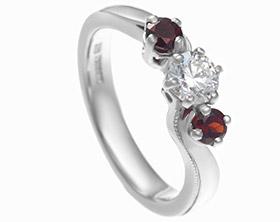 February: Amethyst
Registering a not too shabby 7 on the Mohs scale, amethyst could conceivably be used as the centrepiece of your engagement ring if the stone is small and you only wear it occasionally. One of the few purple gems out there, it's always a popular choice. Bonus advantage: it's said to have metaphysical and healing properties (if you believe in that kind of thing).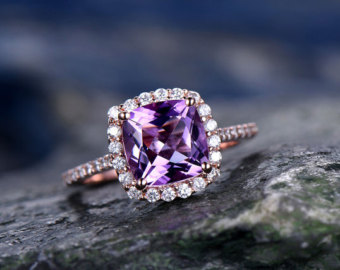 March: Aquamarine
Teaming the pale blue hues of aquamarine with the dazzling shine of white gold or platinum is a match made in engagement ring heaven. This stone can have a Mohs hardness of up to 8, so slightly larger centre stones are not beyond the realms of possibility. Consider an aquamarine solitaire with a diamond halo or diamond pave band for ethereal, ultramodern glamour.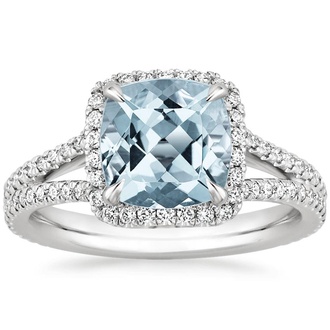 April: Diamond
If you were born in April, lucky you! You have the best choice of engagement rings than any other birthstone. The world is your oyster – or at least the jewellery world is. Why not go all out and get a large centre stone, a diamond halo and a pave band? Or keep it simple with a classic solitaire; whatever you want, you won't have to look far to find it.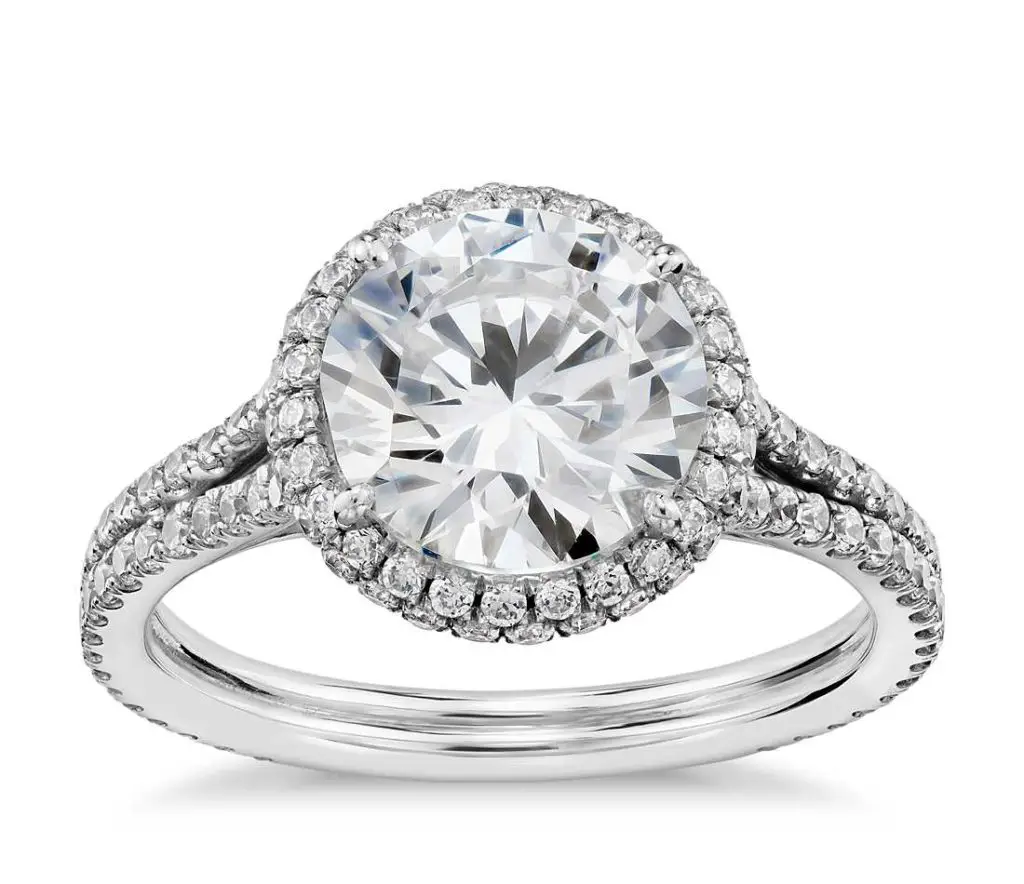 May: Emerald
Sometimes skipped in favour of its coloured gemstone rivals (sapphire and ruby), there's a lot to be said for this alluring green gem. Emerald is our personal favourite gemstone for yellow gold bands, and it also looks very elegant when paired with diamonds. It was good enough for Jackie O, after all – JFK gave her an emerald, diamond and yellow gold engagement ring.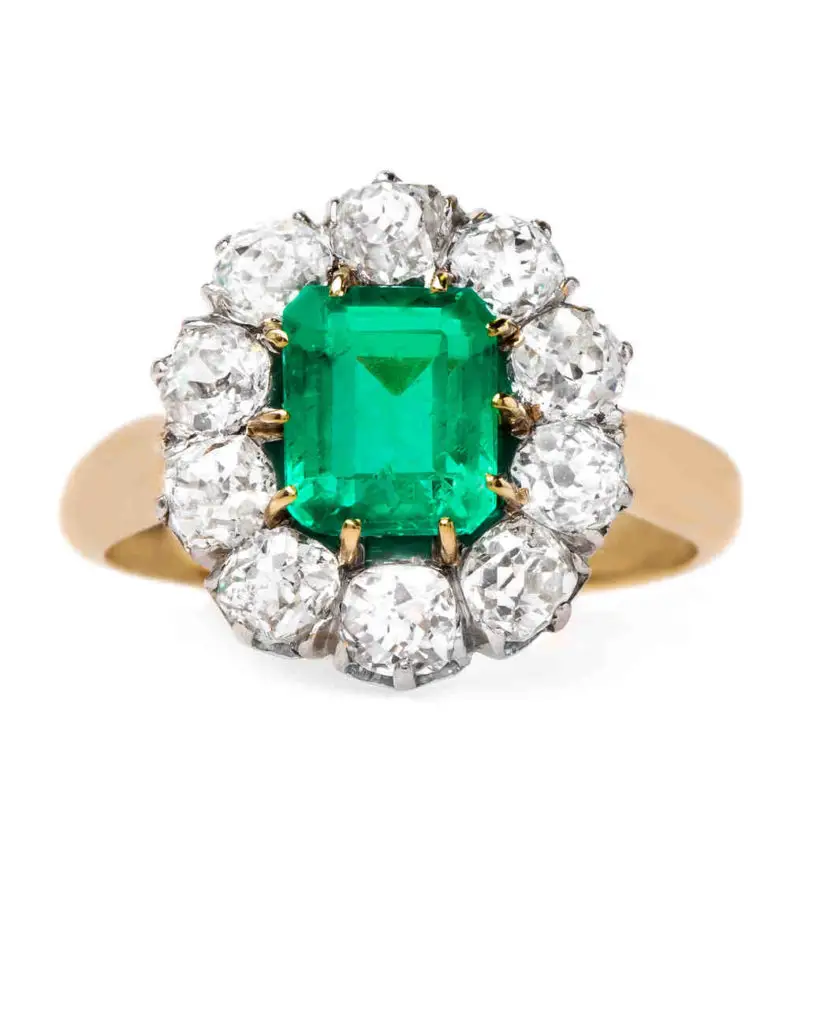 June: Pearl
An unusual choice for an engagement ring, pearls on your fingers are guaranteed to turn heads. This is definitely one of the more fragile birthstones, so we wouldn't actively recommend a pearl engagement ring unless you plan on wearing it for special occasions only. And even then, you'll need to be careful. They do look stunning set in gold or platinum, though.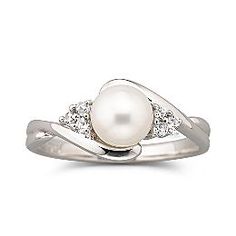 July: Ruby
After diamond and sapphires, ruby is probably the most popular gemstone of the moment for engagement rings. Blood red and full of passion, they're a great choice for those who want an engagement ring with a touch of drama. Our favourite combo? An oval stone surrounded with accent diamonds for a floral look, set in yellow gold.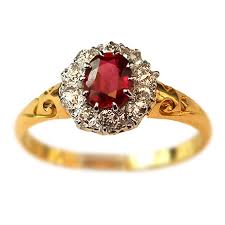 August: Peridot
This is one gemstone that doesn't get enough credit. It has a beautiful earthy green hue and looks fantastic with any colour metal. It's pretty in any cut, but for some reason we especially like the emerald shape in a yellow gold band. Choose a smaller stone and accent it with diamonds if you fancy some extra bling.
September: Sapphire
The most coveted coloured gemstone of the moment, those born in September have the lucky honour of a genuine reason to get a sapphire engagement ring. Move over Kate Middleton! We prefer this dark blue hue with silver metals rather than yellow or rose gold. But hey, feel free to set trends of your own – it's your birthstone, after all.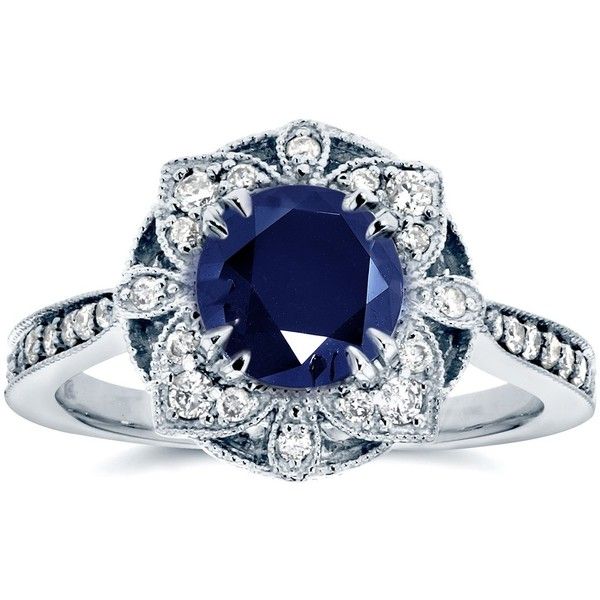 October: Opal
Don't believe anyone who tells you opal is bad luck. How could it be? It's your birthstone! Opal is one of all time favourite gems for it's rainbow flashes, fairy tale look and the range of alternative designs out there. It looks especially amazing with a thin yellow gold band. If money is no object, get yourself a captivating fire opal.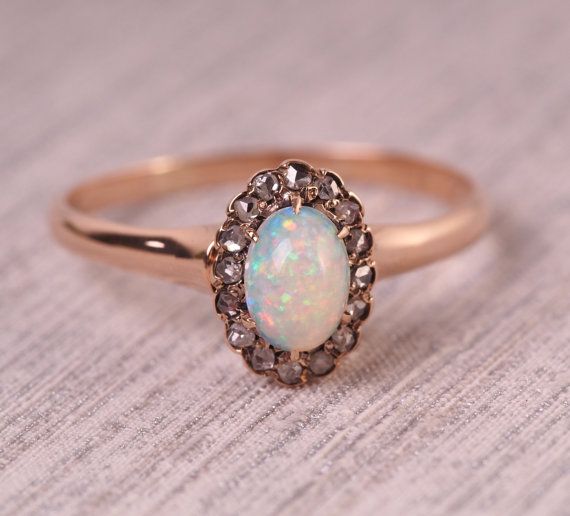 November: Topaz
The beautiful blues of topaz gemstones will make you feel like you're on a vacation in the Caribbean… or wish you were. The good news is this gem registers a solid 8 on the Mohs scale, so it's pretty durable. If you want a large topaz as your centre stone, by all means go for it. We love the dream team of topaz and yellow gold (sand and sea).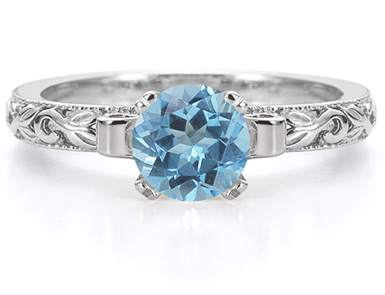 December: Tanzanite / Turquoise
There's precious little tanzanite left in the world (supply will cover only another decade or two), so if you want an engagement ring with this alluring purple-blue gem, you better act fast. Turquoise on the other hand is in plentiful supply, but at just 6 on the Mohs we don't recommend it for anything other than small accent stones or inlays.