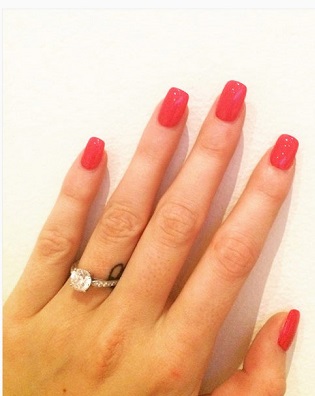 London-born actress and cast in the new "Pirates of the Caribbean"  sequel and Maze Runner , Kaya Scodelario showed off her engagement ring for the first time in Instagram after announcing her engagement to actor and stand-up comedian, Benjamin Walker in December 2014.  Kaya posted two pictures to her Instagram account which also showed a tattoo of her fiancée's name on the inside of her ring finger.  The couple met on the set of "The Moon And The Sun" in April, and she admitted that they were friends for a couple of months before their relationship blossomed.
Diamond Size: 2 Carat Diamond
Diamond Shape: Round
Setting: Solitaire setting
Ring: Platinum with semi-paved diamonds on the band
Estimated Price: £30,000
Designer: Unknown
Comment: Call me old fashioned but I can't help but feel the dull tattoo robs the beautiful ring of the attention it is due.