Leonardo DiCaprio is world famous for his acting talents and tireless efforts to save the environment. Now, he's turning his hand to engagement rings too…
The star of Titanic, The Revenant, Gangs of New York and countless other hit movies has long been using his household name status to give something back to the world. And by 'long', we mean since the 1990s when he was still a young, carefree guy – so you know he takes this seriously. Among other activities he has set up the Leonardo DiCaprio Foundation to help halt climate change, personally owns an area of rainforest, refuses to travel locally in anything other than his eco-friendly Tesla, and has spoken with UN Secreteray General Ban Ki Moon to advance climate change talks.
So what does all this have to do with engagement rings? Two words: lab diamonds. When he's not winning Oscars and saving the planet, Leonardo uses his sizeable fortune to invest in certain areas related to the things he cares most about (i.e. acting and saving the planet). One of his favoured companies is Vrai & Oro, a Los Angeles based sustainable jewellery brand founded by Vanessa Stofenmacher in 2014. Their diamonds are 100% natural, but rather than being mined from the earth with considerable environmental damage, they're grown in a plasma reactor inside a laboratory.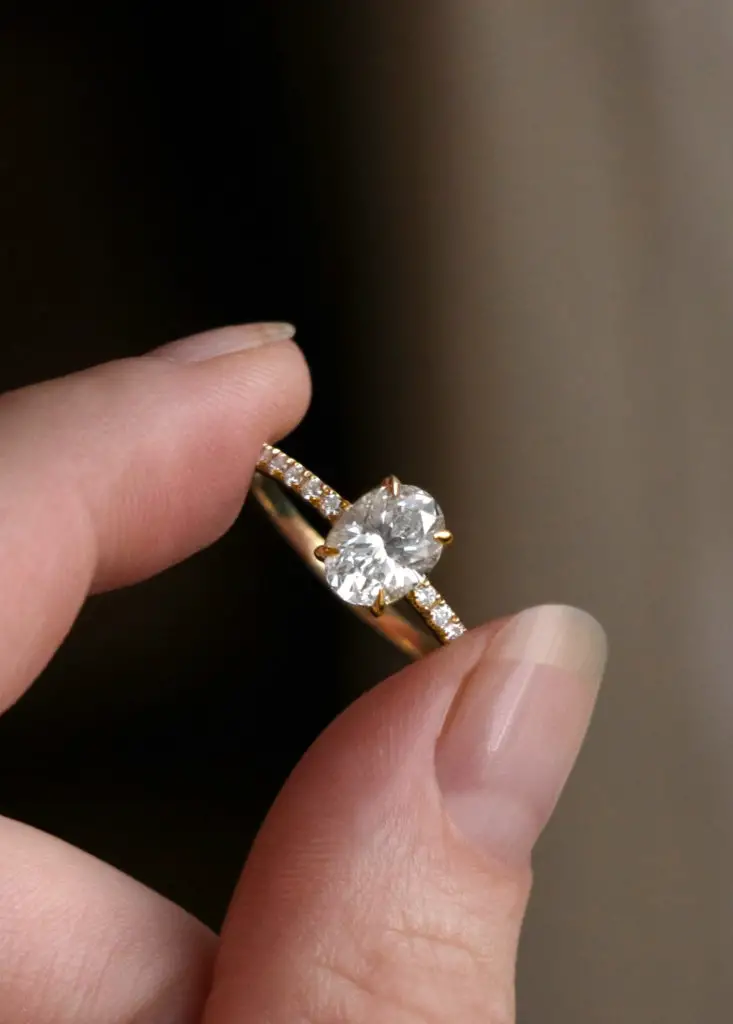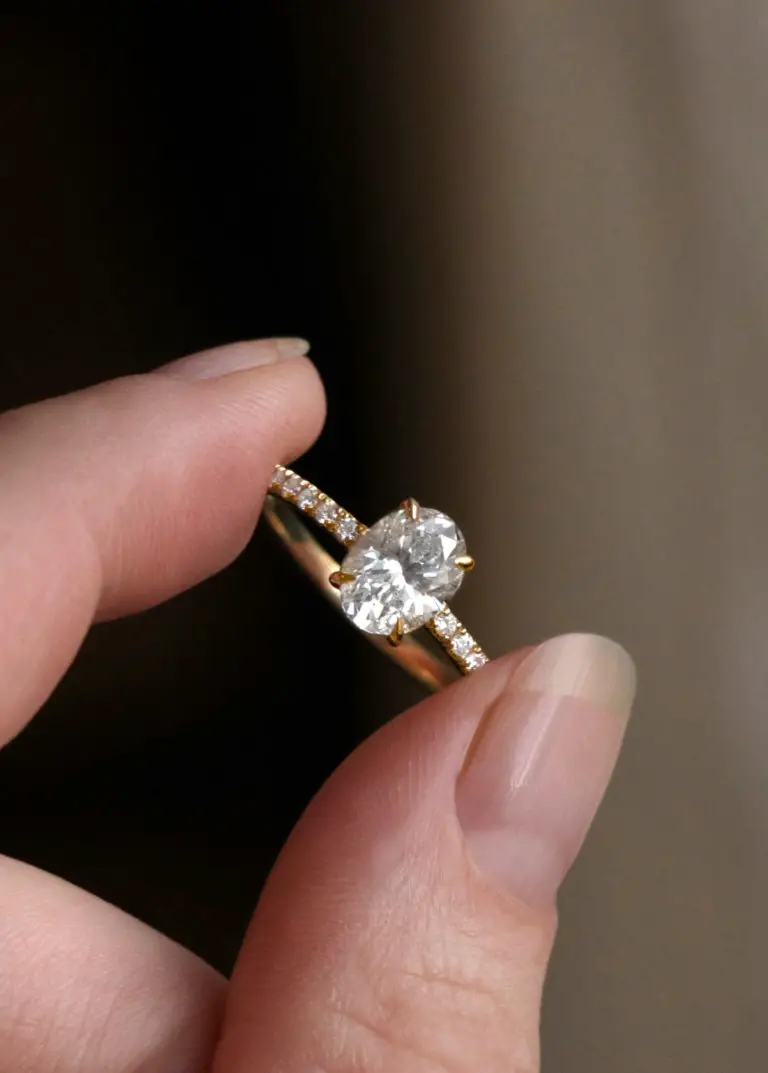 This means that the diamonds used in Vrai & Oro's jewellery cause almost no damage to the planet, AND they're guaranteed conflict free too. Sustainability is a hot topic in Hollywood right now, and Leo isn't the company's only high profile investor; Twitter boss Evan Williams and Russian fashion mogul Miroslava Duma are among the others.
The Vrai & Oro Wedding colelction (VOW – see what they did there?) offers a line of ten core styles – a traditional round brilliant solitaire diamond ring, a horiztonal-set emerald cut diamond ring, a three stone engagement ring, an oval engagement ring, and a halo setting design. Each of these five styles has a pave band option, rounding out the ten-strong collection. Each style is available in 18 karat yellow, white or red gold. They're simple, contemporary and timeless. Our personal favourite is the oval pave.
The company paired up with Diamond Foundry to expand their business and help grow their diamonds. They can currently grow diamonds up to five carats in weight, with the average weight clocking in at around one or two carats. Together the dynamic duo has "used solar energy similar to the sun in a plasma reactor to grow the diamond in two to three weeks, layer by layer, into a rough diamond that looks like a rock you would find outside" according to Stofenmacher. "Each diamond has the same natural color variants and differences as a mined diamond. It's not a perfect diamond that pops out of a machine" she added.
So is a collaboration with Leo on the cards any time soon? Actually, maybe. If the rumour mill is to be believed, DiCaprio and Vrai & Oro could be working together to create a unisex jewellery line aimed at men. Sounds interesting!
Vrai & Oro have just opened their first bricks and mortar store in Silicon Valley, so if you happen to be in the area be sure to stop by and take a look.