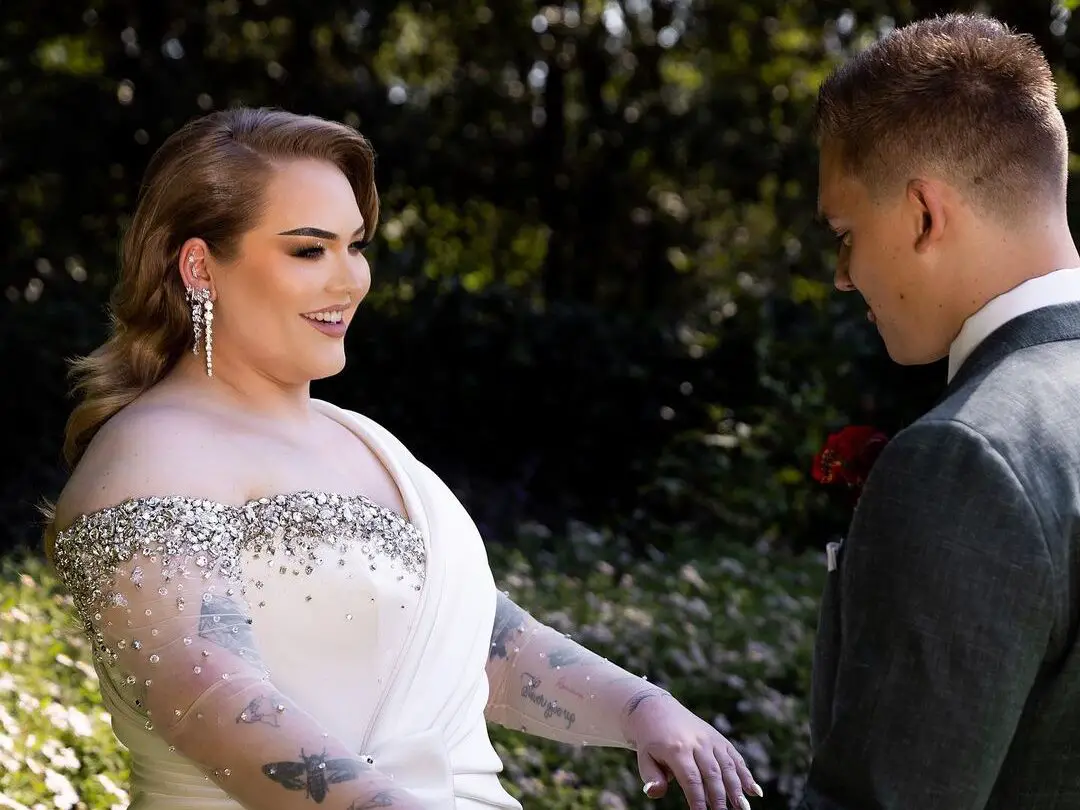 The woman who single-handedly made cut-creases main stream is dipping her toe into bridal makeup. You heard it here first: NikkieTutorials (soon to be Mrs. NikkieTutorials) is engaged. 
Beauty guru NikkieTutorials — real name Nikkie de Jager-Drossaers — got engaged to boyfriend Dylan Drossaers while on vacation in Italy. 
He popped the question during an ocean-view dinner, and Nikkie had just one thing to say. 
According to her Instagram, Nikkie said, "YES. YES. YES. YES. YES. YES. YES. YES. YES. YES. YES. YES. YES."
The proposal was beautiful, but what we're really interested in is the ring. Instead of opting for a classic single stone diamond setting — the 'normal' engagement ring look — Nikkie is rocking a less conventional style, and we're obsessed. 
Here's everything you need to know about the unconventional sparkler.
The Proposal
Oh, yes. It's a fun one. 
Dylan and Nikkie were in Puglia, in the south of Italy. Nikkie explains "Whenever I go on a trip, I always try to get one perfect photo for the 'gram, as the life of an influencer goes. And there was this one restaurant inside of a cave. Wow, I guess that's my photo. That's where I have to take it.' 
For the rest of the trip, the photo, and the restaurant was a running joke. 
On the day of the fateful Instagram shot, Dylan was anxious. As soon as they got to the dinner, he said, 'Now let's take that picture.' They get the shot, and all is well, but then Dylan says 'Do you mind taking a picture of me?'. Now this never happens. She takes the shot, turns around for a split second, and when she turned back around, he was on one knee.I
It started off with 'Dear Nikkie,' and then emotions took over and she couldn't understand a word.
I don't know about you, but we're crying.
What does the engagement ring look like?
Nikkie's engagement ring ditches the traditional center-set diamond style and instead features heart-shaped pavé diamonds in an alternating pattern. Yes, heart-shaped diamonds. Swooning.
Are band engagement rings rare?
Band engagement rings are not necessarily rare, but they are less common than traditional solitaire engagement rings. These have been the standard for decades, and most people still opt for the classic look of a single stone set on a simple band. Additionally, they are also seen as a safe choice, as they are timeless and unlikely to go out of style. Band engagement rings, on the other hand, may be seen as more unconventional and daring, and may not appeal to everyone's tastes. 
It's hard not to see the appeal in Nikkie's.
The band is pave-set with alternating heart shaped diamonds, which adds even more sparkle to the ring. The word "pave" comes from the French word for "pavement," which accurately describes the way the diamonds or gems are set on the band, much like paving stones on a street or sidewalk.
The overall design is unconventional and perfect for someone who wants a ring that stands out from the crowd. Funnily enough, while it stands out perfectly from the crowd, it fits in perfectly with Nikki's other jewelry. For years, she's been known for her stunning stacked diamond bands on every finger —- is it any surprise her engagement ring is also one?
Good job Dylan.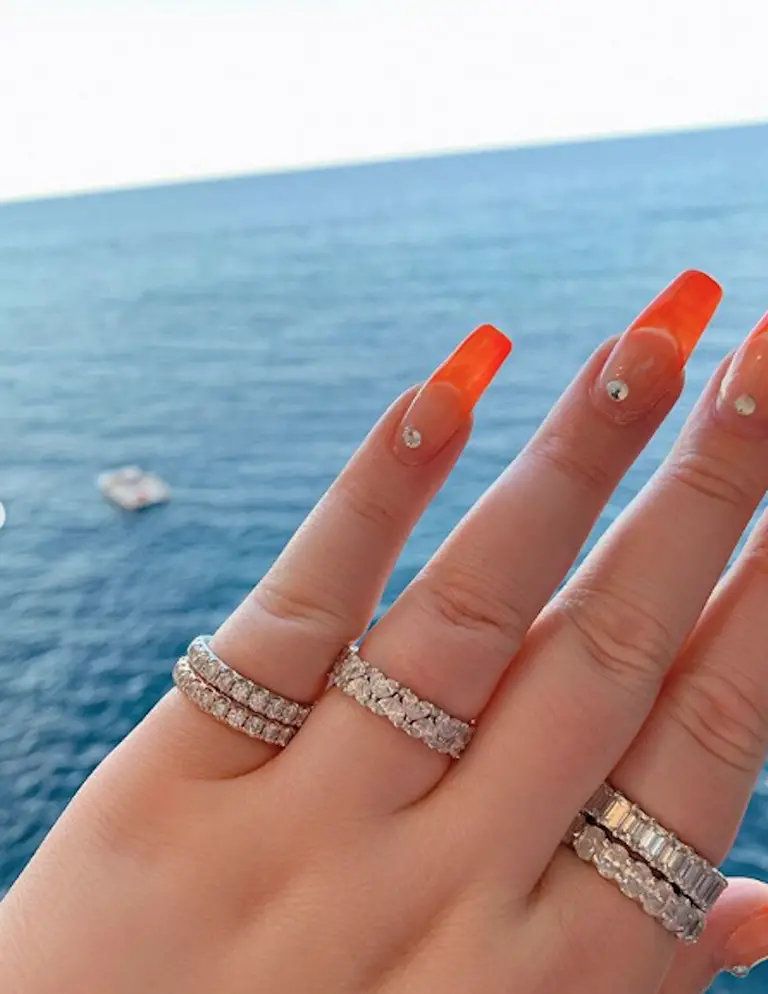 Who designed Nikki's engagement ring?
The couple have been tight-lipped about the designer behind the engagement ring, to date, we've not been able to find out who the creative genius behind the beautiful band was. The heart-diamond band that Dylan proposed with may be an unconventional choice for the average Joe, but it's perfect for her.
While the designer of the ring remains a mystery, it is clear that Dylan put a lot of thought and love into the selection. We wish Nikkie and Dylan all the best in their marriage and beyond. Now, bring on the bridal makeup tutorials!