How do you know you're getting a good deal on a diamond? With this awesome (and free!) new tool from Rare Carat.
We've been fans of Rare Carat since the website launched back in 2016. It's a clever little site that sources the best deals on diamonds from across the web – think of it like Skyscanner or Expedia, but for diamonds instead of flights and hotels. Extremely easy to use with extensive results no matter what your search criteria, it should really be your first port of call on your diamond search.
Now this innovative little website has teamed up with another company leading the way in tech innovations – Everledger – to leverage blockchain technology and AI for your benefit. They've called it the Rare Carat Report, and it will be invaluable to you if you're looking for a loose diamond for an engagement ring.
Staying true to form, the report could not be simpler to use. Simply type in the GIA report number of your chosen diamond, click 'get free report', and in no time everything you really need to know about that gem will land in your inbox. Don't have the GIA number? Copy and paste the link to the diamond you're looking at instead. It'll take a little longer, but you'll still get your report within 24 hours. You can also opt to get Rare Carat's deal rating and a gemologist review (from a real life, human being gemologist!).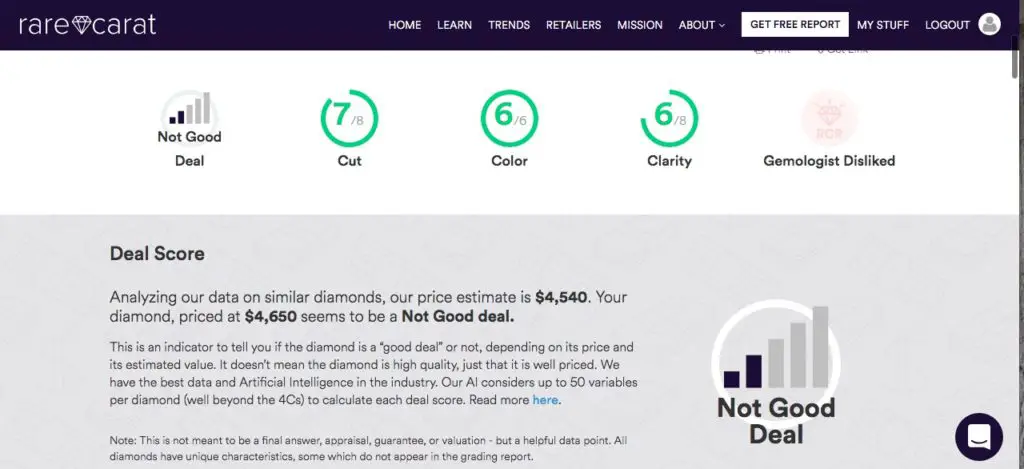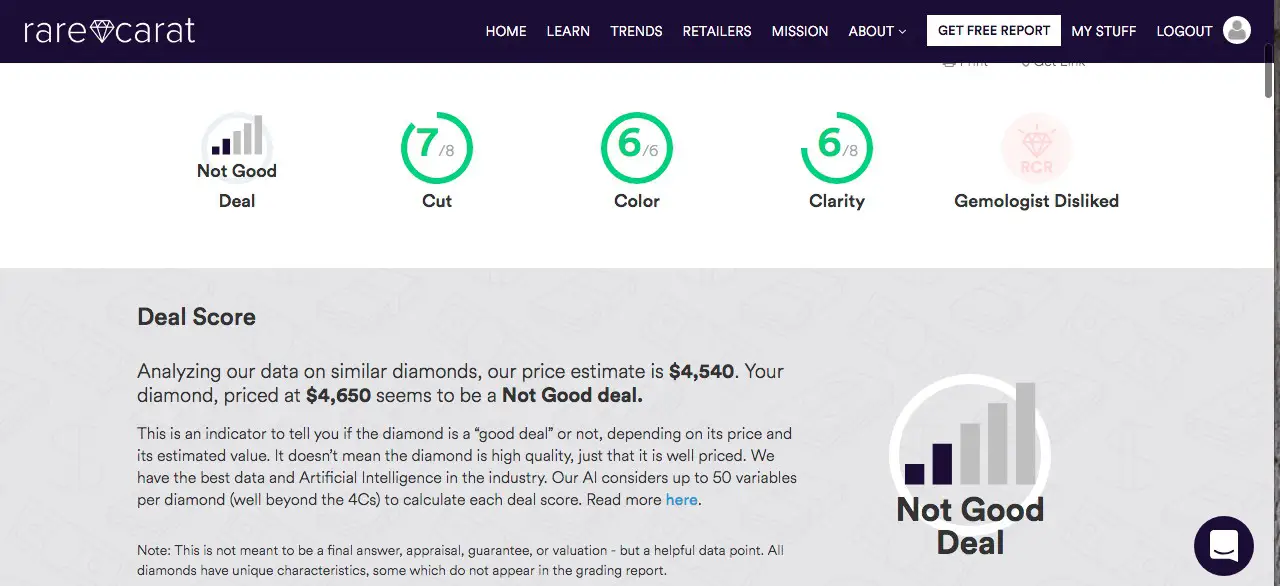 Your beautifully designed Rare Carat Report will give you snapshot info about your diamond at the top, including; if your diamond is a good deal or not, how it rates for colour, clarity and cut, and if the gemologist liked or disliked it. Scrolling down, you'll get more details about what your diamond is really worth compared to the price it's advertised at. They'll tell you which retailers are selling the exact same diamond on the web and at what prices, and full specifications of your diamond from measurements to grading to the 4Cs (and a lot more).
But that's not all. Your report even includes the gemologist's personal opinion of the diamond and why they liked/disliked it, a history of the diamond telling you when and where it was mined, cut, crafted, and certified, and search results for similar diamonds that could (potentially) offer a better deal.
This is an incredibly smart move from Rare Carat and Everledger, fulfilling consumers' increasing demands for transparency. With all of the controversy around conflict diamonds in recent years, this shows that there are at least some people in the diamond industry who want to make diamond trading an ethical practice for all involved.
This is going to be something we see more and more of over the coming years, and we couldn't be happier that Rare Carat are the ones who have jump-started it. Kudos.
Go here to get your report now: https://www.rarecarat.com/diamond-report