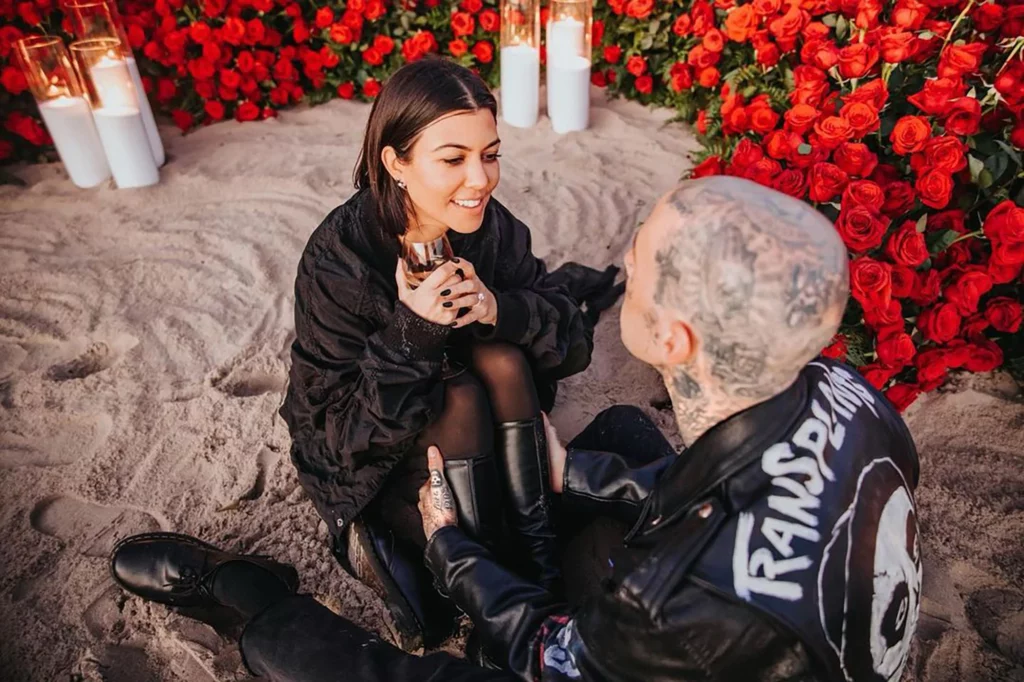 KUTWK is back, and it's reminding us all about that engagement.
Yes, we're talking about Kourtney Kardashian and Travis Barker's romantic (and highly anticipated) engagement. Travis popped the question on the 17th October, 2021,  in the middle of a heart-shaped display of red roses and candles set against the Pacific Ocean and a California sunset. Kourtney took to Instagram to share the happy couple's news with an Instagram post, captioned "Forever,".
Talk about picture perfect, but the real stand out was the jaw-dropping ring.
A 12 carat oval solitaire on platinum pave band. 
Here's everything you need to know about Kourtney Kardashian's engagement ring from Travis Barker.
What Kind of Ring is Kourtney Kardashian's Engagement Ring?
Kourtney's ring is an elongated oval-shaped solitaire diamond on a thin white-gold or platinum pavé band. 
Oval diamond engagement rings are an increasingly popular option for those who want all of the benefits of a round brilliant engagement ring,  but want something a little bit different.It still does an excellent job of reflecting light back to your eyes, making the diamond sparkle brilliantly, but also elongates the finger. 
The ring's center stone is likely 10 to 12 carats with a color grade of D or E (the rarest and most expensive kind). Set on an extremely thin band, it gives the illusion that the diamond is floating on the finger, but there is most likely a hidden halo under the diamond. Together with tiny diamonds pave set along the band, they add sparkle to the ring's center stone and make it even more stunning.
Who designed Kourtney's engagement ring?
Jewelry designer Lorraine Schwartz was the brains behind the beauty. To be honest, it's no surprise:  Lorraine is the Kardashian-Jenner family's longtime go-to jeweler, famously designing Kim's engagement rings from Kris Humphries and Kanye West.
Lorraine didn' go it alone though, she worked closely with Travis to design a ring that Kourtney would truly love. "I worked on it with Travis and he was a really big part of it," the she explained. "He was really hands-on in the whole making of it. It's gorgeous and they're happy. It's a flawless, beautifully cut diamond stone." 
Unfortunately for us average joe's, flawless, beautifully cut diamond stones don't come cheap.
How much is the ring worth?
Depending on the quality and specific characteristics of the center and side stones, the ring could cost anywhere between approximately $750,000 to $1 million.
Which makes the fact that Kourtney broke her engagement ring that much worse… Yes, broke. You read that right. In a recent episode of KUWTK, she explained to her mom Kris "I was sitting on my floor folding sweatshirts. And I took the ring off and I put it next to me on the floor, like, thinking it would be safe right next to me," she said. "So, then I had to get something up above in my closet, and when I stepped down, I stepped on the ring."
Talk about every woman (and man's) worst nightmare. Luckily, she was able to get the ring repaired and the two lived happily ever after. Note to self, don't stand on a $1 million dollar ring.