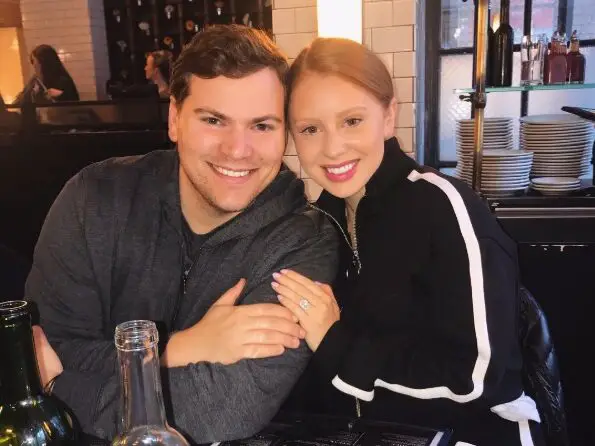 Jackie Oshry, better known as "The Instagram Girl," made headlines in 2018 when she got engaged to her longtime boyfriend, Zachary Weinreb. 
The engagement came in the midst of a controversy — Jackie's podcast had been cancelled due to past tweets and the outage of her mother as a conservative commentator and anti-Islam activist — but people were still intrigued about the real start of the show. 
The ring. An oval-cut diamond with a pave setting, set in platinum. 
Whether you're a fan of Jackie's or just love a good engagement story, there's no denying that her ring is a showstopper. Here's everything you need to know.
When did Jackie and Zachary get engaged?
Jackie and  Zachary Weinreb got engaged in February 2018, much to Jackie's surprise. He had planned the proposal with her friends and family, who were all in on it. 
The two were walking in New York City when Zachary got down on one knee and popped the question. Jackie was shocked and overjoyed, and of course, said yes! 
What did the engagement ring look like?
Jackie's engagement ring is an oval cut diamond set in a pave setting, on a platinum band.
The oval cut diamond is a popular choice for engagement rings because it gives the stone a classic and sophisticated look, while elongating the finger.
The pave setting adds an extra layer of sparkle to the ring, making it even more eye-catching. 
While the exact cost of the ring has not been disclosed, it is safe to assume that it was a pretty penny. Oval cut diamonds can range in price depending on their size and quality, and platinum is one of the most expensive metals used in jewelry making. 
While the engagement ring is undoubtedly beautiful, it has also been the subject of controversy due to the scandal surrounding Jackie's family. However, Jackie has not let the negative attention dampen her spirits and has continued to share her excitement about her engagement on social media. It is a beautiful reminder that even in the midst of controversy and turmoil, love can still prevail.