Movie icon Elizabeth Taylor is famous for a couple of things. One; her legendary acting roles in classic Hollywood films like Cleopatra and Who's Afraid of Virginia Woolf. Two: her incredible 8 separate marriages to 7 different men, as well as rollercoaster love life. And three: her jaw dropping collection of jewellery that even royalty would drool over (probably).
Among Elizabeth's invaluable ensemble of gems were the La Peregrina Pearl, the Grand Duchess of Russia's Emeralds, the Taylor Burton Diamond and several pieces by Cartier, Bulgari, and more. With eight marriages comes eight proposals however, and that means Liz most definitely has some engagement rings to die for. Let's take a look…
Conrad Hilton's Engagement Ring
Elizabeth's first marriage was at the tender age of 18, to Conrad Hilton Jr. In case you were wondering, yes, he is one of the famous hotelier Hiltons – the founder's son in fact. He was also the grand-uncle of Paris Hilton and allegedly had an affair with his own step mother (none other than Zsa Zsa Gabor). The wedding was organised by Taylor's studio MGM with much media fanfare, but within a few weeks it was obvious that it wasn't going to work. Not only did they have very little in common, but Conrad was also a heavy drinker, a gambler, and was apparently abusive towards Elizabeth. They divorced after just 8 months in 1951.
Conrad's engagement ring to Elizabeth was the start of a different love affair that lasted throughout the screen siren's life. He presented her with a 4-carat diamond and platinum ring worth $10,000. Although it would have been an extravagant expense at the time, it would one day become one of the cheapest pieces in Taylor's ever growing collection!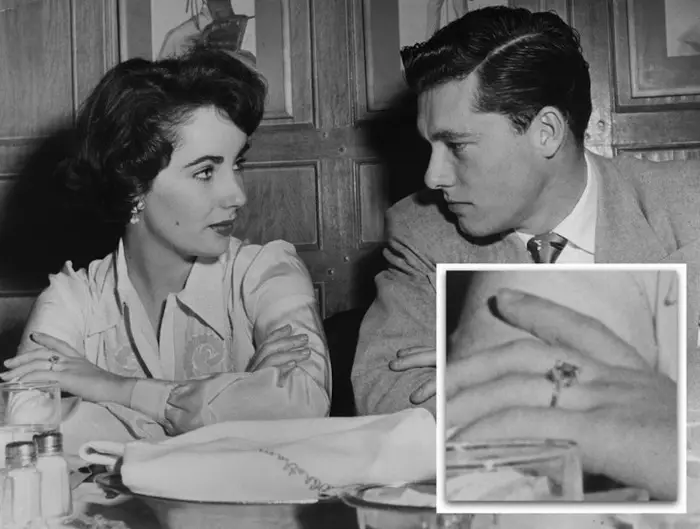 Michael Wilding's Engagement Ring
Elizabeth's second marriage was to fellow British actor Michael Wilding, just three months after her divorce to Conrad Hilton Jr. The pair had first met in 1948, but only began a relationship in 1951. He was 20 years her senior, and Elizabeth said this appealed to her because she wanted the 'calm and quiet and security of friendship'. They had two sons together during their five year marriage (Michael and Christopher). While Elizabeth's fame was growing however Michael's was fading, and this put a lot of strain on their relationship. They eventually divorced in 1957.
Although the wedding was much more low-key than her first, the engagement ring was equally as elaborate. Michael proposed to Elizabeth with a giant cabochon sapphire, domed and polished for a unique look unlike anything other celebrities were wearing at the time. It was placed in an elaborate setting and secured with four prongs. Rumour has it Elizabeth actually went out and bought it for herself!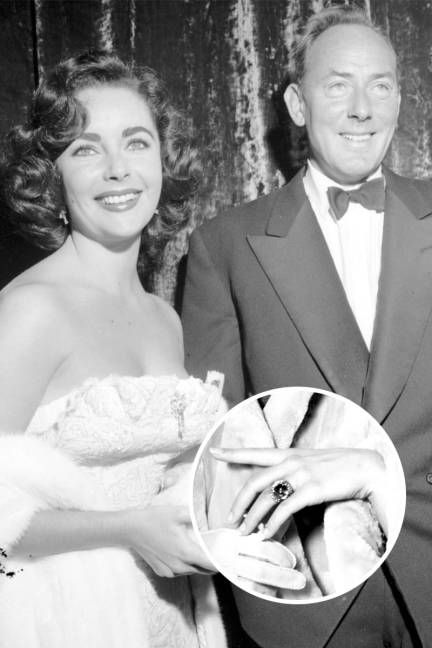 Mike Todd's Engagement Ring
Husband number three was Mike Todd, one of the two biggest loves of Elizabeth's life. The theatre and film producer had been married twice before just like Elizabeth, and was also more than 20 years older than her. They married in Mexico in 1957 and had one child together, daughter Liza, later that same year. Tragically, just one year later he died in a plane crash while flying from New Mexico to New York. Elizabeth had wanted to be on the plane with him, but Todd told her to stay home because she was sick with the flu. Devastated by the loss, Elizabeth sought comfort from Mike's best friend Eddie Fisher. They began an affair (Fisher was married to Debbie Reynolds, also a good friend of Elizabeth's) and later married, causing a huge public scandal. Elizabeth later said she only married Fisher because of her grief.
By this time in her life, Taylor had a taste for the finest things in life. Mike Todd had a high standard to meet, but he didn't disappoint. He presented his love with a jaw-dropping Cartier engagement ring, featuring a 29.4 carat emerald cut diamond in a prong setting. The couple were the 'it' couple of Hollywood at the time, so this was arguably one of the first engagement rings to receive the huge media attention we're familiar with today.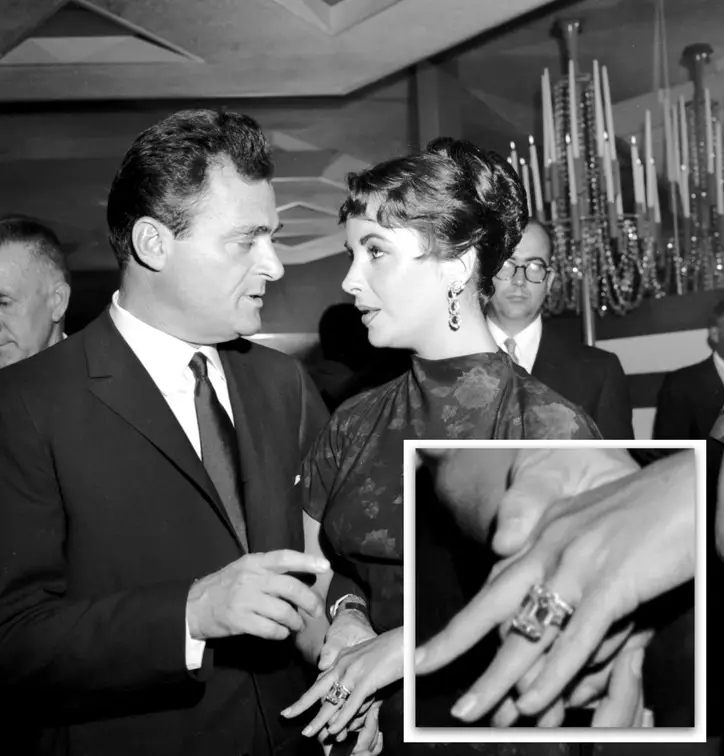 Richard Burton's 'Engagement' Ring
Although it wasn't actually given to her as an engagement ring, we couldn't let this article end without mention of one of the most astounding pieces in Elizabeth Taylor's collection. Naturally, it was given to her by the biggest love of her life and the man who probably contributed the most to her love of fine jewellery.
Whole books could be written about Taylor and Burton's relationship, but here's a brief summary. Their romance began while they were co-starring in Cleopatra in 1962, while both were still a married to other people. Paparazzi photos of them together on a yacht emerged and caused a public outcry – even the Vatican got involved in the condemnation! They married in 1964 and starred in 10 more films together, gaining a reputation for their extravagant lifestyle. They divorced after ten years of marriage, but couldn't stay away and remarried 16 months later. The fire had run out however, and they divorced again for the final time in 1976.
As well as multi-million dollar artwork, designer clothes and some of the most impressive jewellery pieces the world has ever seen, Richard gifted Elizabeth with a stunning ring that would become the one piece of jewellery she would never be without; the Krupp diamond, now known as the Elizabeth Taylor diamond. It's a 33.19 carat, asscher cut diamond in a platinum setting, and it's nothing short of a masterpiece. Elizabeth wore it on an almost daily basis on her engagement finger, so it's basically an engagement ring despite not being used as part of a proposal.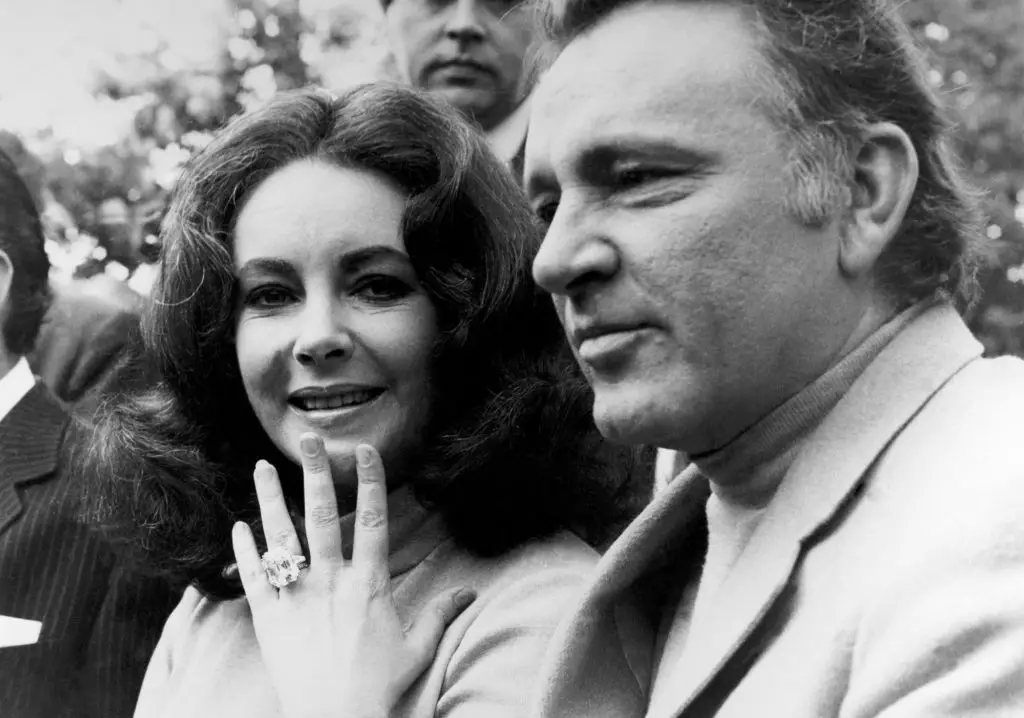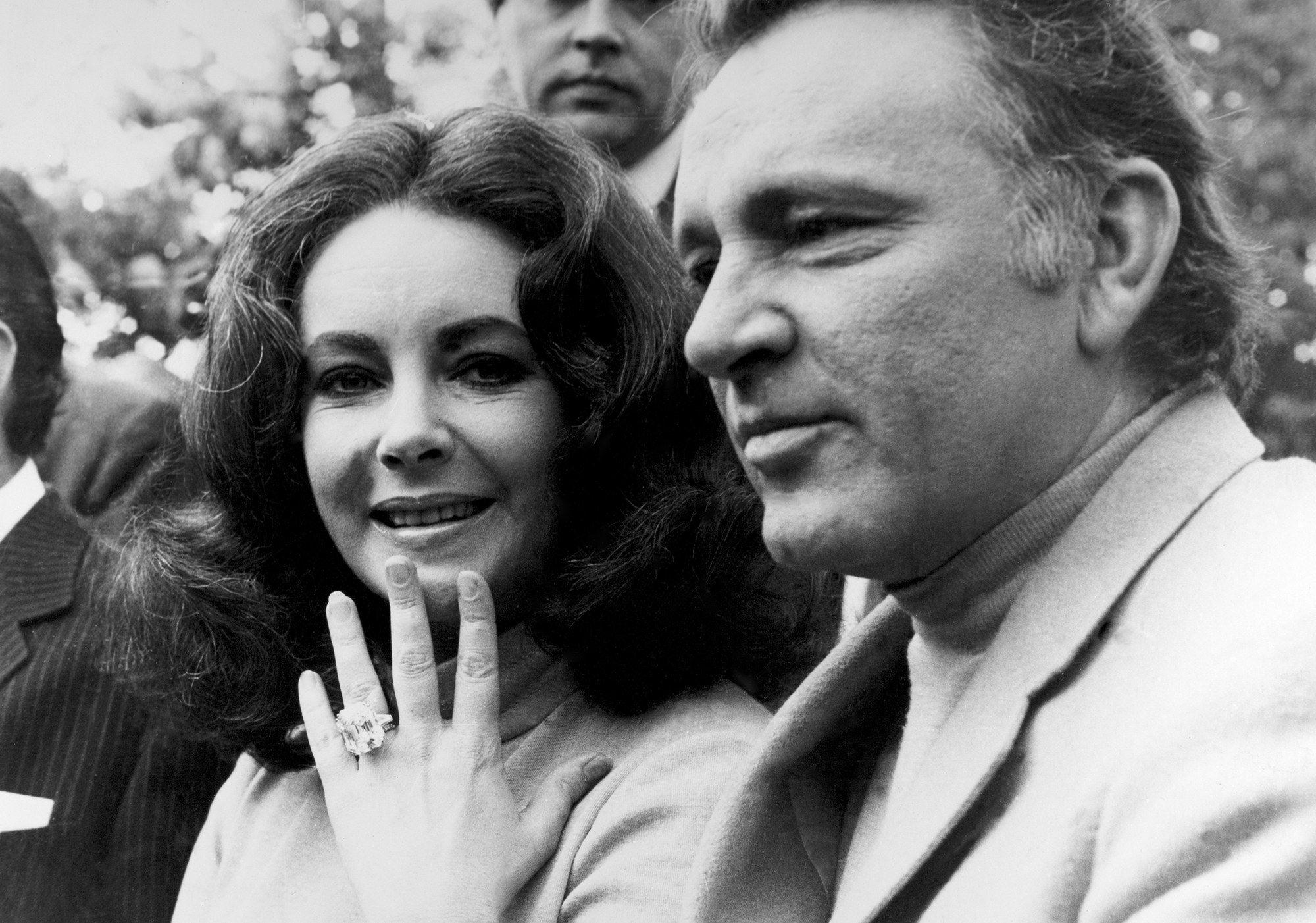 Other Engagement Jewellery
When you've been married as many times as Elizabeth Taylor, engagement rings eventually lose their allure. It's not known if her last few marriages even came with an engagement ring or not – after all, it would've been hard to top her existing collection by then! Some of Taylor's other proposals were accompanied by alternative jewellery instead of a traditional ring. Eddie Fisher proposed with a 40-carat diamond bracelet featuring 50 individual diamonds – it may not be traditional, but we definitely wouldn't say no to that!
Richard Burton also went for non-traditional gifts with both of his proposals. The first time, he offered a platinum-set Bulgari pendant with an 18.61 emerald surrounded by diamonds as the centrepiece. It could also be detached and worn as a brooch. The second time around, he actually managed to get his hands on some royal jewellery for his great love. He gave her the Grand Duchess of Russia's emeralds; a set of earrings with a matching bracelet and pendant, each piece dripping in diamonds and emeralds.
Elizabeth's mammoth jewellery collection, including some of the pieces mentioned above, was auctioned after her death in 2011. With over 300 pieces including everything from brooches and earrings to tiaras and elaborate necklaces, the collection as a whole was valued at over $30 million.