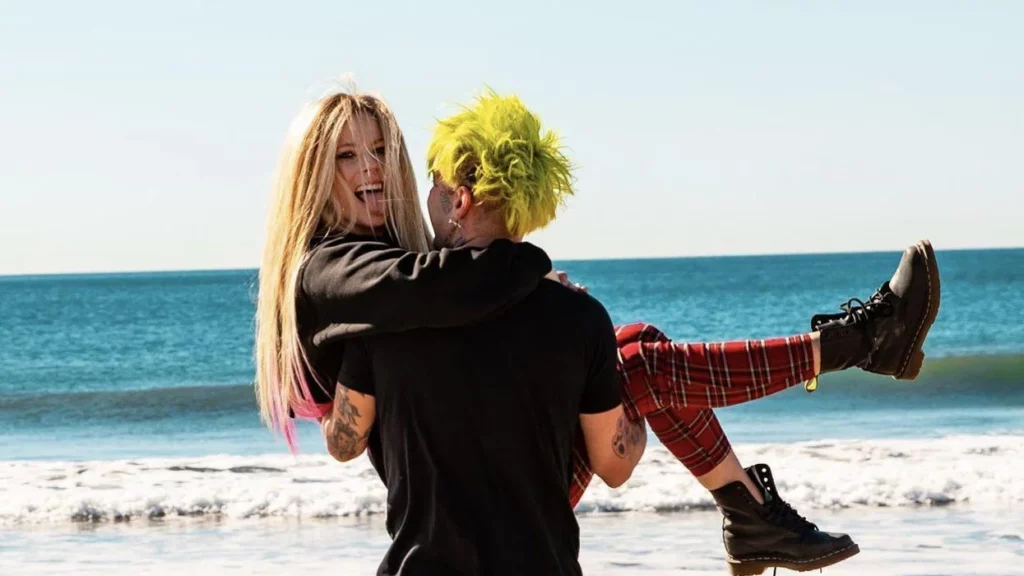 You've heard it here first, Avril Lavigne has reportedly split with her Sk8er Boi. You don't get more punk than musician Mod Sun, who popped the question to the Canadian singer and songwriter, last year.
The couple announced their engagement on Instagram, sharing photos of the proposal that took place in Paris. 
"I had a dream where I proposed in paris. I pulled out a ring + asked you to wear it. I was on one knee as I looked in your eyes. You're too beautiful for my words to describe. I grabbed your hand + took one last breath…I said "will you marry me?"" Mod Sun captioned his announcement post on Instagram.
The couple have reportedly gone their separate ways, but we're not ready to get over the engagement ring just yet. The ring featured a large, pear-shaped diamond that is surrounded by smaller diamonds and set on a gold band. It's edgy and unconventional, befitting a punk rock princess.
Here's everything you need to know.
What Does The Heart-Shaped Diamond Ring Look Like?
The gorgeous ring features a heart-shaped diamond, which Avril had always wanted.
The heart-shaped diamond is an interesting choice for engagement rings — it symbolizes love and romance, but is often not the traditional route to go. For those brave enough, it is a unique and beautiful cut, and the diamond in Avril's ring is no exception, as it sparkles and shines in the light, drawing attention to its stunning shape. 
The 5-carat stone is accented by a French micropavé band, which allows the diamond to take center stage and shine brightly.
The ring has the words 'Hi Icon' engraved on the outside, which were the first words he ever said to her, and Mod + Avril on the inside.
It's safe to say that Mod Sun hit the nail on the head with the design, and Avirl agrees: He knew from the very beginning I wanted a heart shaped diamond because on the day we met, we had matching heart shaped pave rings on. We've worn them every day since, so it's only fitting to have a heart-shaped engagement ring. I love it so much."
The stunning diamond, combined with the personal engravings, make it a truly special piece of jewelry that will be treasured for years to come.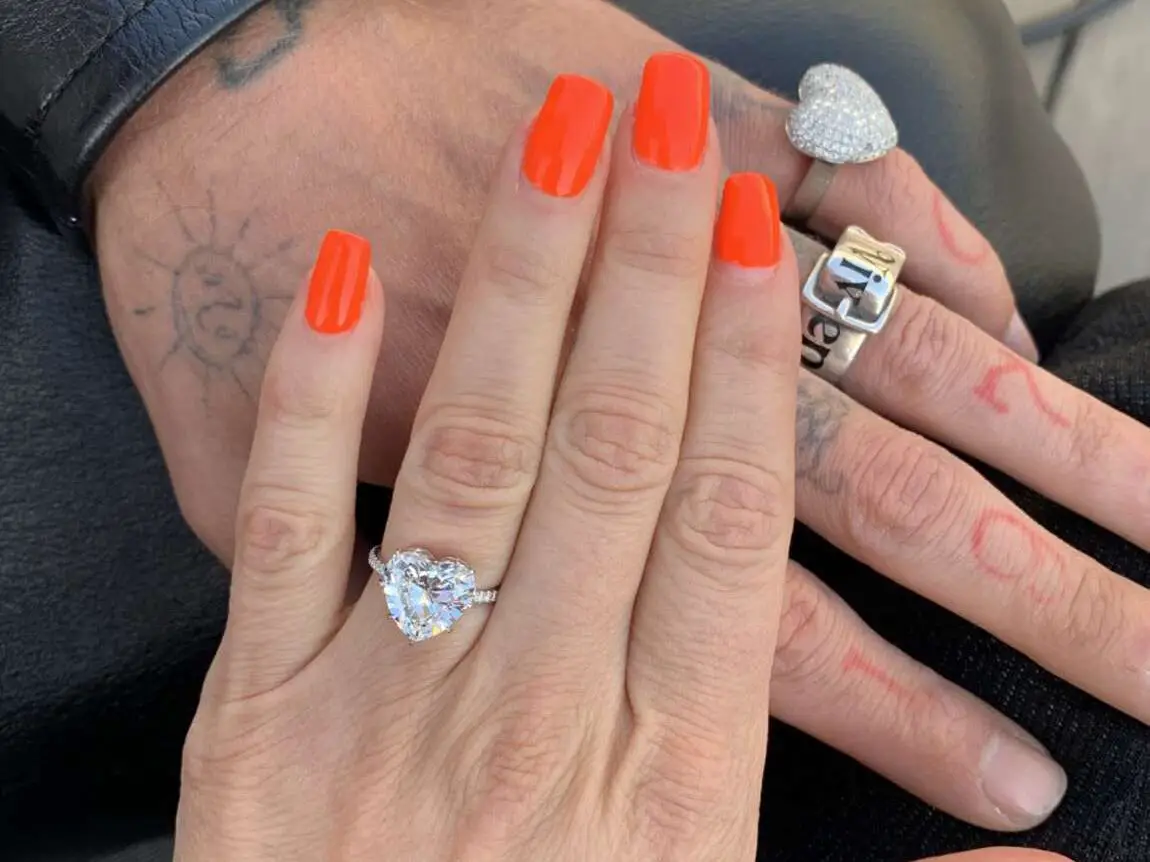 Who designed Avril's Engagement ring?
Avril Lavigne's engagement ring was designed by XIV Karats Beverly Hills, a luxury jewelry store that has been in business for over 30 years. The designer behind the ring is Caryn Alpert, who also happens to be Lavigne's close friend and the creator of her previous engagement rings.
According to Alpert, the diamond is "one of the most dazzling" she has ever seen, and it took several months to find the perfect stone for Lavigne's ring.
XIV Karats Beverly Hills is known for its exceptional quality and craftsmanship, and the store has a reputation for creating one-of-a-kind pieces that are both timeless and modern. The store's team of designers and jewelers work closely with clients to create custom pieces that reflect their individual style and personality.
How much did Avril's engagement ring cost?
The exact cost of the ring has not been revealed, but experts estimate that it could be worth anywhere from $400,000 to $1 million. With the ring's impressive size and high-quality design, it is no surprise that it comes with a hefty price tag.
Avril's engagement ring from Chad Kroeger was a 14-carat diamond that was reportedly worth $350,000. 
Avril Lavigne has been in the public eye for over two decades, and her love life has always been a topic of interest. From Derek Ryan Smith to Machine Gun Kelly, and most recently, Mod Sun, we're always rooting for he to find the man of her dreams. She has experienced heartbreak and happiness, but she has always remained true to herself. And we get beautiful engagement rings out of it!