Every week we pick the best and worst engagement rings to emerge from the land of the rich and famous. This week, it's two people from complete opposite ends of the entertainment industry…
Engagements happen on a daily basis in showbusiness. Naturally, every bride – whether famous or not – thinks that their own engagement ring is the most beautiful in the world. The rest of us, however, may or may not feel the same. We scour the web every week for the latest celebrity engagement news, and choose what WE feel are the best and worst. It's all done in the spirit of fun, we mean no harm – and of course we wish the best to all of the happy couples! Here are our picks for this week…
The Best: Jenelle Evans
Teen Moms star Jenelle Evans is finally all grown up! Having had a busy start in life, this reality TV star mother already has two sons – Jace (7) and Kaiser (2). Just last month she welcomed her first baby girl, named Ensley, with boyfriend David Eason. That's a lot of work for someone as young as 25, but she seems more than willing to handle it.
Her ever supportive boyfriend David is ready to be by her side every step of the way, however; a few days before Valentine's, he popped the question! Planning a spur of the moment hike up a mountain and early morning breakfast, he secretly had the MTV cameras hiding at the top to catch the special moment he proposed with surprise roses and a fabulous ring.
The delicate design consists of a pear shaped diamond surrounded by a teeny weeny diamond halo, on a silver toned band. David did all the choosing himself, and Jenelle is over the moon with the result and the proposal. They're planning a wedding once they're all moved into their new home.
Our Verdict: We can't admit to being fans of reality TV in general, but we know a pretty engagement ring when we see one. Jenelle is working the pear-shaped trend perfectly, and the style is both feminine and classic. Good choice.
The Worst: Lady Gaga
Lady Gaga has been making headlines recently for her foot stomping performance at the Superbowl Half Time Show in February. She jumped from the stadium roof, swung from wires, and delivered her greatest hits in a spectacular 15-minute show that wowed pretty much the entire TV-watching world.
While her career is certainly better than ever, Gaga's personal life has had its ups and downs recently. Back in 2014, she joyfully announced her engagement to boyfriend Taylor Kinney, who proposed with a typically Gaga-esque ring on Valentine's Day (but more on that later). Sadly due to conflicting schedules and intense pressure, the couple called it quits before walking down the aisle late last year.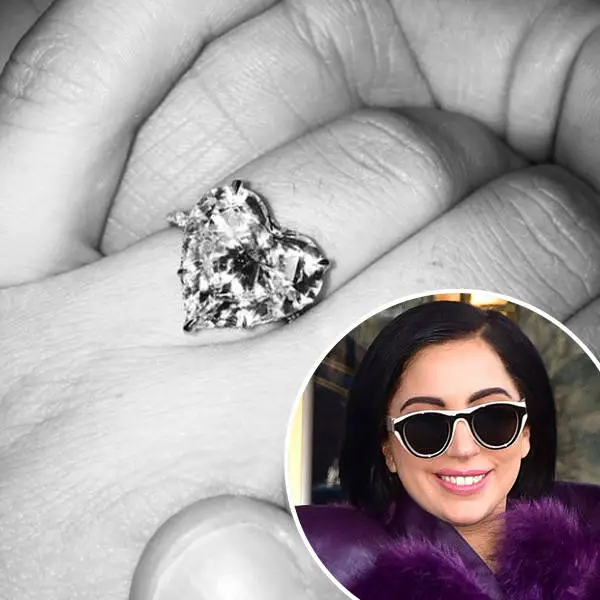 In recent weeks, Gaga has been speaking out about their break-up and why she decided to give back the ring (for closure, which is understandable and even admirable) – so we decided to revisit it. Kinney splashed out on a staggering heart shaped diamond for his former love, designed by none other than Lorraine Schwartz. Flawless quality and worth an estimated $400,000 or more, it has pave diamonds along the band and is finished with a diamond encrusted 'T+S' as a secret detail.
Our Verdict: This is a ring only Lady Gaga could get away with wearing, which is exactly why we like and dislike it. If any Average Joe(anne) wore this, it would look like tacky costume jewellery. If only we could all rock Gaga's offbeat style.