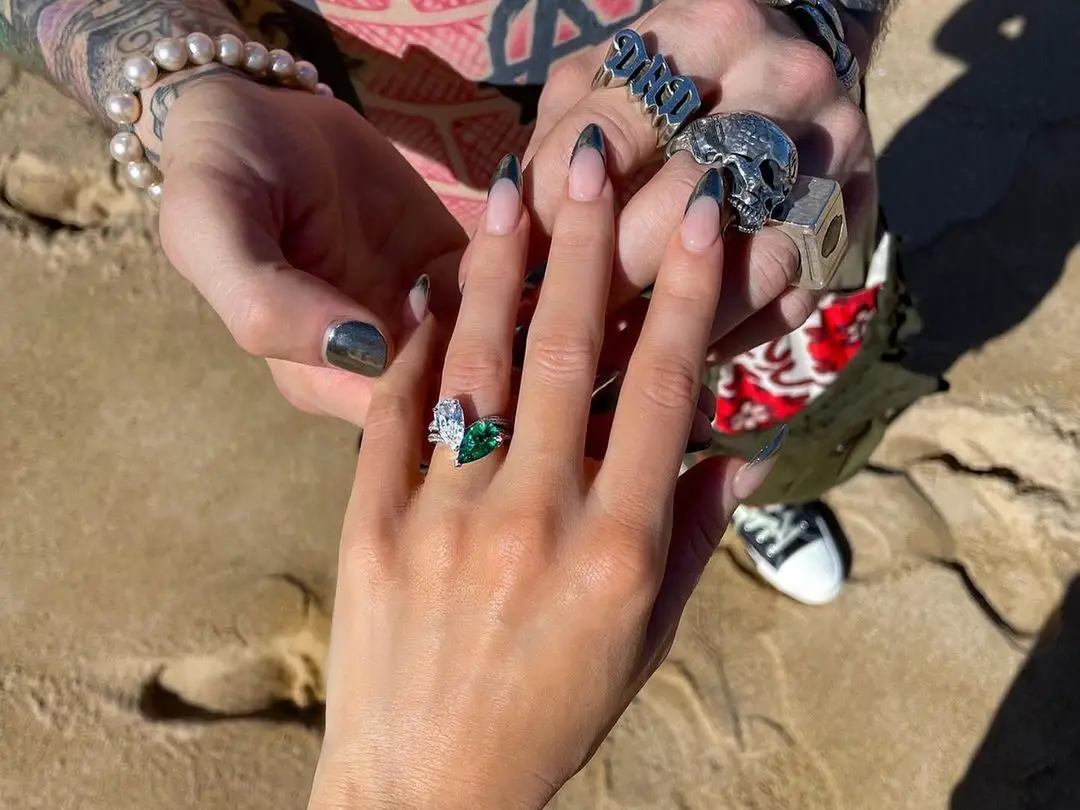 Everyone is talking about Megan Fox and Machine Gun Kelly.
American actress Megan and her rapper beau Machine Gun Kelly (MGK) — born Colson Baker — are no stranger to getting the internet talking. The couple's whirlwind romance and engagement after only a few months of dating has raised some eyebrows, as has a rather controversial engagement ring. 
A Toi et Moi diamond and emerald ring, designed to hurt when it's taken off.
Here's everything you need to know about Megan Fox's engagement ring.
What kind of ring is it?
Megan's ring is a non-traditional Toi et Moi setting with two magnetized bands that connect a pear-shaped diamond and an emerald to form a heart. The two 18 carat white gold with colorless diamond pavé bands fit together perfectly on the finger. It's a showstopper, that's for sure.
Toi et Moi or "You and Me", rings feature two stones side by side, designed to symbolize two souls becoming one — perfect for star crossed lovers like Megan and MGK.  
The stones — a D-color antique cut diamond and an untreated Colombian emerald — are also symbolic of MGK and Megan's respective birthstones. 
So, what is it that makes Megan's ring so controversial?
How is Megan Fox's engagement ring controversial?
As mentioned, Megan's ring is actually formed by two bands that fit together perfectly on the finger. They can come apart, but, when together, they are held in place by a magnet within the gold bands. Sweet, right? 
Speaking to Vogue, MGK explained that there is a rather sinister twist to the thoughtful design: "The bands are actually thorns. So if she tries to take it off, it hurts. Love is pain!". 
This revelation sent the internet into a stir, opening debates about toxic relationships and consent across social media. Engagement rings were originally given as a token of male ownership, and some fans were concerned that giving Megan a ring that is painful to remove seems regressive.
Others were quick to remind us that the couple aren't exactly traditional — MGK wears a vial of Megan's blood around his neck, so the controversial design may actually be a symbol for their far-from-ordinary relationship?
Did Machine Gun Kelly design Megan's engagement ring?
MGK worked closely with jeweler Stephen Webster to design Megan's engagement ring. Stephen Webster is a British jewelry designer known for his unique, edgy designs that blend traditional craftsmanship with contemporary flair. He is particularly known for his use of unusual materials, such as black diamonds, titanium, and lava stone, and his ability to combine different textures and colors in unexpected ways. 
Webster spoke to Vogue about his experience designing the ring with MGK. "He wanted something that was completely original and meaningful to both Megan and himself," Webster explained. "He fed me lots of material in an almost lyrical form. I used this to create the two rings which become one. I used magnets embedded in the gold to attract the two rings together when worn as one. Possibly the most romantic story I have had to work with."
How much did Megan Fox's engagement ring cost?
Depending on the stones' quality — the pear-shaped diamond appears to be four to five carats, while the emerald jewel is around six carats — the ring is estimated to have cost around $300,000 to $400,000.
Megan Fox's thorn ring might not be your cup of tea, but it's certainly given us plenty to talk about. It's also brought Toi et Moi engagement ring's back into the spotlight, which we love.