Every week we pick the best and worst engagement rings to emerge from the land of the rich and famous. This week, it's a Met Gala edition…
Engagements happen on a daily basis in showbusiness. Naturally, every bride – whether famous or not – thinks that their own engagement ring is the most beautiful in the world. The rest of us, however, may or may not feel the same. We scour the web every week for the latest celebrity engagement news, and choose what WE feel are the best and worst. It's all done in the spirit of fun, we mean no harm – and of course we wish the best to all of the happy couples! Here are our picks for this week…
The Best: Bee Shaffer
Every year the Met Gala in New York brings out the cream of the world's fashion elite. From elegant gowns to space age ensembles, the entire couture spectrum is represented, as is the best of the Hollywood elite who turn up for the occasion. Of course, Vogue editor Anna Wintour always makes an appearance, and of late her daughter Bee Shaffer has been joining her on the red carpet.
Bee, 29, did not follow in her mother's footsteps but is instead a producer on Late Night with Seth Meyers. She does however have a connection to the Vogue world other than her mum – she just got engaged to Francesco Carrozzini, son of Franca Sozzani, late editor of Italian Vogue and Anna's long-time friend.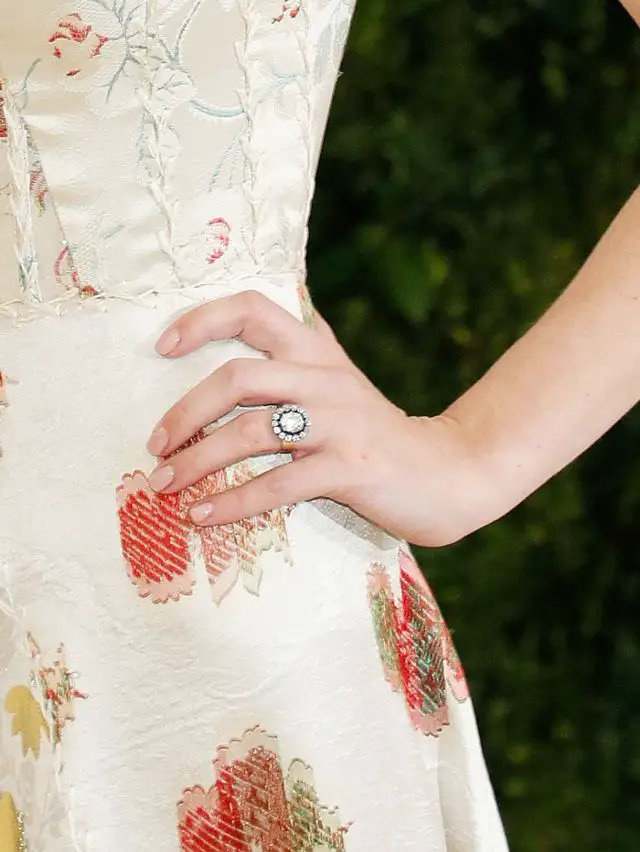 With all of those fashion connections, it's no wonder Bee chose the Met Gala to debut her stunning engagement ring. Although it hasn't been confirmed, we're pretty certain this is an antique with an intriguing history – maybe even a family heirloom. It's a large round diamond in the centre surrounded by 14 smaller round diamonds, set on a thick, yellow gold, unusually flat band. One other thing is for certain; this is going to be the most stylish wedding, ever.
Our Verdict: Who in their right mind would not give the top spot to Bee? For one thing, Anna Wintour would probably have our heads if we didn't. But it's also a stunning piece, romantic and beautiful and of course, utterly unique. Bee just became official fashion royalty, forever.
The Worst: Kate Upton
Model and actress Kate Upton is another star who chose the Met Gala red carpet to debut her engagement ring to the world. At last year's Gala Kate appeared in a head-turning, sequin covered, floor length ball gown, with her only accessories a simple clutch and this truly beautiful ring.
Upton's fiance Justin Verlander, baseball pitcher for the Detroit Tigers, proposed just before the baseball season started last year, and the pair kept it quiet for as long as possible. They had been happily dating for three years before the proposal, and the ceremony is due to take place later this year.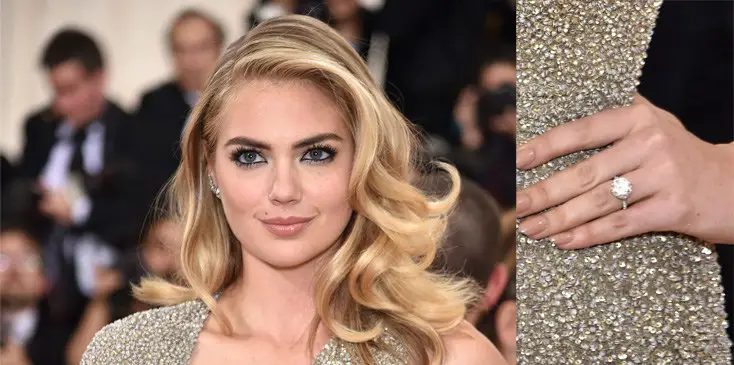 Justin collaborated with jeweller Anita Ko to create a one of a kind ring that is 'rare and of exceptional quality…. Just like their love'. It's a truly dazzling round brilliant diamond that looks to be a minimum of 4 carats in weight, although some sources are clocking it as closer to 8 carats. It's a six prong setting that's set with more tiny diamonds around the band, and we're guessing it's platinum. All in all a very classy piece.
Our Verdict: Don't get us wrong, this is an absolutely fabulous engagement ring. We love its simplicity, it's understated glamour and it's timeless design. But when compared to Bee's new bling, it just doesn't make the cut. We really are sorry, Kate.