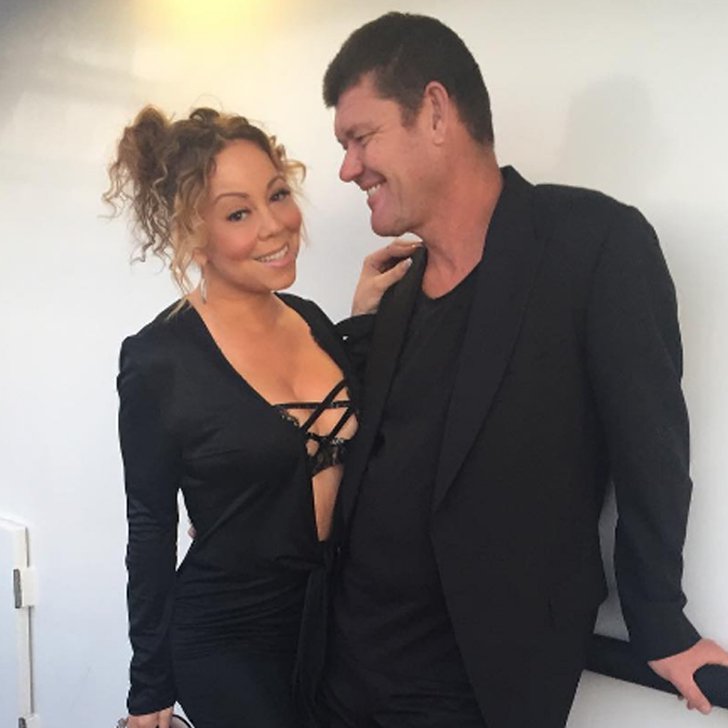 Every week we pick the best and worst engagement rings to emerge from the land of the rich and famous. This week, we've chosen another single lady with more than one blingy engagement ring to her name. Welcome to the Mariah Carey edition of Ring Picks!
Engagements happen on a daily basis in showbusiness. Naturally, every bride – whether famous or not – thinks that their own engagement ring is the most beautiful in the world. The rest of us, however, may or may not feel the same. We scour the web every week for the latest celebrity engagement news, and choose what WE feel are the best and worst. It's all done in the spirit of fun, we mean no harm – and of course we wish the best to all of the happy couples! Here are our picks for this week…
The Best: Mariah Carey
Music legend Mariah Carey has been engaged not once, not twice, but three times in her 47 years on earth. Her first ill fated marriage was to Sony Music boss man Tommy Mottola, lasting from 1993 to 1998. Their stormy relationship ended in one of the most talked about divorces of the day, and it had such an effect on the diva that it was another ten years before she tied the knot again.
Her second husband was comedian Nick Cannon, who actually proposed twice – because Mariah ran away in shock the first time! While hanging out in her penthouse apartment in Manhattan, Nick presented his love with a gorgeous engagement ring hidden inside a ring pop. After the shock subsided a day or two, he 'kidnapped' her and took her on a helicopter ride over the city. This time she said yes.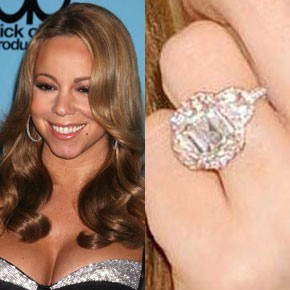 If the rumour mill is to be believed, Nick proposed with the engagement ring he once gave to his former fiancee. We reckon Mariah wouldn't stand for that kind of behaviour, but either way it's a stunning piece. You're looking at a 17 carat emerald cut pink diamond in the centre, surrounded by a halo of 58 tiny pink diamonds and accented with half-moon diamonds on the sides. Nick got it from Jacob & Co. and reportedly shelled out $2.5 million for it.
Our Verdict: It may be gigantic, but did you really expect anything less from Mariah? We love pink diamonds in any form, and the design of this one is especially beautiful we must admit. Although 17 carats is far too big for any normal person to wear in everyday life, for Ms. Carey it's just perfect.
The Worst: Mariah Carey
Sadly, Mariah and Nick separated in 2014 and their divorce was finalised earlier this year. And it wasn't long before the singer was swept up in a new romance with Australian investor James Packer. In January of this year Packer proposed, but the engagement was called off last month amid rumours that his involvement in Scientology was causing problems in the relationship. And in true Mariah style, the diva is refusing to return the $10 million sparkler.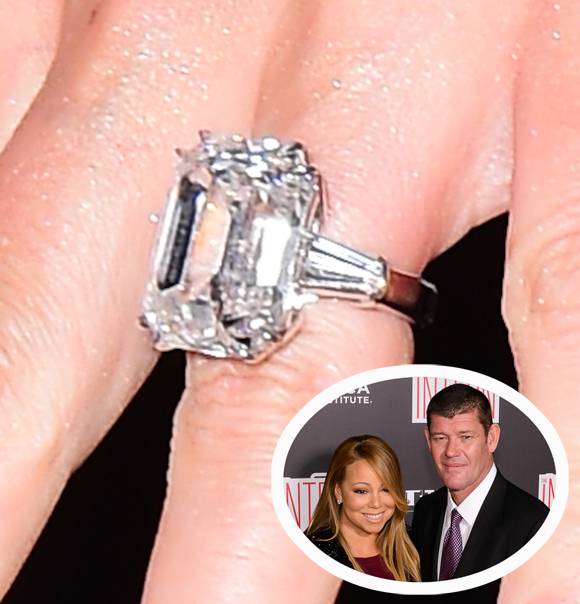 Packer doubled the engagement ring efforts of Nick Cannon by presenting his love with a whopping 35 carat diamond. Yes, that's thirty five. He had it custom made by New York based designer Wilfredo Rosado, and Mariah is still happily wearing it on her right hand. It's a flawless emerald cut in a double prong setting, with diamond baguettes on the side and a platinum band. We probably wouldn't want to give up something that valuable either.
Our Verdict: Even for Mariah Carey, this is a little too much. Granted the design is simple and lets that impeccable diamond do all the talking, but we struggle to imagine how Mariah, even with her massive entourage and constant security detail, could enjoy wearing this baby. Nick wins this round.