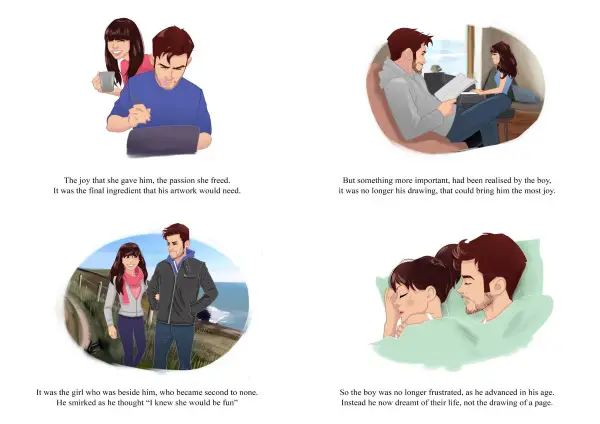 Thinking of popping the question sometime soon? Don't let your other half see this, because you'll never be able to match what you're about to read.
Will Sliney is an internationally acclaimed graphic artist from Cork, Ireland. He works on some of  Marvel's biggest comics and graphic novels like Spiderman, X-Men, and Star Wars to name a few. His girlfriend (now fiancée, and you'll soon see why) Laura O'Callaghan is a music teacher, also from Cork. Both coming from creative backgrounds, it was only fitting that when Will asked Laura to marry him, he did it in a somewhat unorthodox way.
On Laura's 29th birthday, he threw her a surprise party. So far, so good. The couple's family and friends were all present, and some of them already knew about the grand plan that was being put into place. Over the previous several months, he had perfected a series of Disney-inspired drawings detailing the couple's journey.
Starting with their early lives, he depicts Laura as a child with a love of playing piano, who grew up to take children just like her under her wing and teach them music. Then he tells his own story, a young man with big dreams of making it as a graphic artist, but struggling to find his feet. After trying his luck overseas, he returned home to Cork almost defeated. Then, he saw Laura singing on stage. It was love at first sight.
He then details their various adventures together all over the world and some of the sweet things  she's done for him over the years, such as caring for him when he broke his leg and going with him to 'nerdy' Star Wars conventions.
As he says himself in the drawings, she became the missing ingredient his artwork needed, and all the pieces of the puzzle finally fit together for both of their lives. The adorable poem that accompanies the drawings finishes off with this verse: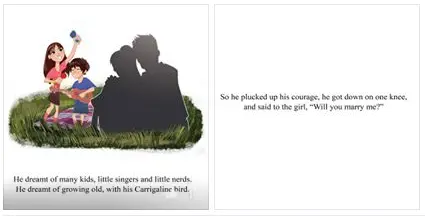 'The boy was no longer frustrated as he advanced in his age, instead he now dreamt of their life, not the drawing of a page.  He dreamt of many kids, little singers and little nerds. He dreamt of growing old, with his Carrigaline bird. So he plucked up the courage, he got down on one knee, and he said to the girl 'Will you marry me?'
For an even bigger romance factor, Will had the drawings projected onto a big screen for the whole pub to see, and made Laura read out the accompanying verses for each one.  Needless to say, when she got to the end, she was a little overwhelmed!
How could anyone say no to that? Congratulations Will and Laura!