Every week we pick the best and worst engagement rings to emerge from the land of the rich and famous. In this edition, an heiress and a fashion blogger trade blows…
Engagements happen on a daily basis in showbusiness. Naturally, every bride – whether famous or not – thinks that their own engagement ring is the most beautiful in the world. The rest of us, however, may or may not feel the same. We scour the web every week for the latest celebrity engagement news, and choose what WE feel are the best and worst. It's all done in the spirit of fun, we mean no harm – and of course we wish the best to all of the happy couples! Here are our picks for this week.
The Best: Elle Ferguson
Elle Ferguson is a pretty big fashion blogger in Australia, so when we heard that she had gotten engaged to former AFL player Joel Patfull last December, we knew her engagement ring would be drop-dead gorgeous. What we didn't know, however, is that Elle's sister Lucie is a jeweller! Talk about a match made in heaven!
Elle's mother Kim sadly passed away after a battle with cancer in 2015, so when Joel decided he was going to propose, he asked for Lucie's blessing instead. Naturally Lucie was all to happy to agree, and even promised to design the ring too! It's a dazzling five carat oval diamond in a prong setting with a delicate pave diamond band, but it also includes a heartfelt detail. To ensure that mum Kim was a part of the special moment and would always be with Elle for the rest of her life, Lucie added an aquamarine stone at the bottom of the band. Aquamarine is Kim's birthstone, the colour of her eyes, and it's also the colour of the water at Wategos beach, where Joel proposed. We're not crying, you are.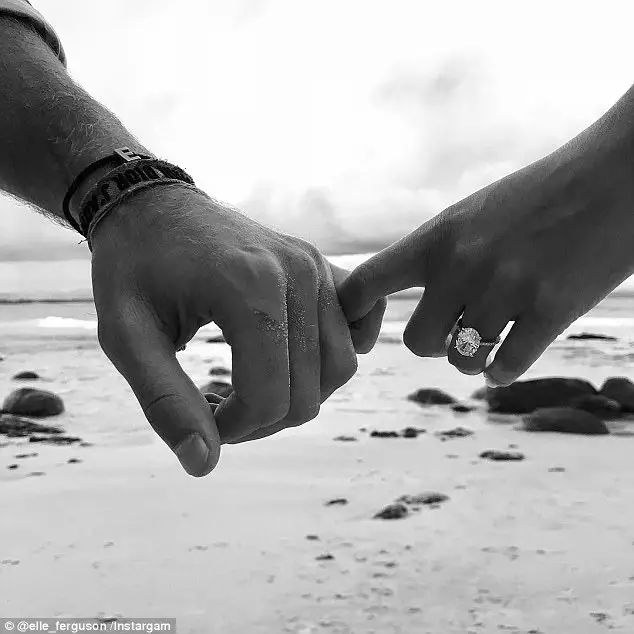 Our Verdict: This particular design is fast becoming 'the' engagement ring look of recent years. The delicate prong setting let's the centre diamond shine bright, while the discreet pave band adds a subtle hit of extra glamour. 10/10 from us.
The Worst: Alexa Dell
Just in case the name didn't give it away, Alexa Dell is the daughter of Michael Dell, the founder of Dell Technologies. She's just 24 years old, but she's already a billionaire thanks to her family's wealth. Her father is worth an estimated £23.5 billion, so… she can pretty much do whatever she wants, whenever she wants.
Alexa has been dating boyfriend Harrison Roufa, a real estate investor, for around a year now. They were set up on a blind date by a mutual friend following her break-up with Tinder CEO Sean Rad (guess where they met? Tinder, duh). He proposed at the Four Seasons in Kona, Hawaii, which is naturally owned by Alexa's family.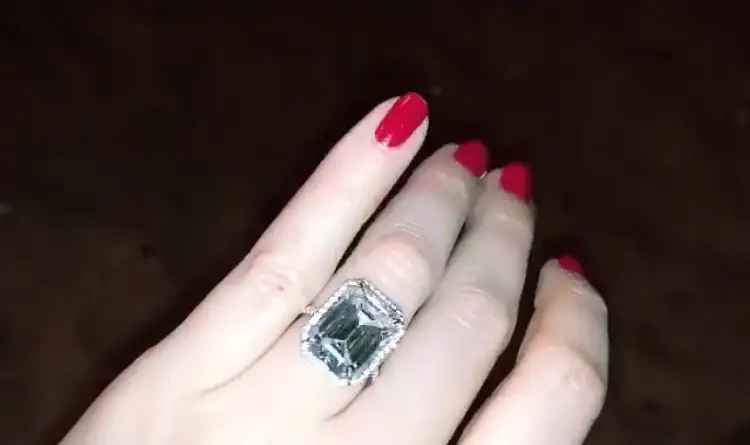 So what about the ring? Worth a measly $3 million, it's a 12-carat emerald cut diamond set in a pave halo with a platinum band. Alexa has been flaunting her new bling all over social media, but to be honest it's so shiny we can hardly get a good look at it!
Our Verdict: Unlike her namesake Alexa Ray Joel, who won the last Ring of the Week title, we just can't get behind this design. We know Alexa is a billionaire and anything smaller than this would probably seem ridiculous in her eyes, but… we just don't like it. Sorry, Alexa.