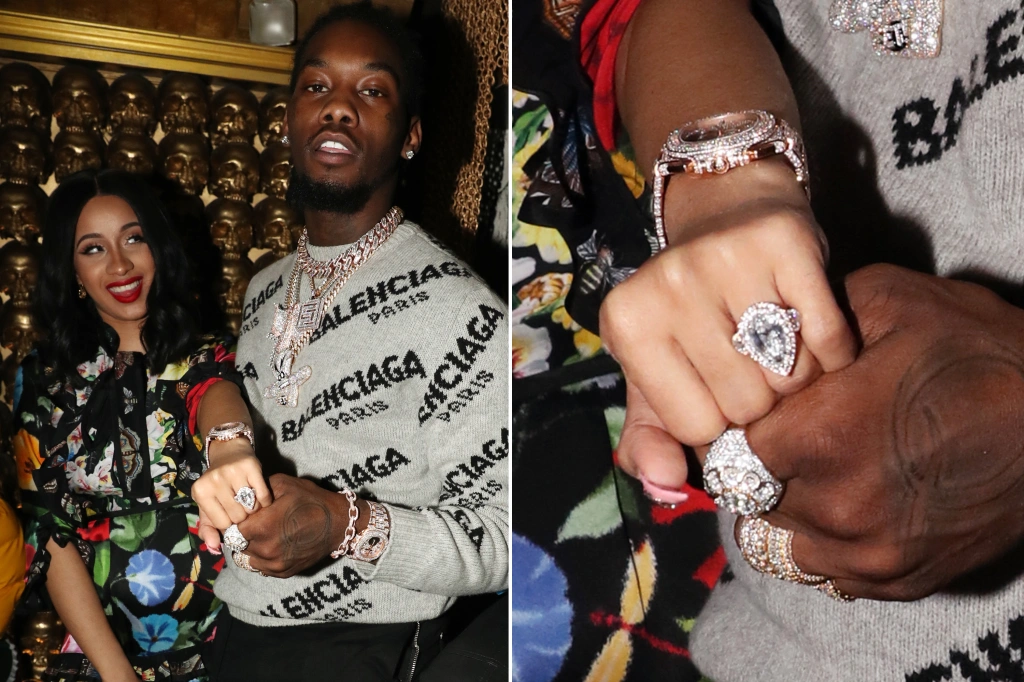 Cardi B, the Grammy-winning rapper, is known for her bold personality and even bolder jewelry choices. But Cardi B's engagement ring, given to her by her now-husband, rapper Offset, is undoubtedly one of her most eye-catching pieces. 
Cardi and Offset originally got engaged onstage in 2017 at Power 99's Powerhouse concert in Philadelphia. Taking to Instagram, she told her fans  "I just want to go to sleep and wake up and make sure this ain't a dream.Thank you God for all these blessings. Thank you babe @offsetyrn God really sent you to me," she wrote alongside a video of her pear-shaped ring.
And just wait until you see this ring. Let's take a closer look.
OFFSET
JUST
PROPOSED
TO
CARDI B#PowerhousePhilly@Power99Philly pic.twitter.com/0i4mC6NQQ7

— Wells Fargo Center (@WellsFargoCtr) October 28, 2017
What kind of ring is Cardi B's engagement ring?
Cardi B's engagement ring features an enormous pear-shaped diamond, set on a delicate pavé band. The diamond itself weighs in at an impressive 8 carats, making it a truly show-stopping piece.
It's the elephant in the room. The BIG elephant. The most significant feature of Cardi B's engagement ring is the quality of the diamond. The stone is a type IIa diamond, which is the purest form of diamond available. This means that the diamond is entirely colorless and has excellent clarity, making it exceptionally rare. Exceptionally rare means exceptionally valuable, and the $1M dollar estimated price tag confirms that.
In addition to its exceptional quality, the diamond is set in a unique way that accentuates its shape and size. The pavé band is delicate enough not to overpower the diamond, while still adding some extra sparkle to the overall design.
We also can't overlook the pear shape design. Modern engagement rings are generally round and square.
Who designed Cardi B's engagement ring?
Cardi B's engagement ring was designed by Pristine Jewelers, a New York-based jewelry company known for creating some of the most luxurious and high-end pieces in the world. 
The ring was designed by Pristine Jewelers' founder, Avi "Amit" Davidov, who worked closely with Offset to create a ring that would capture Cardi B's personality and style.
How much was Cardi B's engagement?
As you might expect from such a stunning and unique piece of jewelry, Cardi B's engagement ring came with a hefty price tag. Reports vary on the exact cost, but it's estimated that the ring is worth anywhere from $500,000 to $1 million.
It's totally worth it though. Cardi B's engagement ring is a truly one-of-a-kind piece of jewelry that perfectly captures her bold personality and unique style. With a show-stopping pear-shaped diamond, delicate pavé band, and exceptional quality, it's no wonder the ring has become one of the most talked-about pieces of jewelry in recent years. 
Did Cardi B change her engagement ring?
Offset and Cardi B have a high-drama relationship, let's just say this. Since their engagement in 2017, we've been given a marriage, a cheating scandal, a divorce announcement, a public on-stage apology at a concert and then reconciliation.
It's been a rollercoaster, and one that culminated in a second ring gifted as a birthday present to Cardi. We couldn't not mention this one.
She hasn't changed her engagement ring, but she was given an exquisite diamond ring for her birthday. The ring contains 100 carats of diamonds. Yes, you read that right, 100 carats. The exquisite ring, designed by New York based Pristine Jewellers, has been dubbed as the "titanic diamond'. 
Whether you're a fan of Cardi B and Offset or simply appreciate beautiful jewelry, there's no denying that they have great taste in rings,