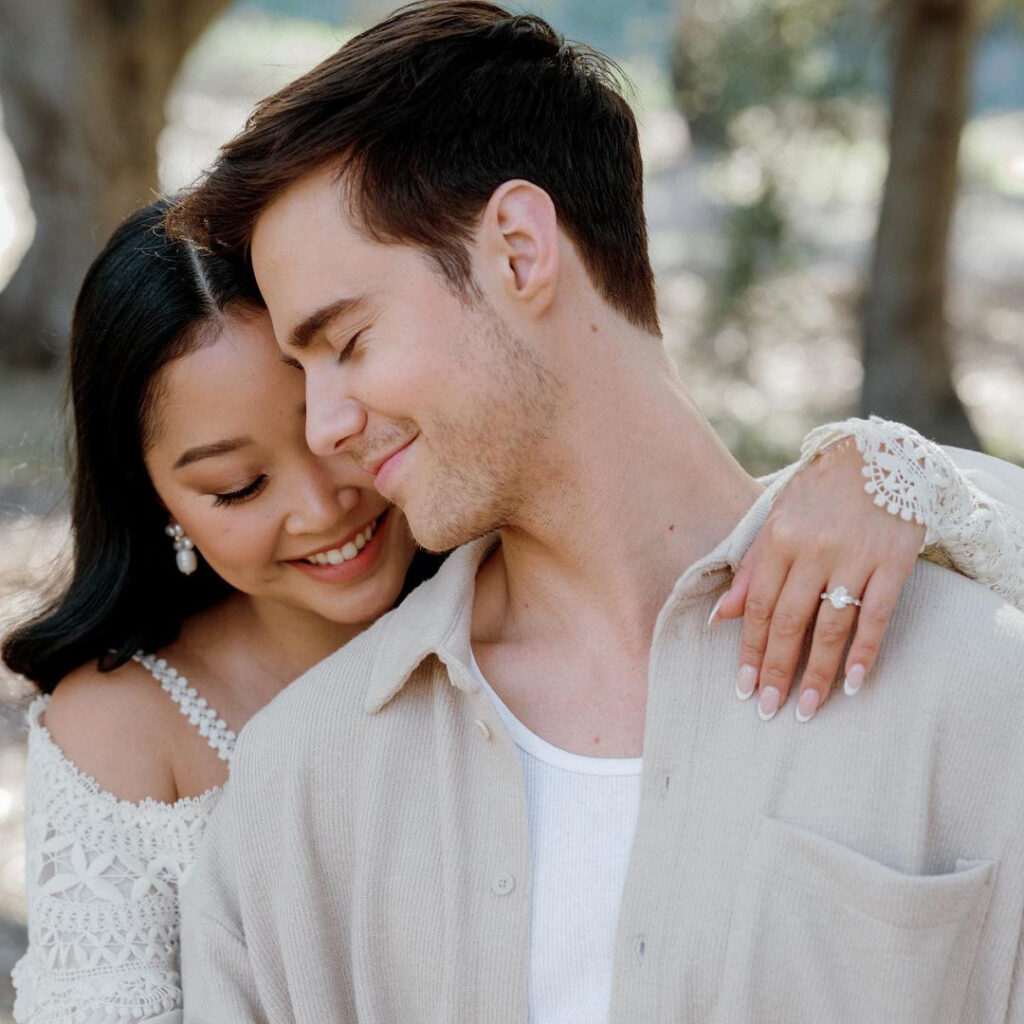 All the boys need to take notes from Anthony De La Torre.
Lana Condor, the actress known for "To All the Boys I've Loved Before," and her beau, Anthony De La Torre, are engaged. 
These two lovebirds first crossed paths in 2015 and have been inseparable ever since. Fast forward to January 2022, and Lana and Anthony took to Instagram to announce their engagement. "Saying YES was the easiest decision I've ever made."
And now, we're here to spill all the dazzling details about Lana Condor's engagement ring. 
From the diamond cut to the intricate setting, we've got everything you need to know.
What kind of ring is Lana Condor's engagement ring?
Lana Condor's engagement ring features a magnificent 3-carat oval center diamond set in yellow gold. 
While the diamond takes center stage, it's surrounded by exquisite pear and round-shaped diamonds, delicately arranged. These accent diamonds not only add an extra touch of sparkle but also create a mesmerizing halo effect, highlighting the center stone and accentuating its natural beauty.
The choice of an oval cut for the center diamond is significant as it combines the brilliance of a round diamond with the elongated shape, creating a unique and sophisticated look. The oval cut is known for its exceptional fire and brilliance, allowing light to reflect beautifully.
The use of yellow gold not only adds warmth and richness but also offers a classic and timeless appeal. 
Who designed Lana's engagement ring?
Lana Condor's breathtaking engagement ring was designed by Paris Jewellers, a remarkable female, Vietnamese-owned company based in Canada. 
Known for their exceptional craftsmanship and unique designs, Paris Jewellers has created a ring that perfectly captures the essence of Lana's style and Vietnamese-American heritage.
In her own words, "The fact he knew how important it was to me that he'd collaborate w/ a Vietnamese company to help design my ring is a testament to just how truly thoughtful he always is." 
Their expertise in combining exquisite design elements with cultural significance shines through, resulting in a ring that holds a deep and sentimental value for Lana.
How much did Lana's ring cost?
Lana Condor's exquisite engagement ring, with its remarkable three-carat diamond centerpiece and intricate design, is undoubtedly a stunner.
While the exact cost of the ring remains undisclosed, based on the specifications and the market value of a three-carat diamond, we'd estimate it to be worth approximately $100,000.
Well worth every penny in our books.