Engagement rings, promise rings, wedding rings, eternity rings… why does a girl need so many rings?! It can be a confusing world to step into, especially if you're a guy who has never worn jewelry before and is about to spend a chunk of cash on some bling. Picking out a 'dream ring' for your dream girl puts a lot of pressure on any guy, so don't worry – you're definitely not alone if you're feeling a little intimidated. Step right this way and we'll explain everything you need to know about promise rings, engagement rings, and why you should (or shouldn't) get one for your bride-to-be.
So what exactly is a promise ring?
A promise ring is not the same as a purity ring, which is traditionally worn to symbolise a pledge of abstinence until marriage. Having said that, if that's what you both want your promise ring to symbolise, there's nothing to stop you from going for it. That's the beauty of promise rings – they can symbolise any kind of commitment between two people. However, most couples exchange them as a kind of pre-engagement ring, wearing them to show their long-term commitment to one another and as a pledge to get engaged at a later date. This could be for financial reasons, through a period of long-distance romance, or just because they're not ready to be officially engaged yet.
However, promise rings are becoming increasingly popular nowadays for an entirely different reason. Here's the scenario: the guy wants to surprise the girl with a sweet proposal. The girl is totally on board with that idea, but not so much with a surprise engagement ring. If she's going to wear it for the rest of her life, she wants to be sure she likes it. The solution? The guy picks out a budget-friendly promise ring for the actual proposal, and after the girl accepts, they shop together for her dream ring. It takes a hell of a lot of pressure off the guy (apart from the actual proposal itself, of course), and it eases the girl's concerns about getting stuck with an ugly ring forever. What's not to like?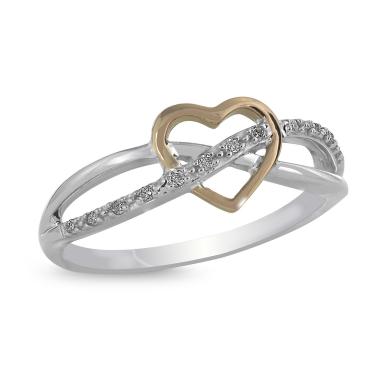 How is a promise ring different to an engagement ring?
An engagement ring means you're definitely planning on getting married. A promise ring just means you're committed to one another and may go down that path in the future. Because it's not quite as big of a deal as an engagement ring, promise rings are generally more subtle in style. You have the save the wow factor for the main event, right?
Many couples choose simple gold or silver bands, but some use it as a trial run for her engagement ring. The girl may give the guy a few pointers on what style of ring she wants. He picks one, then she gets to live with it for a while to see if it really works for her. And since you're probably planning on getting an engagement ring eventually, there's no expectation to spend wads of cash on the promise ring. Choosing CZ instead of diamonds is absolutely fine, as is silver or white gold instead of platinum.
Why should you buy a promise ring?
There are plenty more benefits to buying a promise ring, too. Besides getting a feel for what kind of ring she wants and taking that step towards a bigger commitment, the process of buying a promise ring will teach you a LOT about buying a real, diamond engagement ring. You'll learn about metal types, settings, ring sizes – pretty much everything except for the diamond on top. Believe us, that will be a huge help when the time comes to buy the 'big' ring.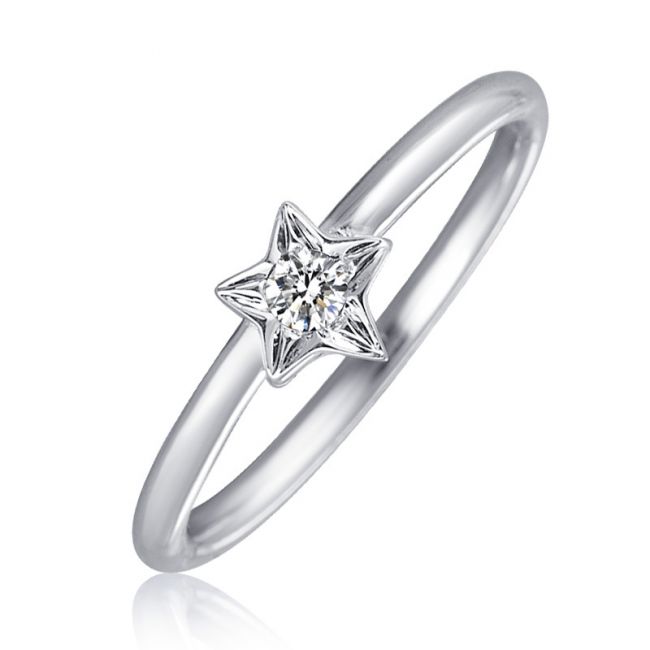 If you're planning a surprise proposal, doing it with a promise ring in hand means she'll still have something to show off to friends and family when you announce the happy news. Showing up with an unadorned hand just takes some excitement away from whole experience, don't you think? If she's not used to wearing rings, a not so expensive promise ring is the perfect way to become accustomed to it. If it gets lost or damaged, it won't be half as devastating for either of you if it's just a low-budget, pre-engagement ring.  
Is the guy supposed to wear one, too?
There's no hard and fast rule on this, so ring nay-sayers can breathe a sigh of relief. If you want to wear one too, go for it. If you don't, it's no big deal. Because promise rings are still a relatively new phenomenon, there's no expectations either way. Definitely discuss it as a couple though, and come to an agreement that works for you both.
Follow this advice, and you'll be all set to find a beautiful ring for your pre-engagement. We promise. (Sorry.)