Someone, somewhere, was looking out for this guy…
Nico Bellamy is, by all accounts, a pretty lucky guy. He has a beautiful girlfriend called Caitie Schlisserman. They live together in California, and they each have plenty of unconditional support from their circle of family and friends. In fact, he has such a good relationship with his girlfriend's family that her father handed Nico a family heirloom engagement ring to propose with. It belonged to Caitie's grandmother, and it's a beauty – a prong set round diamond with a diamond baguette on each side.
Nico had been holding onto the ring for THREE years, waiting for the right time to pop the question. Naturally, he kept it in a super safe and super secret place – a local deposit box that Caitie had no access to, and didn't even know existed. Last summer, the couple decided to move from West Hollywood to Silver Lake, so Nico went to retrieve the ring. By then, he was planning to propose for real, so he decided to keep it with him instead of in another deposit box.
And that was a mistake.
On moving day, Nico placed the ring securely – or so he thought – in his backpack. He left his backpack inside their new home, then helped the movers load all of their belongings from trucks into their rightful new places. As most of us know, moving house can be hectic, so the next few days were spent unpacking, organising, and getting settled.
The following week Nico was headed to the airport to pick up Caitie's father when he realised the ring was still in his backpack. Thinking it would be wise to move it somewhere safer, Nico picked up the bag – and realised the pocket had been unzipped and the ring was gone.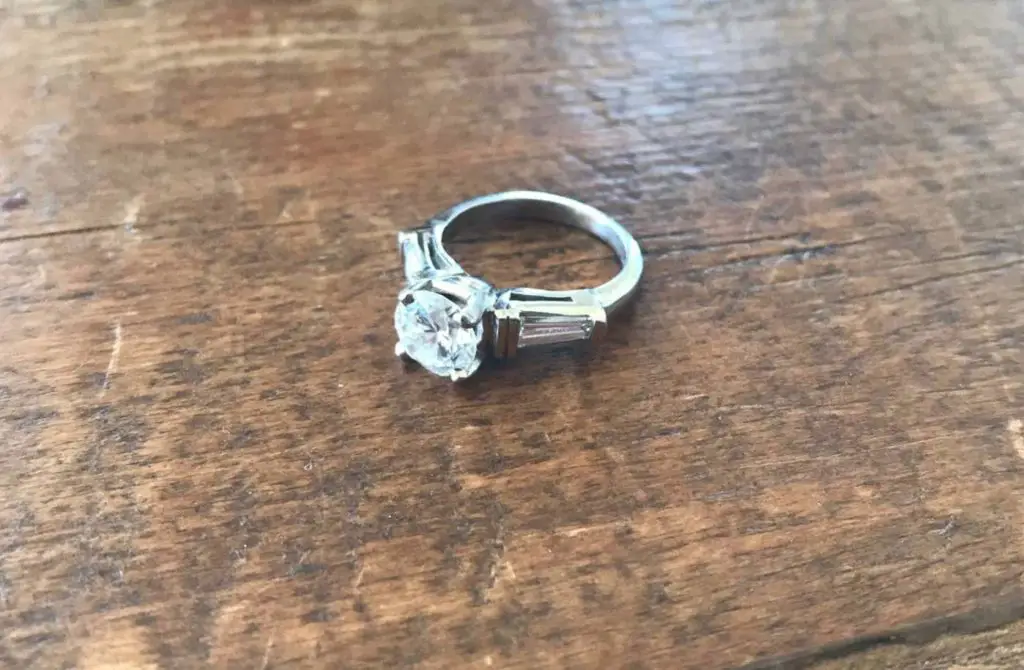 "When I dumped everything out and realized the ring wasn't there, I ran to the bathroom and threw up immediately" he says. "I started freaking out, and I was running around the house overturning stuff, desperately, because I knew there was no way it could have fallen out somewhere." He was also freaking about breaking the news to Caitie's dad, who was still mourning the loss of his mother passing away nine months earlier. Yeah, that's not a good time to reveal the loss of a precious family heirloom.
He called the moving company to see if it had turned up in their trucks, but to no avail. He ransacked the whole house – again, no joy. There was only one thing left to do – tell Caitie's dad, Stuart, the truth, and hope for the best. He texted Stuart asking to speak to him privately the second he stepped foot outside the airport, and broke the news. Stuart simply said they'd figure something out.
Then on the drive home, eagle-eyed Stuart noticed a sign stuck to a tree that said 'found engagement ring'. With Caitie in the car they both had to hide their interest, and neither of them could take down the contact details without being noticed. As soon as they got home, Nico decided the dog needed a walk immediately, and headed back to check out the sign.
"I thought it had to be mine, because it seemed like such a weird coincidence. I hoped it would be, but how could someone have found this thing?" he said. He texted the number, and a couple on the other end did indeed have his engagement ring! They came across the box in an alley near their house, which the moving trucks were using to unload the previous week. They put up one single sign, and it just so happened to be on a road that Nico never usually uses, but thought might just be faster on that particular day. What are the chances?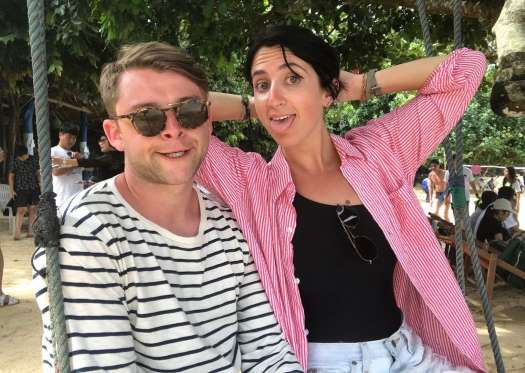 "I didn't even know the ring was missing until that morning. This all happened in the span of like two hours" NIco said. "I went through like every stage of panic, anger, fear and then joy in such a small amount of time. It was the most stressful two hours in my life. And the greatest thing now is it's on Katie's hand — so if it gets lost again it's her fault!"
Caitie knew nothing about the saga until New Year's Eve, when Nico (having kept the ring safer than ever for another couple of months), finally popped the question. After all that, you better believe she said yes!
Congratulations Nico and Caitie!