Spoiler alert: Meghan Markle or Kate Middleton are NOT at the top…
With the flurry of royal engagements at Buckingham Palace recently, we thought it's about time to rank that royal bling. We've created a list of what WE feel are the best royal engagement rings, in a very particular order.
#10: Sarah Ferguson
By all accounts, Prince Andrew (the Queen's third child) and Sarah Ferguson were destined to be together. They were friends since childhood and Princess Diana set them up, rightly thinking they'd hit it off immediately. Andrew was especially enchanted by her red hair – so much so that when the time came to propose, he chose a Burmese ruby because it reminded him of it. The oval shaped ruby is surrounded by ten small round diamonds and set in yellow gold. It's vibrant yet traditional, and definitely royal-appropriate – and it also reminds us of Diana's sapphire ring, which makes an appearance later on in this list.
#9: Camilla Parker Bowles
Initially known as the 'other woman' in the marriage of the Prince Charles and Lady Diana, Camilla Parker Bowles is now Charles' long-standing second wife of 13 years. Friends and alleged lovers since the 1970s, their engagement in 2005 was a long time coming. Set in platinum, Camilla's engagement ring features a square-cut diamond as its centrepiece, flanked by three baguette diamonds on each side which taper down the band. Unlike Princess Diana, who chose her ring from a public jeweller against royal tradition, this piece is a family heirloom that was part of the Queen Mother's collection of jewels.
#8: Autumn Philips
Like her sister-in-law Zara below, Autumn Philips and husband Peter Philips are known for their laid-back sporty style – that's in comparison to the rest of the royals, of course. When Peter popped the question to Autumn in 2007, they debuted her engagement ring at a polo match in full polo uniform! Peter chose a three-stone engagement ring (we're seeing a trend for three-stone styles in this family) with an oval-shaped diamond in the centre flanked by two round diamonds and set in yellow gold, with a lightly detailed band. It straddles modern and classic perfectly, though it's not as flashy as some others on this list.
#7: Kate Middleton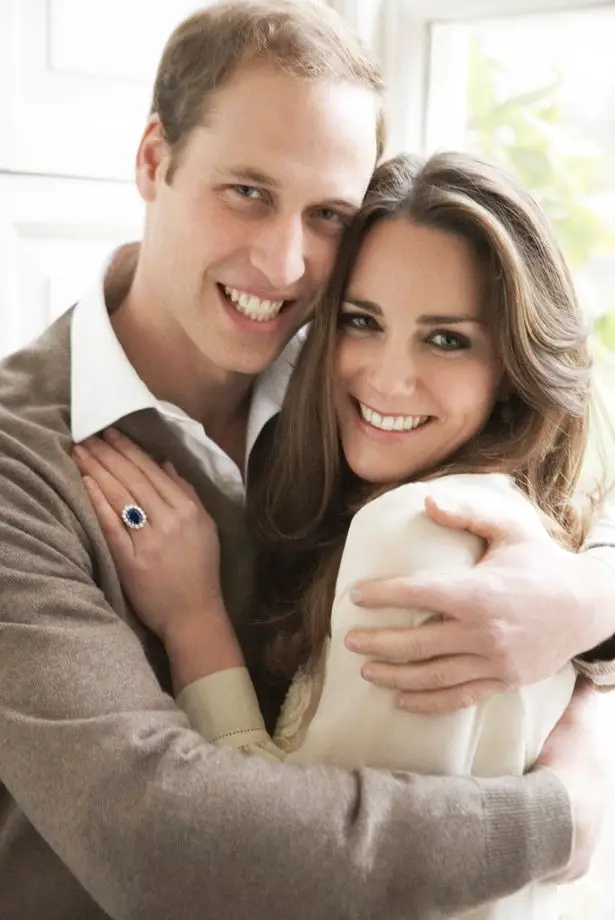 Only 7th place for one of the most famous engagement rings in the world? Afraid so. There's no denying that Kate's engagement ring is stunning, and the heart-wrenching story behind it makes it all the more beautiful. The ring belonged to Princess Diana, Prince William's mother, who died in a car crash when he was 15. He proposed to Kate with her ring so that her memory would live on. It's a 12 carat oval sapphire surrounded by 14 solitaire diamonds and set in white gold. Maybe it's because we've seen it so often, but the rest of the rings on this list just catch our attention that little bit more.
#6: Sophie Rhys Jones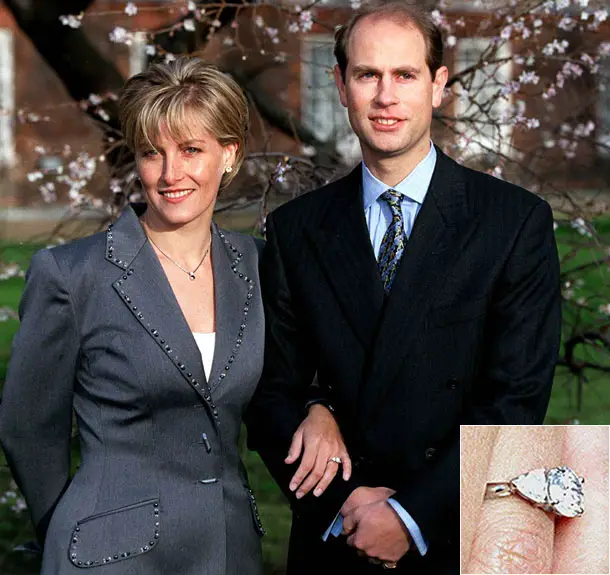 The youngest of Queen Elizabeth's four children is Prince Edward, who met Sophie Rhys Jones, our #6 in this list, when she working as a PR executive and when he was dating one of her friends! They dated for a long six years before finally getting engaged in 1999. Edward proposed with a three-stone engagement ring. In the centre is a two carat oval diamond, which is flanked by two smaller heart shaped diamonds and set in white gold. Maybe Prince Harry used this ring as inspiration for Meghan's three-stone engagement ring?
#5: Princess Anne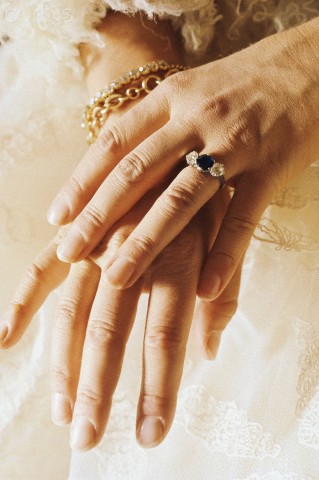 The only daughter of Queen Elizabeth, Princess Anne has been married twice – and surprisingly enough, both engagement rings are relatively similar. The first, from Captain Mark Philips, had a round sapphire as the centre stone and was flanked by two round diamonds, set in yellow gold. Her second rock from Tom Laurence features a sapphire cabochon with three small diamonds on each side, arranged in a triangular shape. The latter is very unique and we love its non-traditional vibe – in our opinion, it's the better of the two.
#4: Zara Philips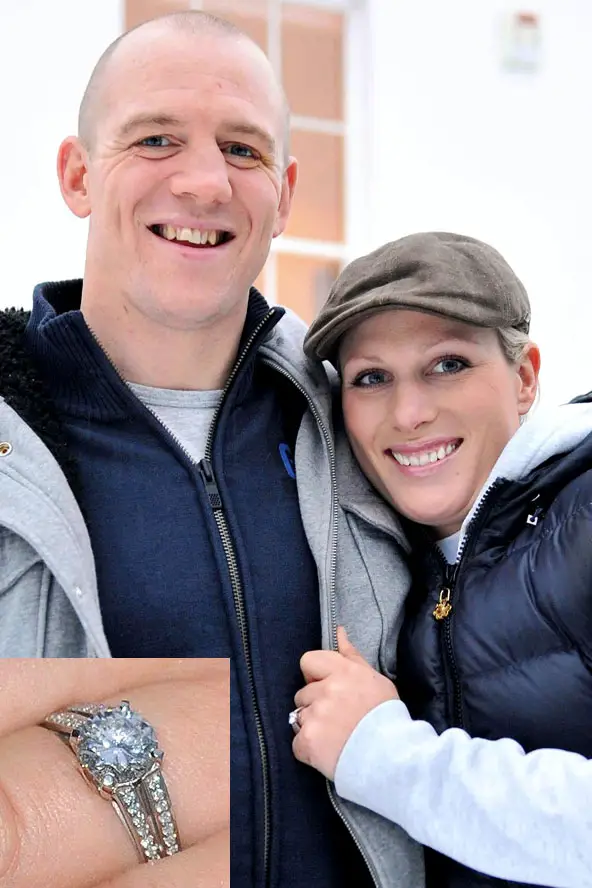 Of all of the engagement rings in this list, the one that belongs to Zara Philips is probably the most 'ordinary'. Her now husband Mark Tindall popped the question with a custom-designed ring at their home in the English countryside as snow was falling outside. In their characteristic understated style, the couple posed for photos with the press in jeans and boots – a fry cry from ball gowns at Windsor Castle! The ring is a glittering round diamond solitaire with a split shank band that's lined with pave diamonds. It has an ever so simple prong setting, and we'd happily wear it any day. Zara has low-key chic all wrapped up.
#3: Queen Elizabeth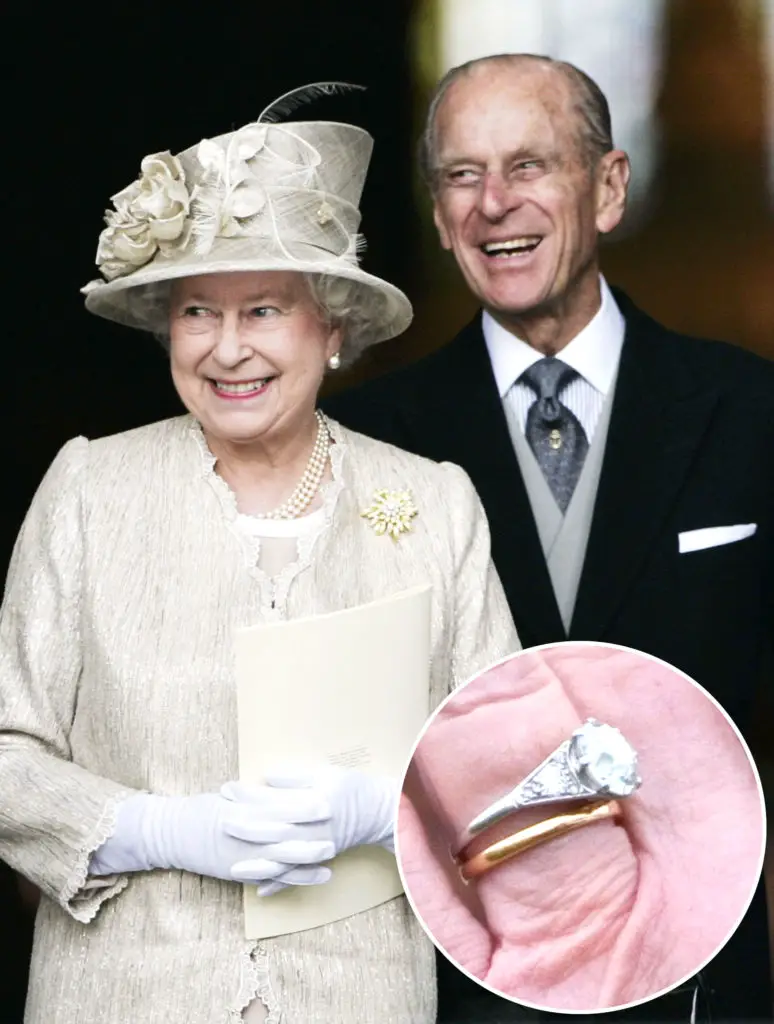 What's a list of royal engagement rings without a mention of the Queen herself? Her crown jewels may arguably be more impressive, but we love Queen Elizabeth's ring for its understated style. Prince Philip had it custom made for her from gems that came from his mother's tiara, and it features a 3 carat round diamond flanked by five smaller diamonds on either side in a tapered setting. She still wears it every day. Despite it being made in the 1940s, we would not hesitate to wear it today. Except for the fact that if we did, we'd probably go to jail for stealing from the Queen.
#2: Meghan Markle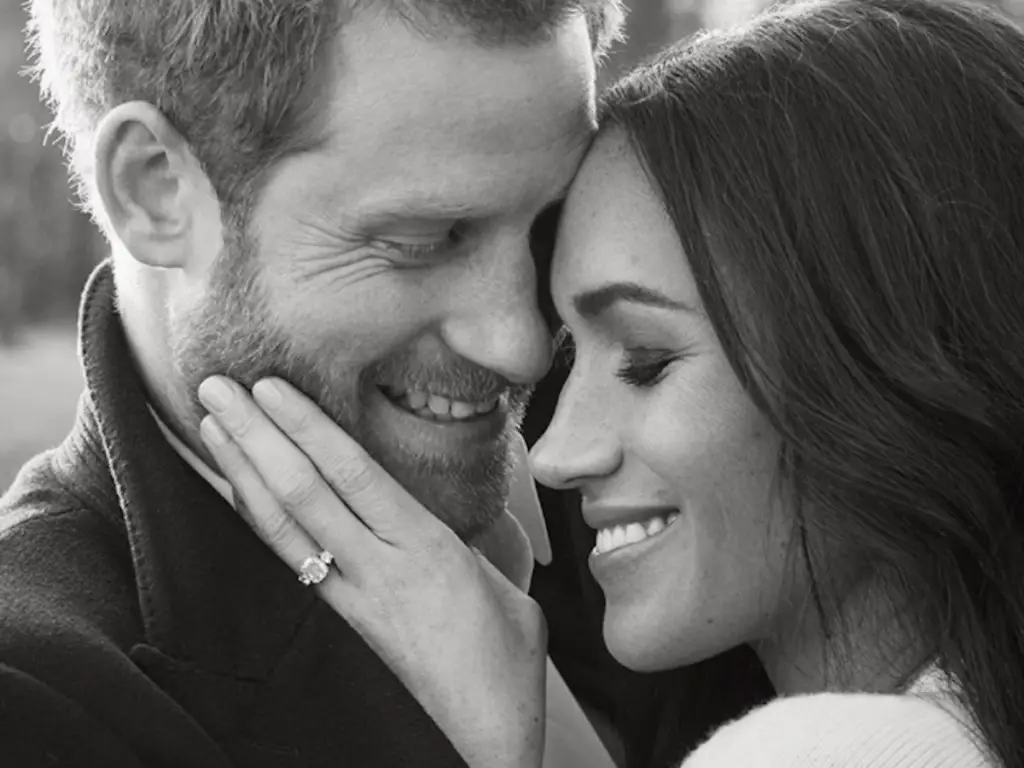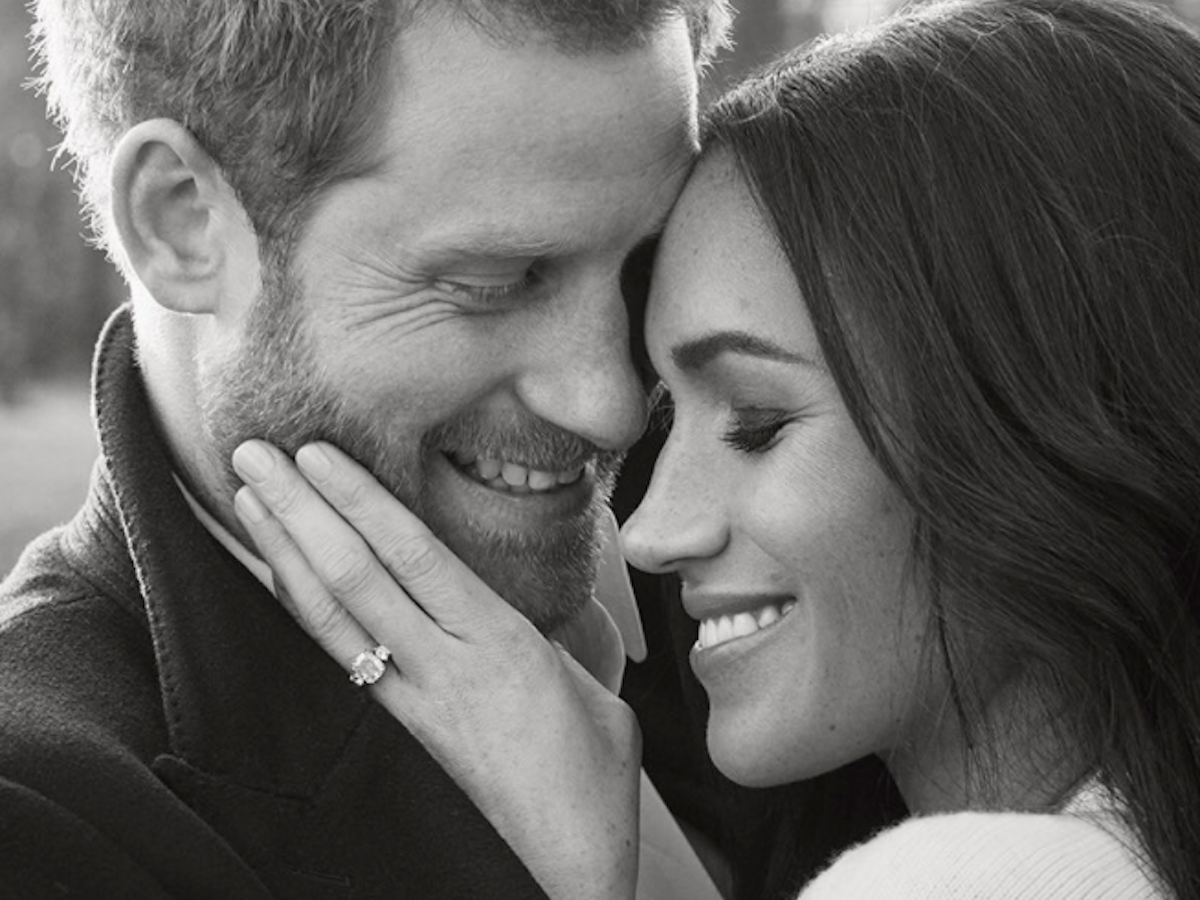 We've loved all of Meghan's red carpet looks, so when her engagement to Prince Harry was FINALLY announced last November, we expected great things for her engagement ring… and we weren't disappointed. Like his brother William, Harry honoured his late mother with this bling. It features a centre diamond from Botswana (where the couple had their first vacation together and got to know each other) with two round diamonds on either side, which were a part of Diana's personal collection. It's all set in yellow gold. Classy, timeless and undeniably stylish, we can't wait to see more of this dazzling ring.
#1: Princess Eugenie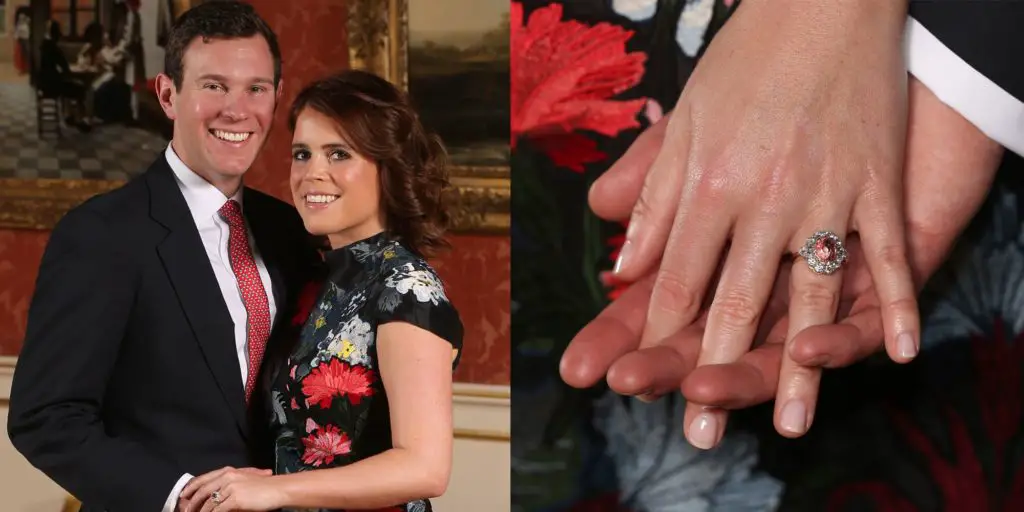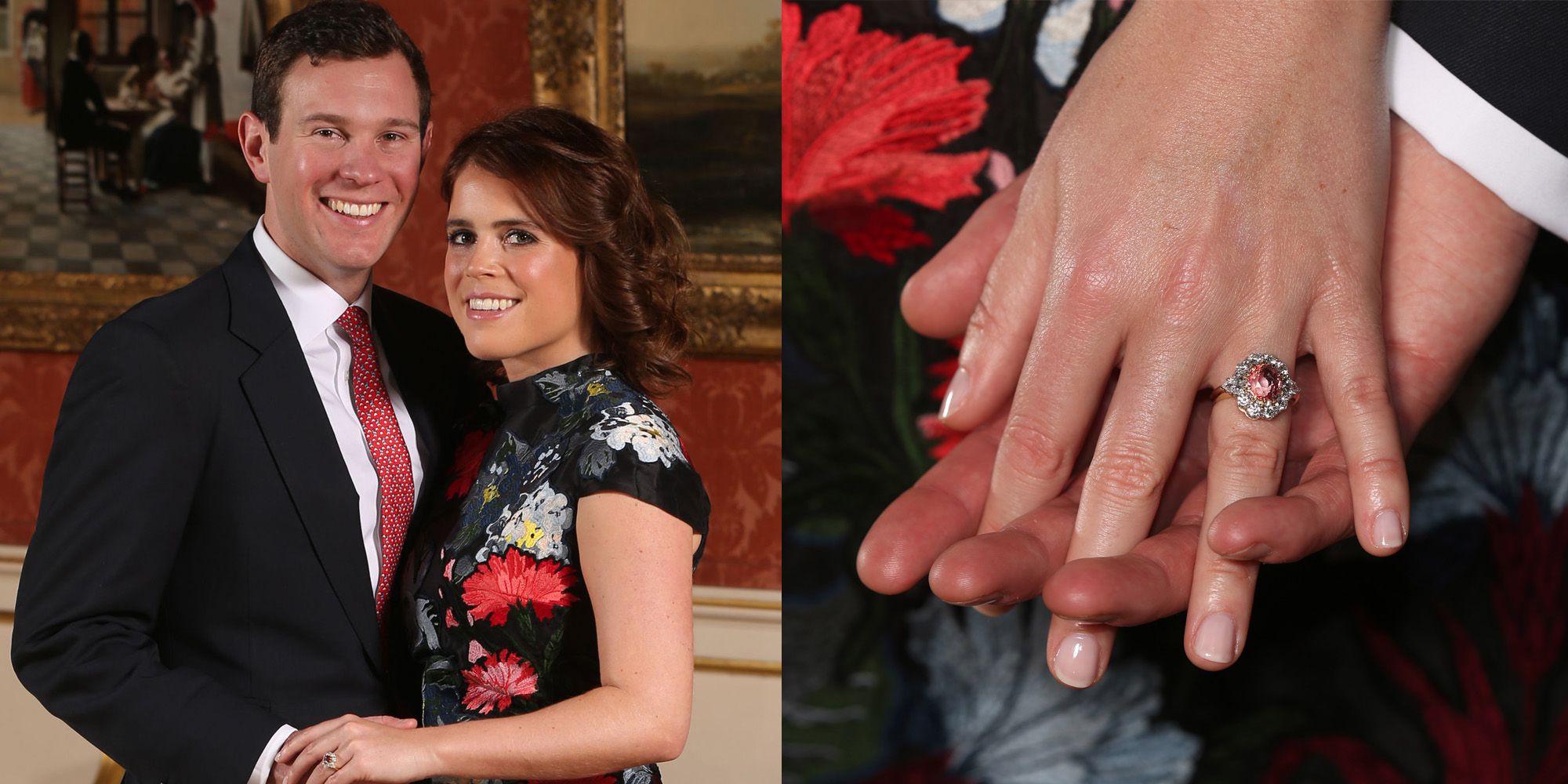 The newest engagement ring to join the royal fray belongs to Princess Eugenie, daughter of Prince Andrew and first cousin of Princes Harry and William. She announced her engagement to boyfriend Jack Brooksbank in January. So why does this ring get the coveted No. 1 spot? Because of that absolutely breathtaking paparadscha sapphire. It's hard to look away from its enchanting pink hue, and the surrounding diamonds and yellow gold lends it a classic look that couldn't be more fitting for a princess. Congratulations, Eugenie!
Honourable Mention: Pippa Middleton!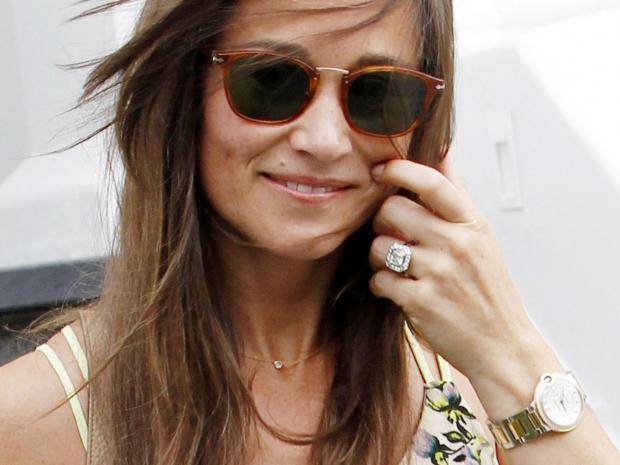 Pippa Middleton, Kate's sister, is not a member of the royal family. But she does have an engagement ring that, if she were 'officially' in the royal echelons, would 100% be our winner. This gorgeous piece of bling is art-deco in style and features a 3.5 carat asscher cut diamond in the centre, with a striking octagonal setting set with more diamonds. You can't get more unique than this baby. We love its non-traditional style and super chic look. It's worth an estimated $350,000 though, so we may need to save up for a while.