The fallout just keeps coming…
Unless you've been actively avoiding all news outlets and the entire internet for the past few weeks, you'll have heard about a man named Harvey Weinstein and scandals surrounding his professional and private life. We'll give you a quick refresher just in case you don't know the story…
Weinstein is an icon in Hollywood. He's the co-founder of Miramax, the film production company responsible for countless smash hit films including Pulp Fiction, The Crying Game, Shakespeare In Love, Chicago, and many many more. Weinstein himself has taken the role of producer or executive producer on hundreds more films of the same calibre. Basically he's been a stalwart in the movie business for decades.
At the start of October, The New York Times published explosive reports alleging that Weinstein had sexually harassed, assaulted, and even raped dozens of young women over the past three decades. The majority of them were actresses or movie business professionals. As the allegations gained traction, several high profile actresses including Angelina Jolie, Gwyneth Paltrow and Rose McGowan claimed personal experiences of harrassment at the hands of Weinstein. He was fired from the Board of the Directors at The Weinstein Company immediately, publicly disgraced by most of Hollywood, and things have gone from bad to worse since then.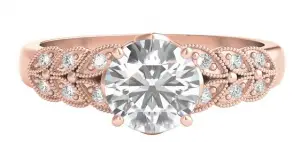 So where do engagement rings come into all this?
Weinstein's wife, Georgina Chapman, announced she would be divorcing her husband after the allegations emerged. Chapman is fashion designer and co-founder of the designer label Marchesa. They create high end women's clothing, and are especially known for evening gowns and wedding dresses, many of which are worn by celebrities at red carpet events. Recently, they partnered with Helzberg Diamonds to launch an engagement ring collection.
Helzberg is a long standing jewellery retailer founded in 1915. They have 210 stores across 36 states, and the business was still run by the Helzberg family until very recently. Both Helzberg and Marchesa have similar target audiences and style inspiration, so a collaboration was basically a match made in heaven… until Weinstein threw a spanner in the works.
Marchesa's unavoidable connection to Harvey Weinstein, the nature of the allegations against him, and the fact that Georgina Champan is planning to divorce him as soon as possible doesn't exactly do anything to sell the idea love, or actual engagement rings. The Helzberg x Marchesa collection had to be scrapped the same day it was announced – which was also the same day that the allegations were published. Talk about bad timing!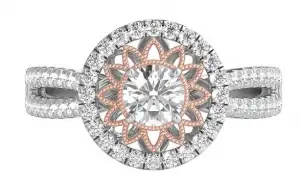 Helzberg has now removed all mention of Marchesa and the collection from its website, which is a shame, because the 18-piece collection was really, really beautiful. The signature stone of each piece was a stunning 145 facet diamond known as the 'Radiant Star'. The designs incorporated white and rose gold, white diamonds, and a feminine, romantic style. With prices ranging from around $3000 – $10,000, they would have been a huge hit among a wide range of brides-to-be. Maybe we'll get our hands on them in future, but who knows? Take a peek at some of the gorgeous designs above.