It was one hell of a year for celebrity engagement rings. From discreet and traditional to big and bold, we've rounded up our absolute favourite celebrity bling from 2017. Here they are…
Meghan Markle
Suits actress Meghan Markle's engagement to Britain's Prince Harry has to be the romance of the year, and will definitely be the wedding of 2018. After almost 18 months of dating amid both of their hectic schedules and intense media scrutiny, they announced their long awaited engagement on November 27 – and the world finally got a peek at that beautiful ring. It's a three stone diamond with a large centre stone and two small round accent diamonds, which come from the late Princess Diana's personal collection. The centre stone is from Botswana, a country very close to the couple's hearts. Not only is this ring beautiful, it's super personal too. We love it.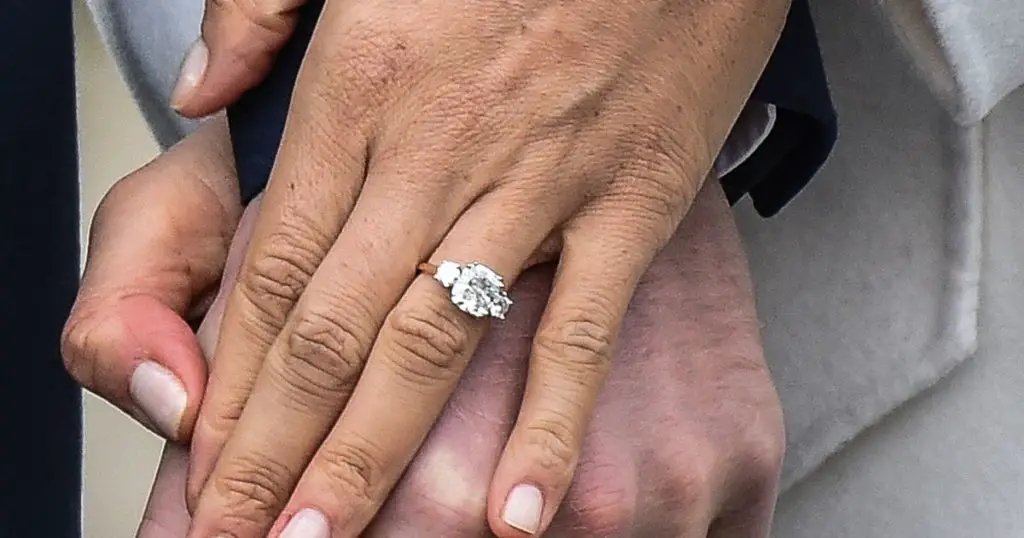 Sophie Turner
Also known as Game of Thrones' Sansa Stark, Sophie Turner and boyfriend Joe Jonas (of The Jonas Brothers and DNCE fame) got engaged last October after a year of dating. Few details about the relationship had emerged up until then, so fans were pretty confused when mere rumours turned into a confirmed engagement! Sophie and Joe both posted a shot of her stunning ring by way of an announcement. It's a jaw-droppingly gorgeous pear shaped diamond, sitting on a double band encrusted with more tiny pave diamonds. Contemporary, glamorous and simply gorgeous.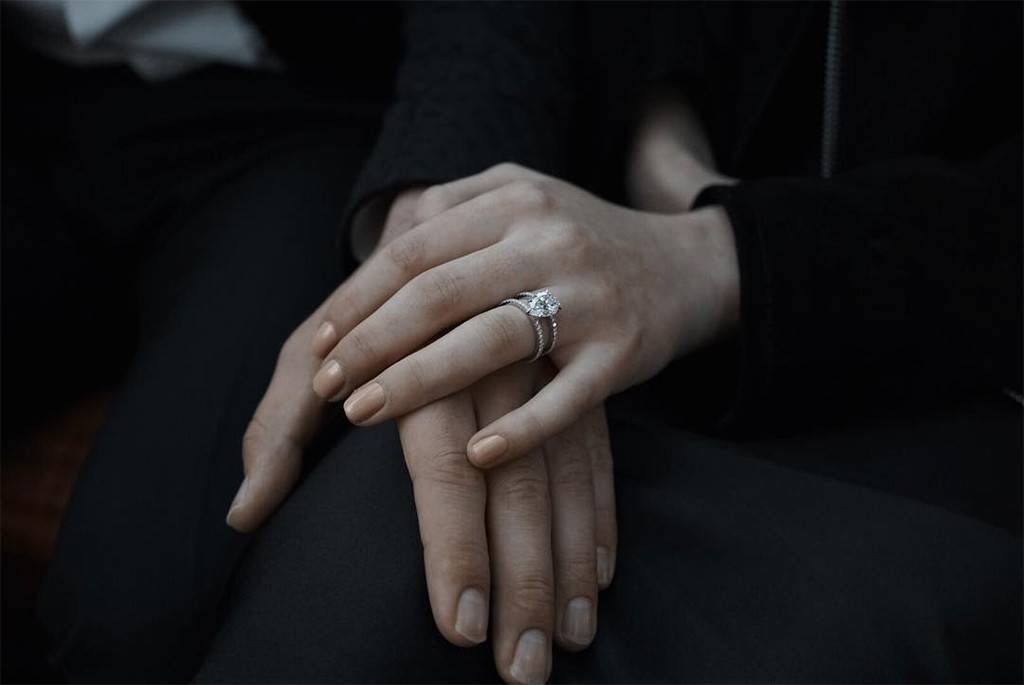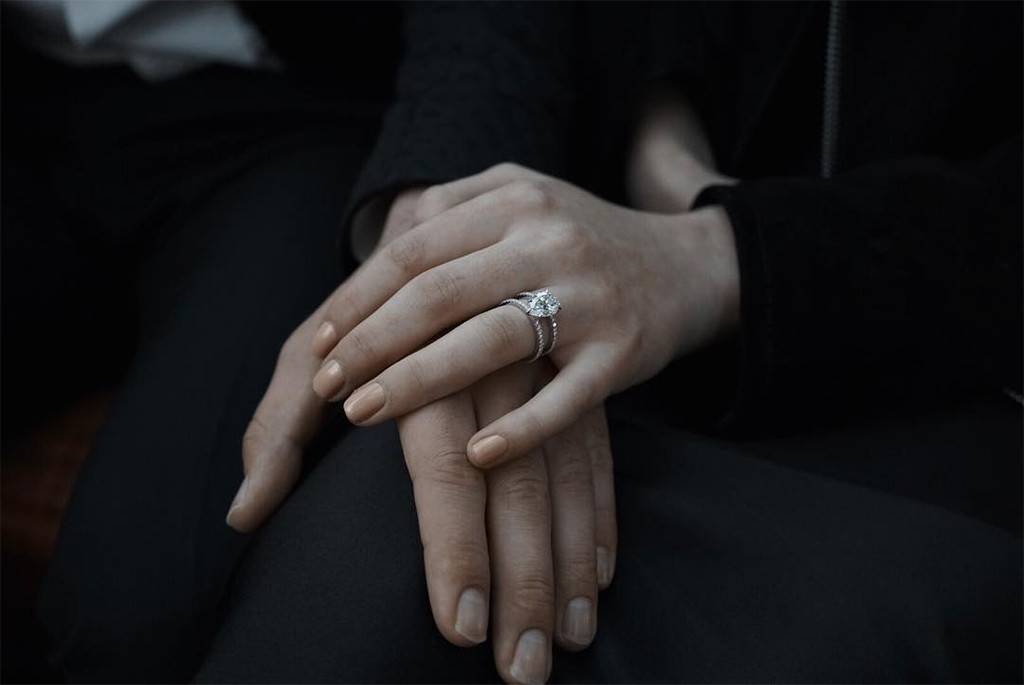 Bee Shaffer
The only daughter of fashion icon and Vogue editor Anna Wintour, great things were expected when Bee Shaffer announced her engagement to beau Francesco Carrozzini (the son of late Vogue Italia editor Franca Sozzani). And nobody was disappointed. Bee took to the Met Gala's red carpet last May to debut her outstanding engagement ring. It's a thick and flat yellow gold band, topped off with a large round diamond surrounded by 14 smaller round diamonds. It;s vintage inspired (if not actually vintage), classic, and absolutely full of style.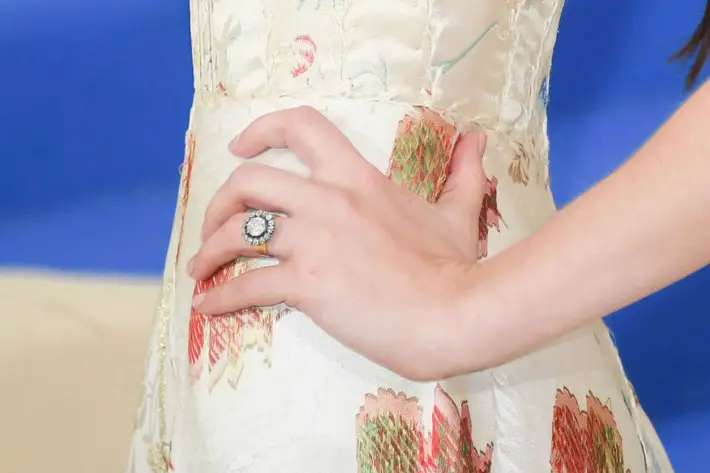 Holly Marie Combs
Holly Marie Combs will be a recognisable figure to anyone who watches Charmed – she played Piper Halliwell in the long running witchy series. Away from television screens and post-Charmed, she has been enjoying a very romantic life with an 'almost' mystery man. Little is known about him apart from his name – Mike – and his appearance, since he's showed up at a couple of red carpet events with her. Oh, and that he has fabulous taste in engagement rings. Holly is rocking a huge marquise diamond in a unique halo setting with baguette, round and tapered diamonds. The band is also detailed with pave stones – basically, this is diamond heaven.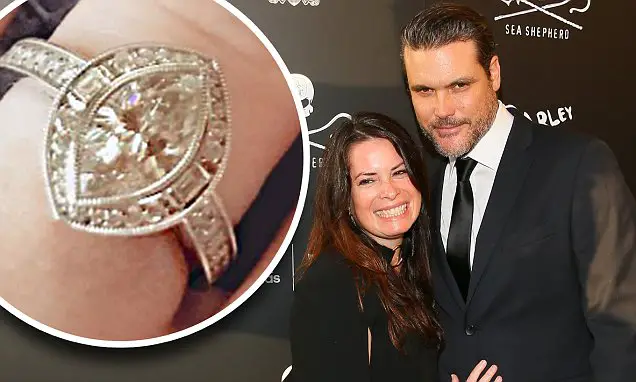 Michelle Branch
Another non-traditional engagement ring and one of our personal favourites from this year is Michelle Branch's new bling. The 2000s pop music sensation got engaged to Black Keys drummer Peter Carney in July, and she now has a pretty unique – and giant – engagement ring to wear. This art deco-style piece is made up of two large and two small square cut diamonds, set with the corners pointing north-south and east-west. The two smaller stones fill the v-shaped gaps where the larger stones meet. All are in a bezel setting for contemporary look, and of course for added security.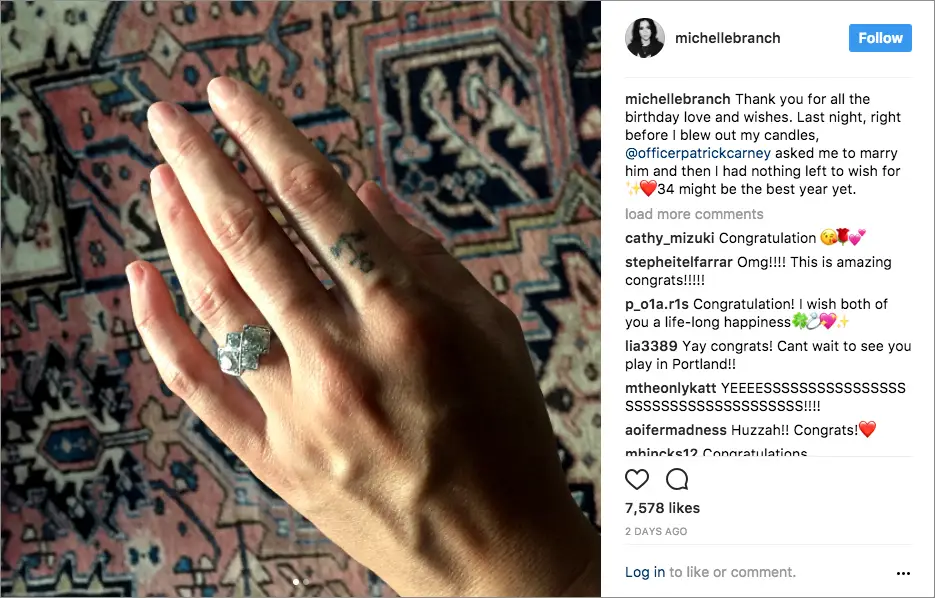 Maggie Grace
As far as vintage-style engagement rings go, it's hard to beat Maggie Grace's. The 'Lost' actress got engaged to boyfriend Brent Bushnell last February, but we're actually referring to her previous engagement ring from Matthew Cooke here (hey, it was still technically relevant until January 2017, okay?). This feminine and romantic ring consists of a beautiful round yellow diamond, surrounded by round white diamonds in a floral design. The band is yellow gold, complimenting the centre diamond and lending a traditional finish. While we're happy Maggie has found love again, there's a part of us that wishes we could still see this beautiful ring!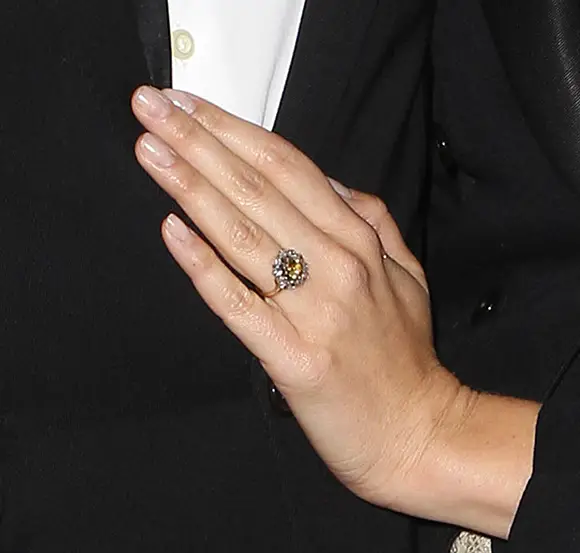 Nikki Bella
Pro wrestler Nikki Bella's engagement ring is gorgeous, but the proposal story is even more beautiful! Her fellow wrestler boyfriend, none other than John Cena, proposed in the middle of the wrestling ring in front of thousands in the arena and many more watching on TV. After she said yes and as the crowd cheered them on, he whispered the meaning of the ring into her ear. Custom designed by Cena himself with the help of Tiffany & Co., it features four diamonds set in the band on either side, representing the four years they've known each other as separate souls. The 4.5 carat round diamond on top symbolises them 'meeting in the middle', and the 4.5 years they've been together so far. Big and beautiful, and romantic too. Who knew John Cena could be such a Romeo?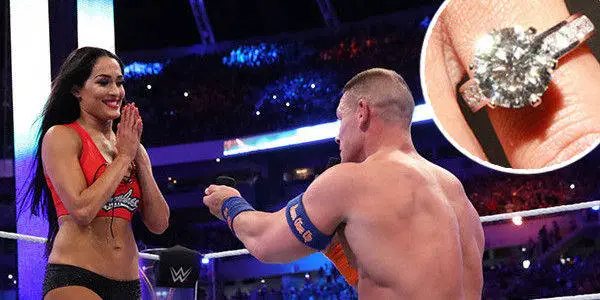 Rose Leslie
Rose Leslie and Kit Harington's relationship is another celebrity romance we've been excited about for a long time. The pair met on Game of Thrones (where Kit plays Jon Snow and Rose played the wildling Ygritte), when an on-screen romance swiftly transitioned into an off-screen one. The pair moved in together after their time on GOT ended, and Kit proposed in September. They announced in a suitably traditional and classy fashion – via a newspaper announcement. Rose's ring is similarly traditional and classy – it's a yellow gold band topped off with a big, round, solitaire diamond. A timeless design that never goes out of style.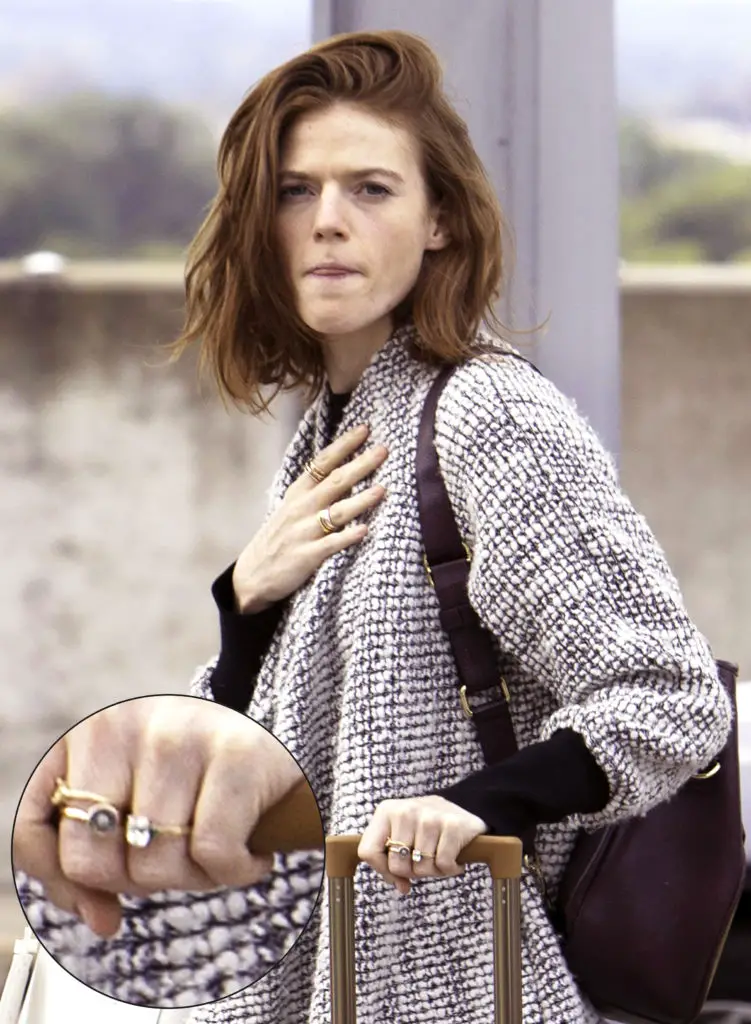 Mandy Moore
Former teen pop star turned actress, Mandy Moore, is finally all grown up! The This Is Us actress got engaged to boyfriend Taylor Goldsmith, frontman of the band Dawes, in September. After an ill-fated marriage to Ryan Adams from 2009 – 2016, it looks like this one is for keeps. We don't know much about the proposal, but we have gotten a nice glimpse of the ring as Mandy walked the red carpet. It's a simple but beautiful diamond solitaire, featuring a BIG round diamond in a prong setting and a thin and delicate pave band. Mandy seems like a traditional kind of girl, so we think this is the perfect ring for her.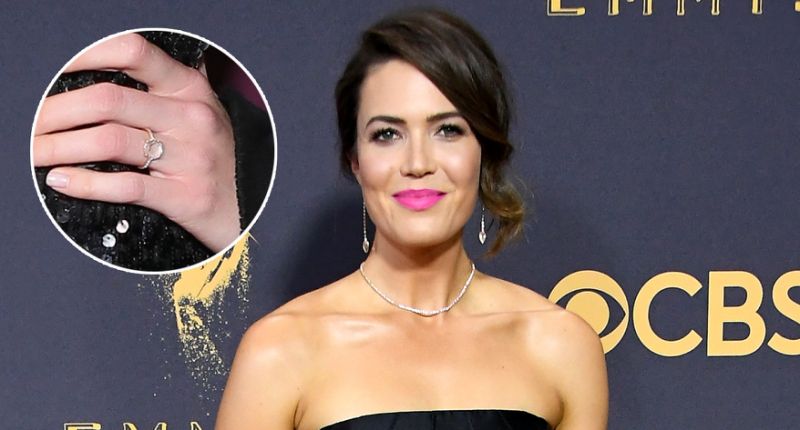 Caroline Wozniacki
Tennis player Caroline Wozniacki is probably best known off-court for her high profile and ill fated romance with golf pro, Rory McIlroy. The pair were engaged, but Rory called off the wedding with just weeks to go – over the phone and AFTER they'd already sent out invitations. Both have now found love again, and Caroline is set to walk up the aisle – for real this time – with NBA star David Lee. They got engaged in Bora Bora after a day jetting around the water on a speed boat, and Caroline shared a snap on Instagram of her jaw-dropping ring. It's a gigantic oval shaped diamond in a four prong setting, with a pave diamond band adding extra sparkle. Winner!