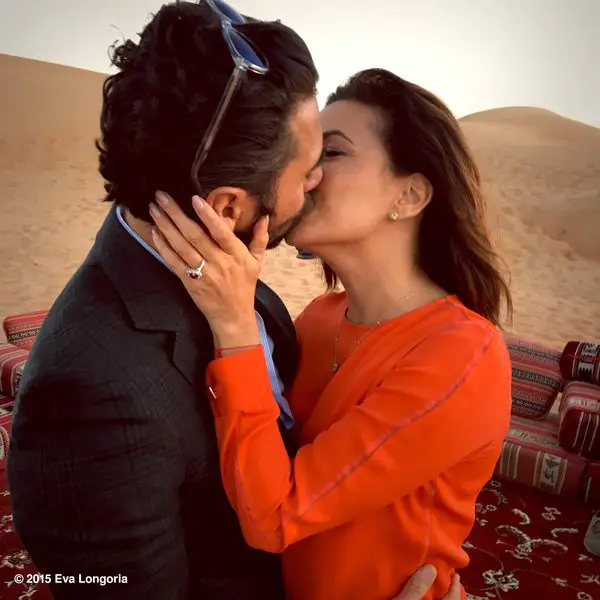 The beginning of a new year is a time for reflection on the year gone by and making plans for the year ahead. With that in mind, we took a look back at all the lucky ladies of tinseltown who were presented with beautiful engagement rings by their husbands-to-be in 2015. To cut a long story short, there were a LOT of engagements in Hollywood last year. So many, in fact, that this article could easily turn into a book! So we decided to whittle it down to just 10 engagement rings. Competition was fierce, but we're delighted to announce the winners of the 2015 Engagement Ring Bible Awards. In no particular order, our favourite rings of the year are…
Best Coloured Stone Engagement Ring
The rise in popularity of coloured stones continued in 2015, with plenty of celebs opting for emeralds, sapphires, and various other stunning gems with a pop of colour. However, two ladies in particular stood out from the crowd…
Jennie Garth:Former Beverly Hills 90210 star Jennie wasn't content with just a diamond, nor was she content with the usual coloured gemstones. So she opted for the best of both worlds; a jaw-droppingly beautiful black diamond! Media reports tell us that fiance David Abrams proposed on Jennie's 43rd birthday, when they were on vacation in Mexico. The non-traditional stone is paired with a somewhat more classic gold band and white diamond halo. It's a striking combination of alternative and timeless, all in one stunning ring. Take a look!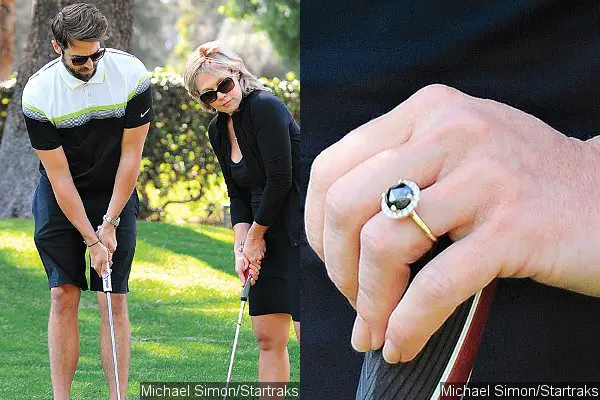 Eva Longoria: One of the last engagements of the year happened in December, when Jose Antonio Baston proposed to former Desperate Housewives actress Eva Longoria. He popped the question in a man-made outdoor lounge complete with blankets, sofas, and roses, in the desert, in Dubai. No biggie. He presented her with a show-stopping giant ruby surrounded by a diamond halo, on a double shank band. A glamorous engagement that reflects Eva's style perfectly.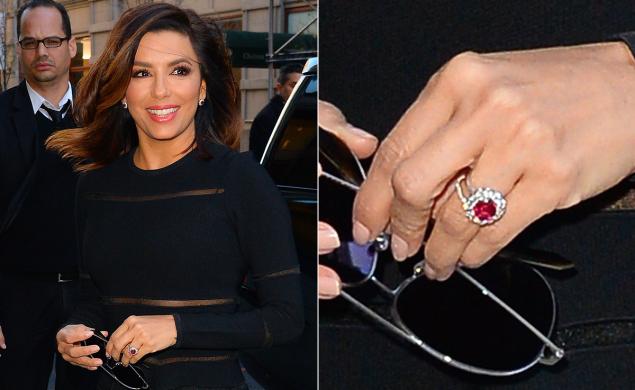 Best Antique Engagement Ring
We don't know about you, but we're big fans of vintage and antique rings. They have a sense of style, grace, and craftsmanship that you just don't see nowadays. Hollywood starlets seem to agree, as quite a few showed off some enchanting antiques in 2015. Our personal favourite was…
Maggie Grace: You may remember her as Shannon from Lost or Kim Mills from the Taken movies, but from now on you'll remember Maggie Grace for the exquisite vintage engagement ring on her finger. This antique beauty, given to her by fiance Matthew Cooke, dates from 1810 and features a round central diamond surrounded by smaller diamonds on a gold band. It's a typical Regency era style ring, and it's one of the most gorgeous we've seen on a modern celebrity's finger. Prepare to ogle for several minutes.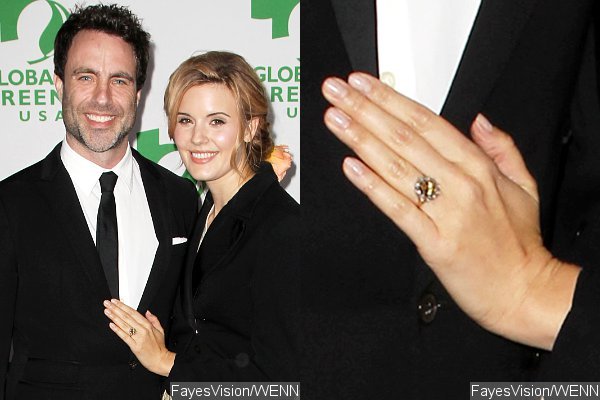 Best Halo Setting Engagement Ring
This probably won't come as much of a surprise to anyone, but the halo setting (even though it's not a 'setting' in technical terms) was by far the most popular last year, and the year before that, and the year before that. It's a trend that won't go away any time soon either. So due to popular demand, we've named two of the best 'halo' rings of 2015. Drum roll…
Alison Brie: Mad Men's Alison Brie and James Franco's little brother Dave are set to tie the knot, and her ring is the perfect example of the halo setting so many of us covet. Hitting on several of 2015's biggest trends, it features a round diamond with a double halo setting on a rose gold band. In other words, if there was one ring to define 2015, this would be it. That's not to say this beauty will look dated in a couple of years however; we guarantee brides will be drooling over it for a long time coming.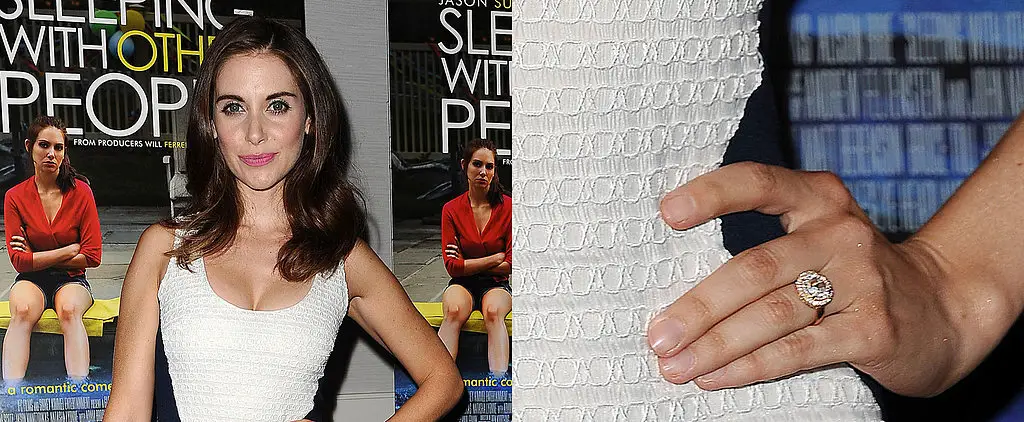 Misty Copeland:One of the most esteemed ballet dancers in the world, it should come as no surprise that Misty Copeland's engagement ring from Olu Evans is dazzling. While Alison Brie's has a definite contemporary vibe, Misty's is a timeless with just the right amount of bling. A cushion cut diamond with diamond encrusted halo and a pave diamond band, it sparkles all over, but doesn't even come close to 'tacky' territory. We could go on and on about this ring, but we'll stop here. For now…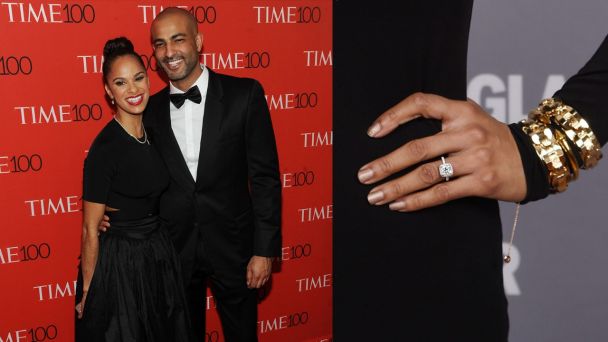 Best Alternative Engagement Ring
It may not be every bride's choice, but alternative engagement rings are here to stay. We had a lot to choose from in this category, with every shape, colour, and design twist you could possibly imagine. Somehow, we managed to narrow it down to two winners. They are…
Bridget Marquardt: You can't much more alternative than this.Instead of a coloured stone or an unusual setting, The Girls Next Door's Bridget Marqaurdt took it to a new level and sports a spider ring made up of multiple small diamonds! She does call herself the 'Queen of Halloween' after all, so what better way to express her personality? It may not sound like everyone's cup of tea, but judging by the photo below, it's actually pretty cool. A split shank adds some extra glamour and trust us, this ring is made with the best of materials and skill.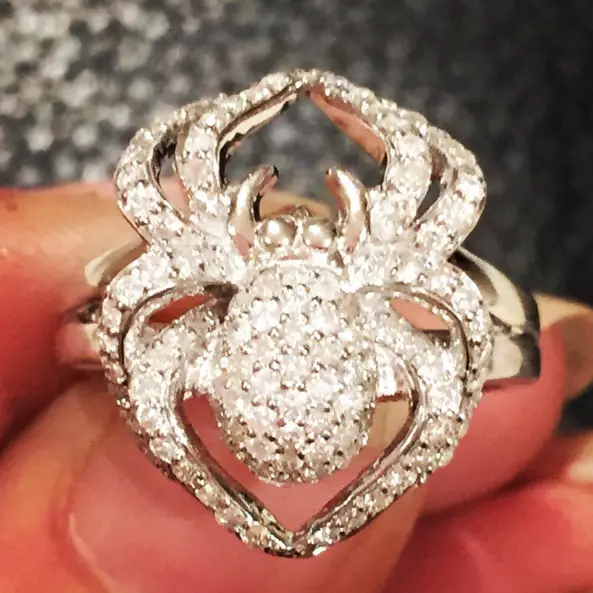 FKA Twigs: Media reports of music sensation FKA Twigs' relationship status with Twilight star Robert Pattinson seem to say something different every week, but since she was spotted plenty of times with this ring on that finger, we're going to assume it's an engagement ring. There's so much to say about this, but we'll keep it short. Basically, it's a pear shaped diamond with a halo setting on a platinum band, accompanied by bezel-set round diamonds in a vertical and totally unique design. Now we'll let the photo do the rest of the talking: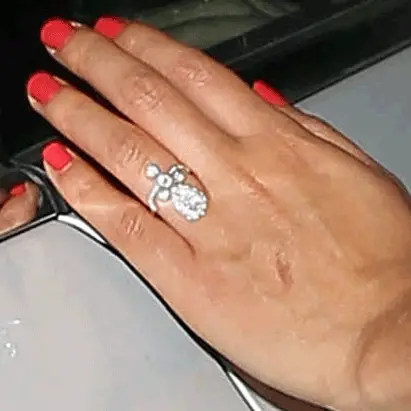 Biggest Bling Award
When it comes to engagement rings in Hollywood, 'more is more' seems to be the mantra. Every diamond we see is bigger than the last! We're firm believers that size isn't everything though, so these winners get props for design and beauty as well as size…
Lady Gaga: Did you really think it would be anyone else? Gaga does nothing in small measures, and especially not engagement rings. Her beau Taylor Kinney proposed on Valentine's Day with this humongous heart shaped diamond, which also boasts a diamond encrusted 'T&S' (for Taylor and Stefani, Gaga's real name) on the band. Whether you love it or hate it, we can all agree that it's certainly big, and a worthy recipient of the Biggest Bling Award.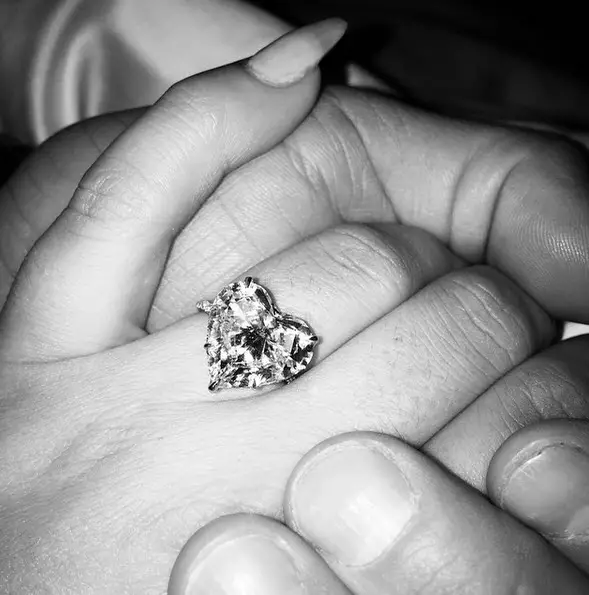 Sophia Vergara: For the perfect balance of big bling and effortless style, there's no other choice but Sofia. Although arguably not to everyone's taste, this giant rock (we're guessing around 6 carats or so) is just on the right side of big and blingy. An oval diamond and pave band harks back to old Hollywood glamour, while the platinum brings it up to date.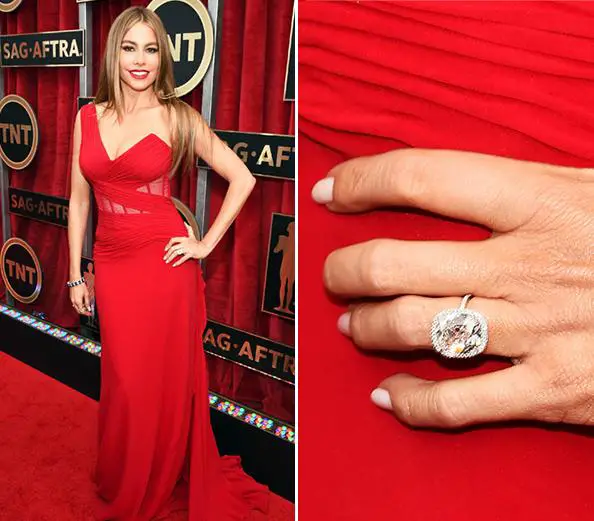 Editor's Choice Award
We've chosen one single recipient for the Editor's Choice award. This is for the engagement ring that, in our opinion, represents the best style and design that we've seen all year. The kind of classic design that looks great with any kind of style and in any kind of era. Congratulations to…
Liv Tyler: The Lord of the Rings actress kept her engagement to partner David Gardner secret until just a month or two ago, although she had revealed what turned out to be her engagement ring long before. The ring is a classic beauty (much like Liv), featuring an emerald cut diamond with (we think) a bevel setting and two baguette diamonds either side. A platinum band adds further luxury, not to mention durability. By the looks of it, there's also some detailing on the band, but until we see an extreme close up picture, we'll just have to keep dreaming about it.