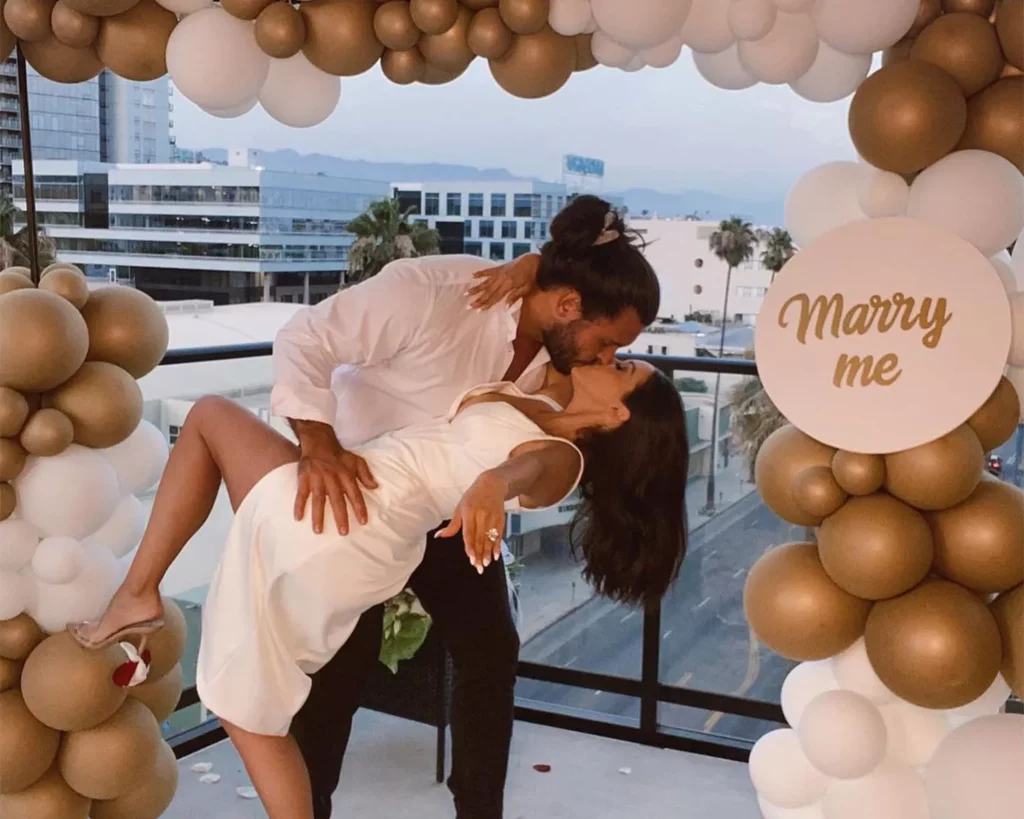 Scheana Shay, a reality TV star known for her appearance on Vanderpump Rules, got engaged to her boyfriend, Brock Davies, in July 2021. 
The couple had been dating for over a year before Brock popped the question during their trip to Bali. Scheana was over the moon when Brock proposed, sharing on her Instagram, 
"I SAID YES!!!!! We are engaged!!! Thank you to my love for making me the happiest girl in the world!!!"
The ring is the center of attention when it comes to engagements, and Sheana Shay's engagement ring is just as jaw dropping as you would expect.
Let's take a closer look at her stunning 12.74 carat pink morganite engagement ring.
What does Scheana Shay's engagement ring look like?
Scheana's engagement ring is a classic design with a modern twist. The ring features a 12.74-carat rectangular cushion-cut rare fancy pink morganite center stone on a 14-carat white gold band adorned with 12 diamonds.
"It is a perfect rectangular cushion and the gem also possesses a rare fancy pink that reflects with insane fire." explains Kyle Chan, the designer.
Morganite is a popular choice for engagement rings due to its beautiful color and its association with love, romance, and emotional healing.
Who designed Scheana Shay's engagement ring?
The ring was designed by Kyle Chan, a celebrity jeweler known for creating unique and timeless pieces. Brock explained in an interview with People magazine "Scheana and I have talked openly about what we want in life, all the way down to the ring. So all I needed to do was talk to our good friend Kyle Chan, who also happens to be an amazing jeweler. He ran with the design and came back with such a fire cut."
The cost of Scheana's ring is estimated to be around $150,000.
Did Scheana Shay change her engagement ring?
Yes, Scheana Shay has since changed her engagement ring. Brock came under a lot of fire from fans of the couple, who felt Scheana deserves a diamond engagement ring. 
"It's still 12.74 carats, why does it matter what stone?" the singer tweeted. 
And we get it. It's a beautiful ring, but the comments obviously struck a nerve.
The couple tied the knot in August 2022. At the alter Brock presented Scheana with a new ring: 4-carat emerald-cut solitaire engagement ring designed by Ring Come True. 
Scheana and Brock's love story is a reminder of the beauty of love, and their engagement ring(s) are a symbol of their commitment to each other.