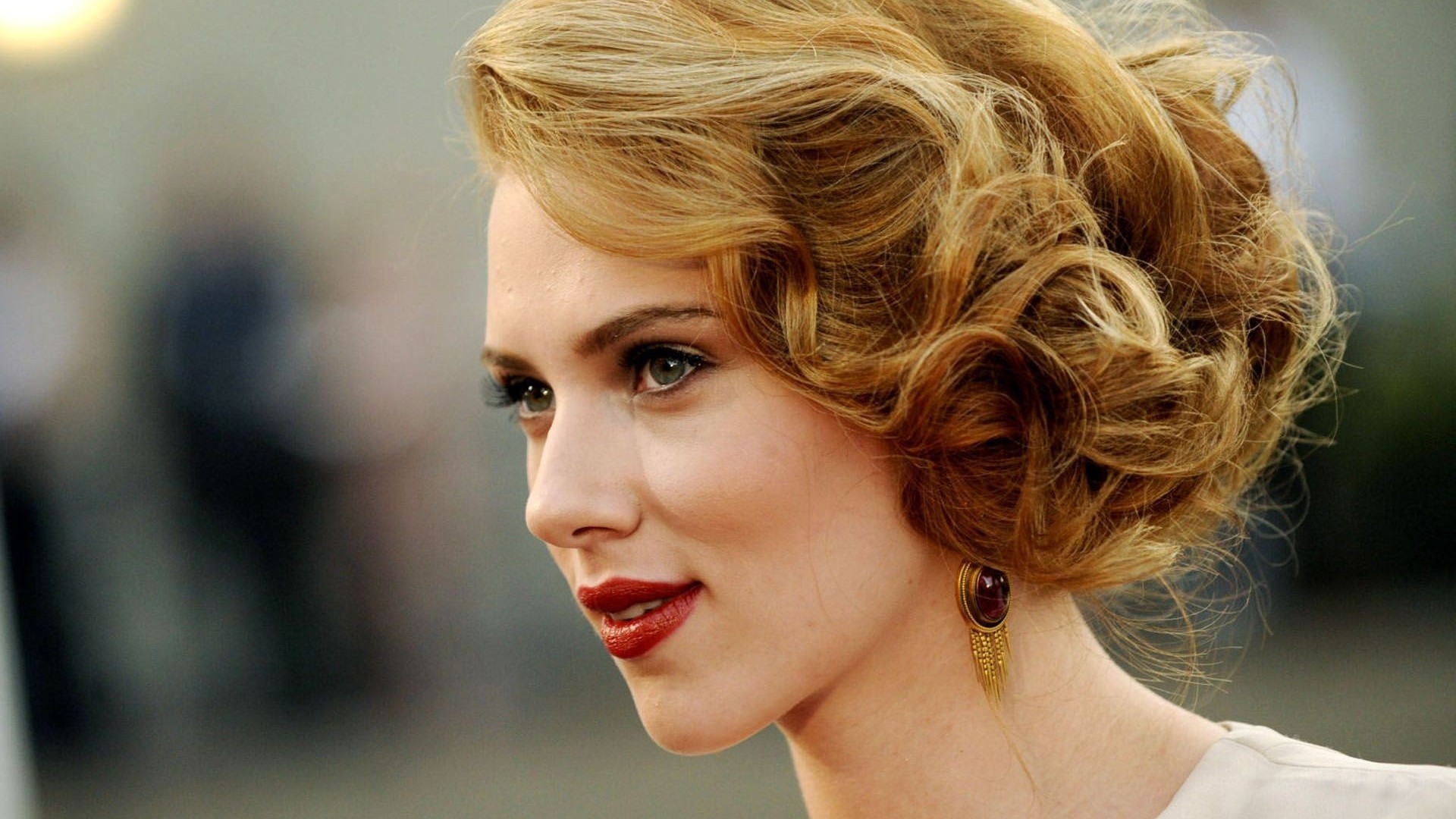 Even within the realm of Hollywood, when stars with millions of dollars can spend however much they like on a flashy engagement ring, there tends to be a status quo. A-listers normally opt for diamonds – big, flawless diamonds – and platinum. However, there are plenty of style setters who are bucking that trend and choosing non-traditional engagement rings. Here's a round-up of our favourites…
Scarlett Johannson
Scarlett Johannson's engagement ring from beau Romain Dauriac is art deco jewellery at its most finest. It features a platinum (or possibly white gold) wide rectangular setting with three round diamonds aligned vertically in the centre. They're surrounded by stunning, very delicate detailing and further smaller diamonds, and flanked by smaller rectangular panels with similar detailing. As celebrity rings go, this is by far the most unique and definitely the most non-traditional engagement ring out there.  
Penelope Cruz
Penelope Cruz and Javier Bardem have a true Hollywood love story, and the engagement ring that marks their commitment to one another is equally beautiful. Shunning the usual diamond solitaire, Penelope instead proudly wears an oval sapphire surrounded by 12 round diamonds, each with a bezel setting to create a floral look. It all rests on the pre-platinum classic: a yellow gold band. It's a more understated version of the most famous engagement rings in the world; Princess Diana's, which the Duchess of Cambridge (aka Kate Middleton) now wears.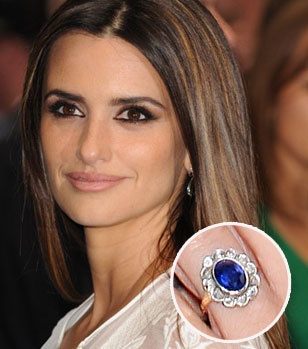 Carrie Underwood
With a passing glance, Carrie Underwood's ring looks much like that of most Hollywood stars. It's a huge round diamond (we're talking 5 or 6 carats) with a halo setting and a pave band. Not exactly traditional per se, but it's certainly on-trend. However, Carrie has put a distinctive spin on her ring that makes it much more unusual than you may think. Firstly, that's no white diamond; it's a canary diamond, and its colour is quite attention grabbing. Secondly, she wears it with an interesting curved wedding band that sits flush with the engagement ring's band, and is similarly covered in pave diamonds. When combined, it makes for a very unusual piece.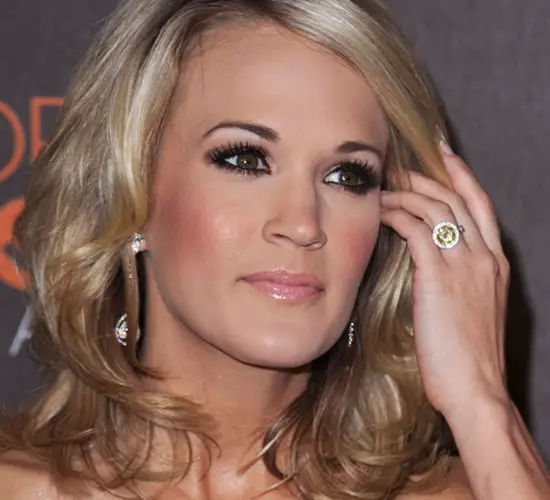 Jessica Biel
Actress Jessica Biel's engagement ring from Justin Timberlake is full of intricate, exquisite detailing; all of which he designed himself with the help of jeweller Leor Yerushalmi. A cushion cut, 6 carat diamond is the centrepiece, with a double halo of tiny round diamonds – and that's only the tip of the iceberg. Flanking the sides are two round aquamarine stones (Jessica's birthstone) also surrounded by diamonds along with the band, which is diamond encrusted on THREE sides. To finish it off, the piece also features blackened platinum scrolling rope details for a hint of vintage (yet modern) style.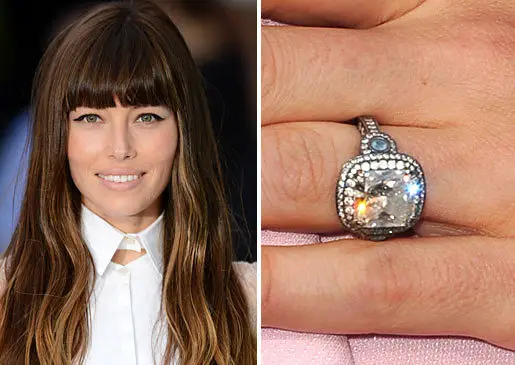 Miley Cyrus
Once upon a time, Miley Cyrus was engaged to Liam Hemsworth (brother to Chris, who you probably know as Thor). Then they broke up, but now they're back together and the engagement is apparently back on too. The engagement ring she's been wearing on and off is a jaw-droppingly gorgeous Neil Lane creation. It's a 3.5 carat round diamond on a gold band. Sounds pretty traditional so far, but not when some sophisticated detailing is worked in. We're talking tiny micro-pave diamonds intertwined with knots and filigree work in the gold band, plus open areas for a more delicate look.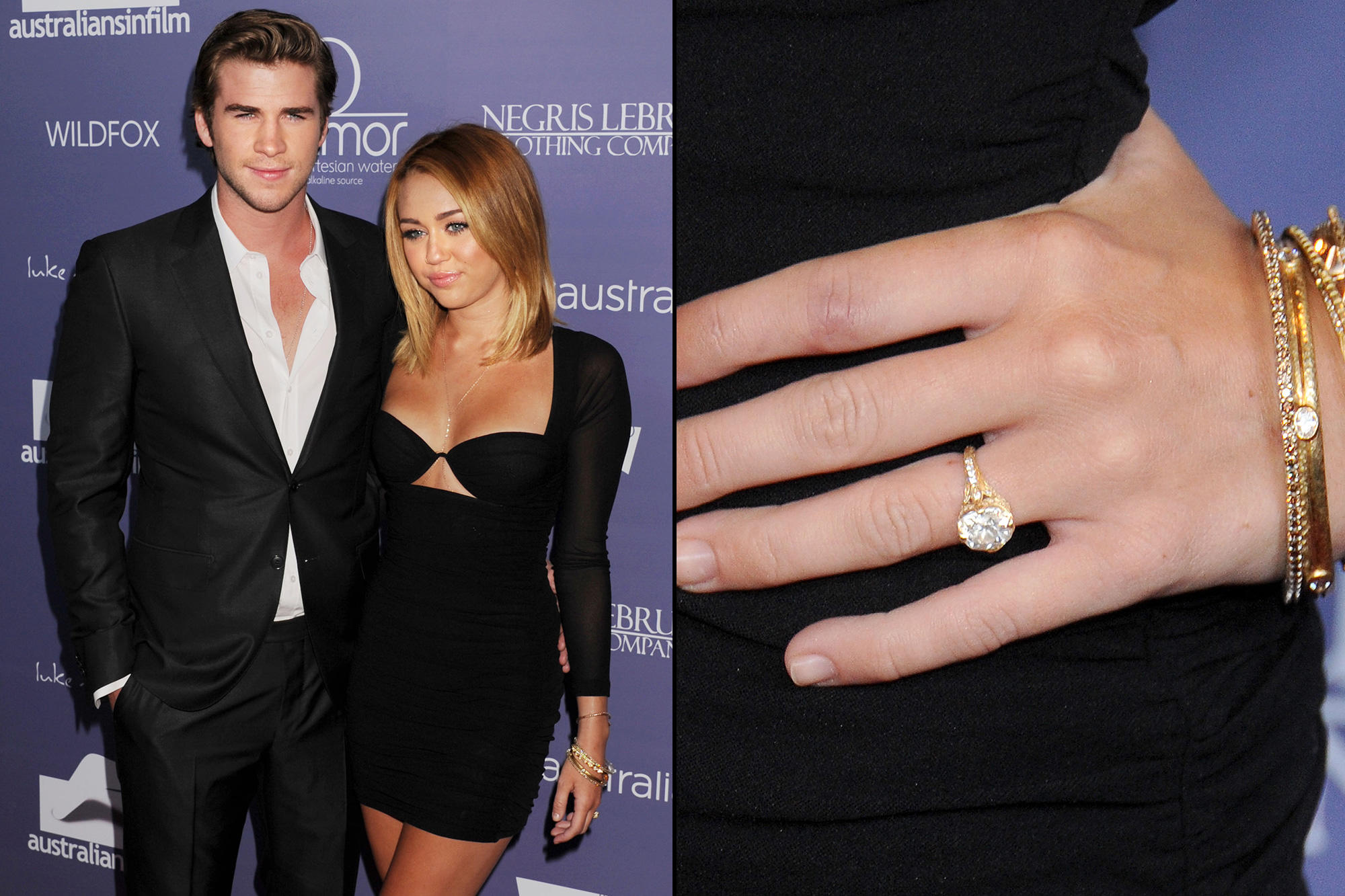 Christina Aguilera
Christina Aguilera's engagement ring from Matt Rutler is not all that unlike Scarlett Johannson's – i.e. it's firmly on the non-traditional end of the scale and is a far cry from a diamond solitaire. Allegedly Matt was heavily involved in the design, which took over a year to finalise. It has nine different gemstones, each a different colour and chosen for their specific symbolic meanings. These are all placed in the setting underneath the centre stone (a bezel set round diamond somewhere between 3 and 4 carats) so that they touch her skin when she wears it. It all sits on an art-deco inspired setting that looks partially floral in shape, covered in enough diamonds to bring the total weight up to 15 carats!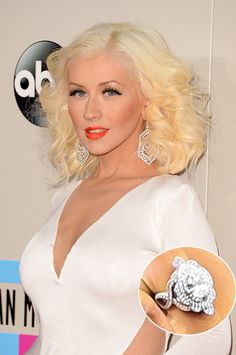 Nicole Richie
Nicole Richie has always marched to the beat of her own drum, ever since reality show The Simple Life where she made her TV screen debut. So when Good Charlotte member Joel Madden asked for her hand in marriage, she knew exactly what kind of engagement ring she wanted. Working with Neil Lane on the creation, she but a non-traditional twist on the classic round diamond solitaire by adding a hexagonal halo setting and working two round diamonds into the metal of the band.The result is chic, elegant and a damn sight more eye-catching than any 'traditional' ring out there.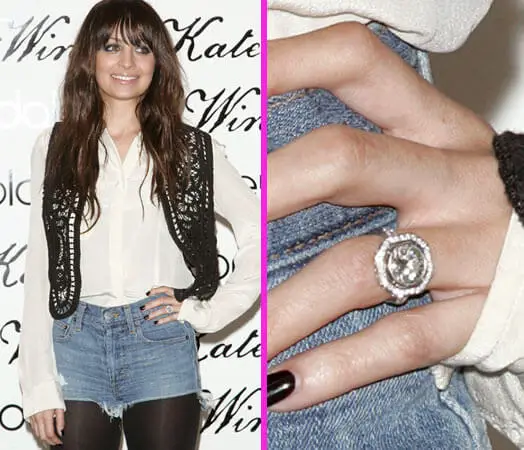 Catherine Zeta Jones
Catherine Zeta Jones' engagement ring from Michael Douglas bucks plenty of trends. Firstly, there's the stone cut – a 10 carat marquise diamond rather than a round brilliant or the increasingly popular cushion cut. Then there's the setting – most marquise stones are set vertically on the finger, but Catherine's is set horizontally to make it appear even bigger than its 10 carats! Rather than a halo setting, it has 28 diamonds surrounding the base of the stone, and a band with pave diamonds. While it has all of the traditional engagement ring elements, each one is used in a non-traditional way.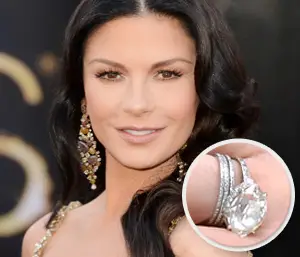 Mary Kate Olsen
Mary Kate Olsen's engagement ring from Olivier Sarkozy features yellow gold and diamonds, but that's where the traditional elements end. This vintage Cartier piece was purchased at auction for $81,000 and dates back to 1953. It consists of a 4-carat round diamond surrounded by 16 sapphires, in a very high and heavy setting adorned with 'petals' on the side. The petals made up of vertically aligned small round diamonds and gold 'leaves' keeping them in place. The band is heavy twisted yellow gold in multiple shanks. A traditional engagement ring it is most definitely not, but ultra chic it truly is.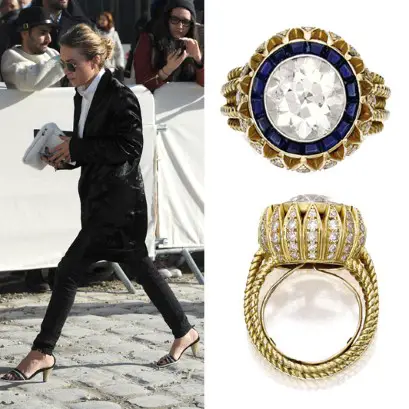 Kylie Minogue
Kylie's love life has been the source of much speculation throughout her decades long career, but it seems she's finally found the love of her life with fiance Joshua Sasse. He allegedly proposed in Geneva with this left-of-centre and jaw-droppingly beautiful ring. Not one to do things by halves, Kylie chose a large emerald diamond as her centre stone and surrounded it with a double rectangular halo setting. It still has one tiny little hint of tradition: a plain and simple yellow gold band. In some photos the centre stone looks to have a hint of blue about it; if it's a genuine blue diamond, then this ring is sure to have cost a bomb.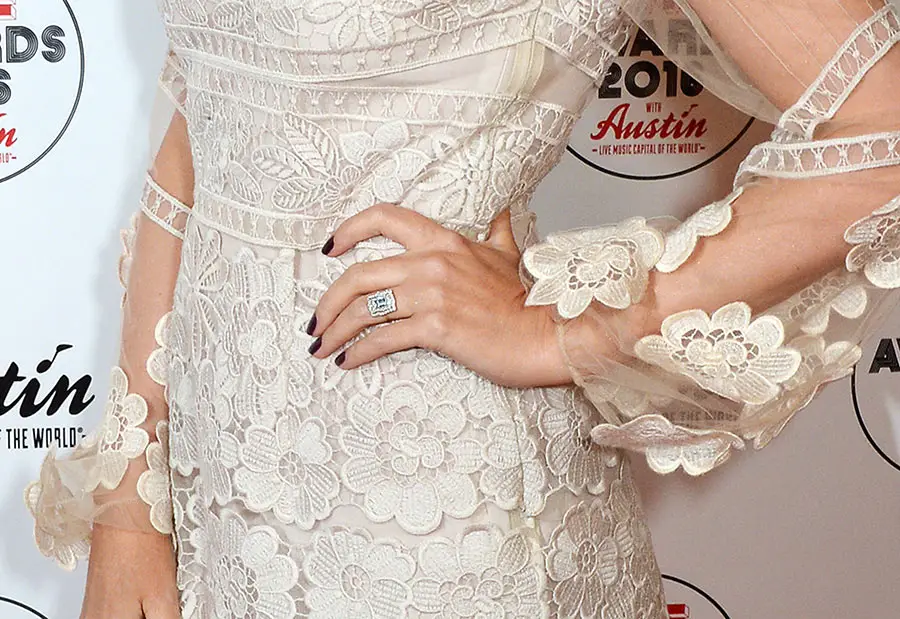 Alison Brie
Mad Men star Alison Brie and Dave Franco (James Franco's little brother) got engaged earlier this year, and Alison's engagement ring is our favourite of the year so far. Always impossibly beautiful and stylish, it should come as no surprise that her new piece of jewellery has the most contemporary design around. Shunning yellow gold, she opted for the mega trend of the moment, rose gold, for her plain wedding band. Sitting pretty on top is a round brilliant diamond solitaire with an exquisite pave halo setting. Halo settings are fairly commonplace these days, but for some reason this one just looks so much better than the rest. We love!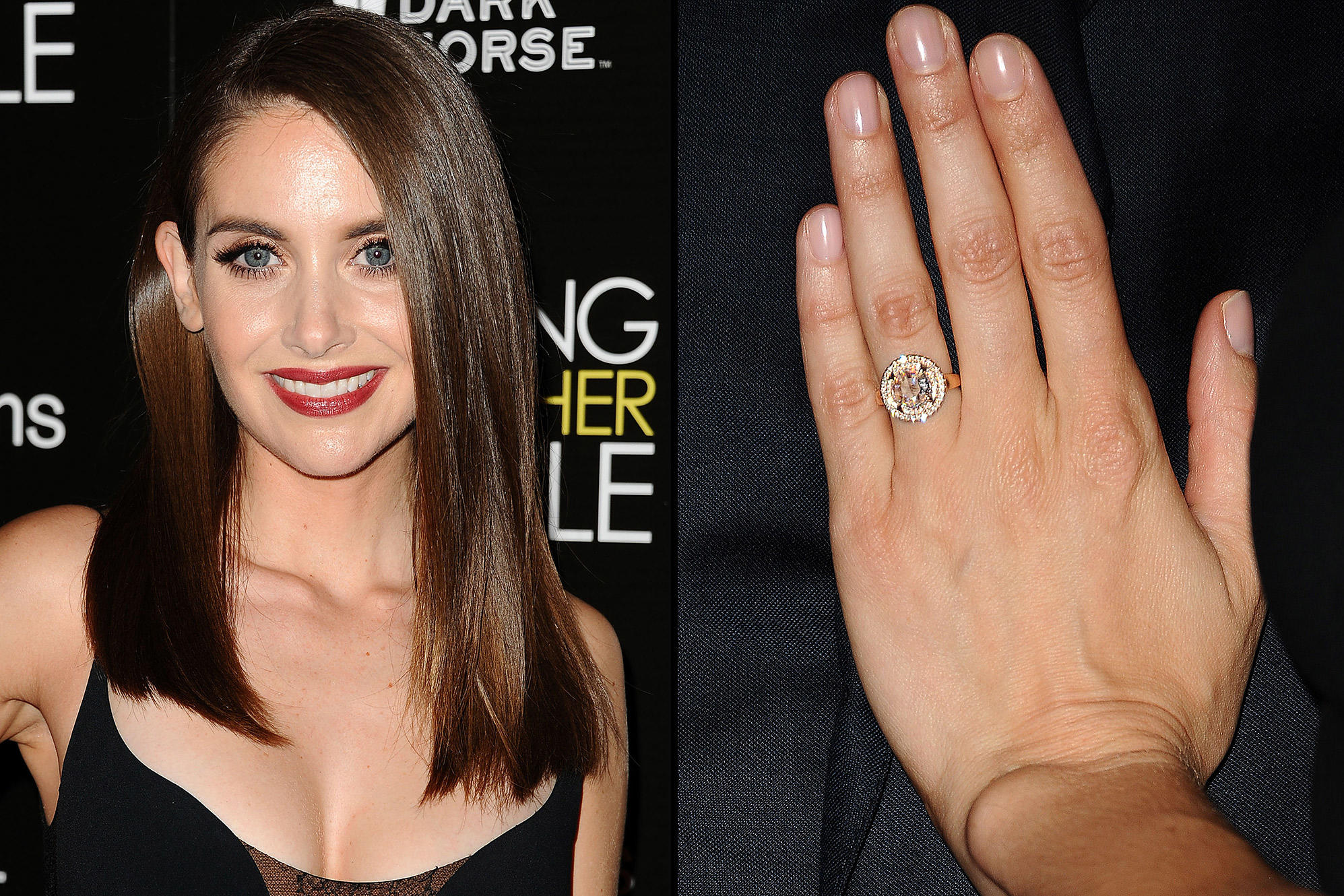 Portia De Rossi
Ellen DeGeneres took a leaf out of Catherine Zeta Jones' book when she chose wife Portia De Rossi's engagement ring. The centrepiece is a horizontally aligned marquise diamond with a claw setting, but that's where the similarities end. This elegant Neil Lane creation then has upwards of 50 tiny pink diamonds all worked into elegant twisted metalwork on the (we're assuming) platinum band. Portia is well known for her flawless Hollywood style, so this ring is definitely made for her. The total weight is 3 carats, and we're guessing the central marquise diamond makes up around 2 of those.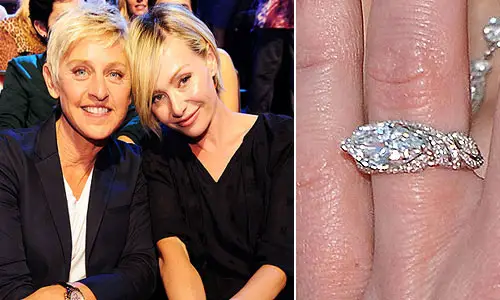 Kelly Clarkson
Singer Kelly Clarkson's engagement ring from Brandon Blackstock is not even a little bit traditional, and that's why we love it. The one of a kind creation was designed by Brandon and Jason Arndt, and features a huge, 5-carat, cushion-cut, CANARY YELLOW diamond as the centrepiece. Surrounding that are 22 round white diamonds in a French halo setting, plus more diamonds on the thick platinum band. Yellow diamonds are a rare find, have a distinctive look, and are most definitely not the norm for the usual kind of engagement rings. That's why Kelly's is not only beautiful, but totally unique too.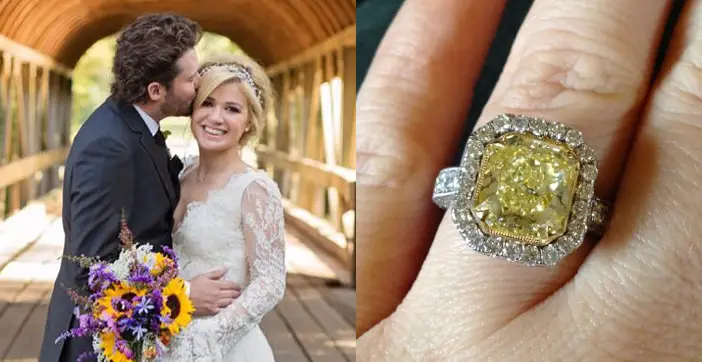 Charlene Wittstock
Charlene Wittstock was once an Olympic swimmer for South Africa, untill she met a man by the name of Prince Albert and became the Princess of Monaco. They married in 2011, with Charlene sporting a fabulous engagement ring that isn't what you'd normally see on a princess (although it's certainly beautiful enough to be). Designed by esteemed Parisian jewellers Repossi, it's a 3-carat pear shaped diamond flanked by wide shoulders set with round brilliant diamonds. It's valued at £50,000 and is the perfect example of flashy yet chic Monaco style.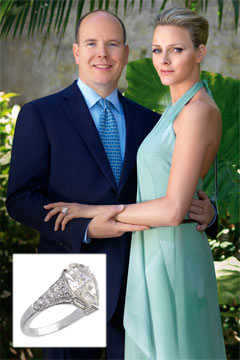 Miranda Kerr
It's a real shame Miranda Kerr and Orlando Bloom's marriage didn't work out for a lot of reasons, one of which is because her engagement ring was simply to die for. It's a cluster design of white diamonds and yellow gold – traditional elements in a setting rarely seen in engagement rings (although thanks to this beauty, it's rising in popularity once again). The centre diamond, larger than the rest, is an oval shape and is surrounded by 8 more dainty round diamonds (one at either end is slightly larger in size). The whole ensemble is estimated to weigh in at around 5 carats or so, and it all sits on a plain and simple yellow gold band with diamond set shoulders. Perfect!