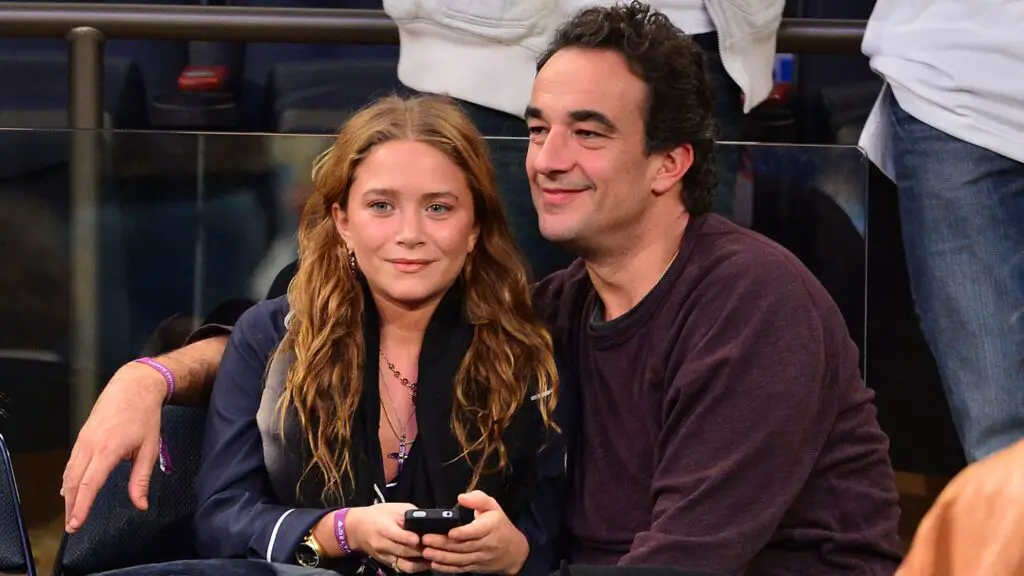 Mary-Kate Olsen's engagement ring has certainly left a lasting impression.
Mary-Kate Olsen and Olivier Sarkozy may have filed for divorce during the midst of the coronavirus pandemic, but there's one part of their relationship we just can't forget.
The couple, who started dating in 2012, reportedly broke things off after Sarkozy's ex-wife, Charlotte Bernard, and their children moved into their Hamptons home. But as messy as the divorce ended up being, we still revel at the engagement ring.
The stunning ring was first seen as Mary-Kate Olsen was out and about in New York City and boy did it make a statement. This wasn't any old solitaire.  It was a classic Cartier that dates back to 1953. 
Let's talk about it. 
Mary-Kate Olsen's Engagement Ring: The Breakdown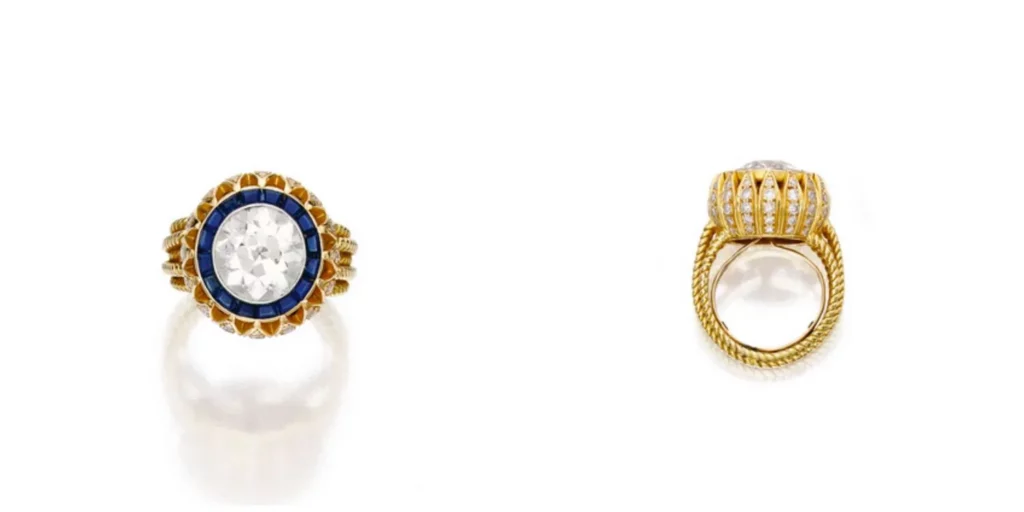 The ring features a stunning 4 carat central diamond, surrounded by a halo of sapphires and petals of smaller diamonds.. The central diamond is reported to be a European-cut diamond, known for its classic appearance with fewer facets than modern brilliant-cut diamonds. 
The European cut diamond is a classic diamond cut that was popular during the late 19th century and the early 20th century, particularly in the Victorian, Edwardian, and Art Deco eras. These diamonds were hand-cut, reflecting the craftsmanship of the time. As diamond-cutting techniques evolved, the modern round brilliant cut was developed to maximize the diamond's fire and brilliance.
European cut diamonds have a vintage charm that appeals to those who appreciate antique and vintage jewelry. Their distinct appearance and historical significance make them sought after by people who admire the craftsmanship of bygone eras… MK included.
The sapphire halo surrounding the diamond adds a pop of color and enhances the ring's vintage charm. The choice of sapphires is significant not only for their aesthetic appeal but also for their historical meaning. Sapphires are often associated with loyalty, wisdom, and nobility, making them a meaningful addition to an engagement ring that marks a significant commitment.
Who Designed Mary-Kate Olsen's Engagement Ring?
The ring, which dates back to 1953, was a classic Cartier piece. 
Cartier, a name synonymous with luxury and refinement, stands as a paragon of timeless design in the realm of engagement rings. For over a century, Cartier has mastered the art of creating classic engagement rings that transcend trends, fads, and eras.
Cartier's legacy as a master jeweler is reflected in the meticulous attention to detail that defines every classic engagement ring. From selecting the finest stones to shaping the perfect settings, Cartier's artisans infuse each ring with an unrivaled level of artistry and dedication.
How much Was Mary-Kate Olsen's Engagement Ring Worth?
The four carat ring was purchased for $81,250 at a Sotheby's jewelry auction, and as a classic Cartier, it'll be worth even more now. We can't help but wonder what happens to it now that the couple have parted ways…