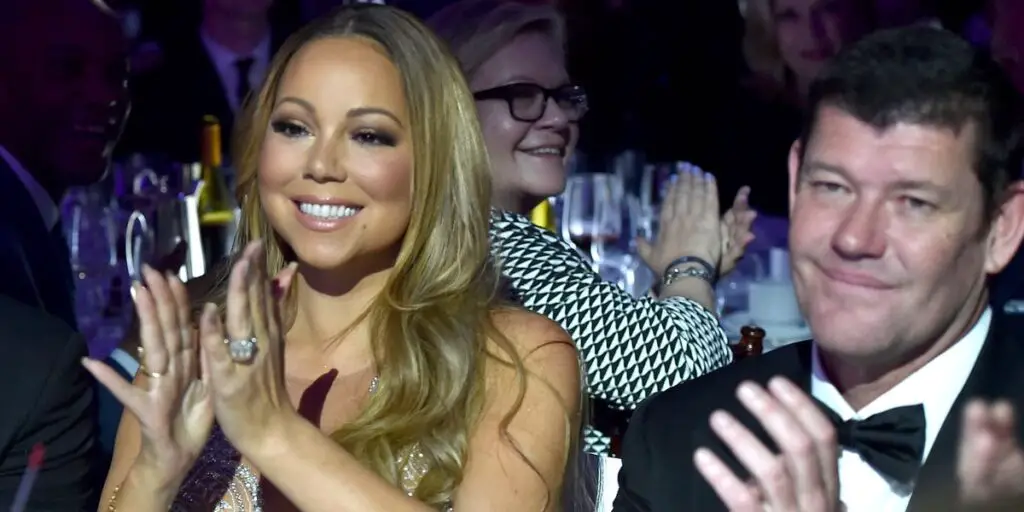 Mariah Carey is a legendary singer known for her soulful voice and impressive five-octave range. With numerous hits to her name and a successful career spanning several decades, Carey is a household name. 
In 2016, Carey got engaged to Australian billionaire James Packer, and the world could not get enough of her stunning engagement ring. Unfortunately, the pair split before they ever made it down the aisle, but we can't not talk about that $10m ring.
Let's take a closer look at the ring that left everyone speechless.
What Kind of Ring is Mariah Carey's Engagement ring?
Mariah Carey's engagement ring is a show-stopping 35-carat diamond ring designed by celebrity jeweler, Wilfredo Rosado. The ring features a massive emerald-cut diamond at the center, flanked by two tapered baguette diamonds, all set in platinum. The diamond is so large that it practically takes up her entire finger.
The ring is not just big, but it's also unique in its design. Rosado incorporated elements that reflected Carey's personality and style. He stated, "I took the standards super high, and I wanted to create a ring that could not be measured up to." 
The ring's setting is both timeless and modern, with the tapered baguette diamonds on either side creating a classic, elegant look, while the size of the central diamond and the way it's set add a modern edge.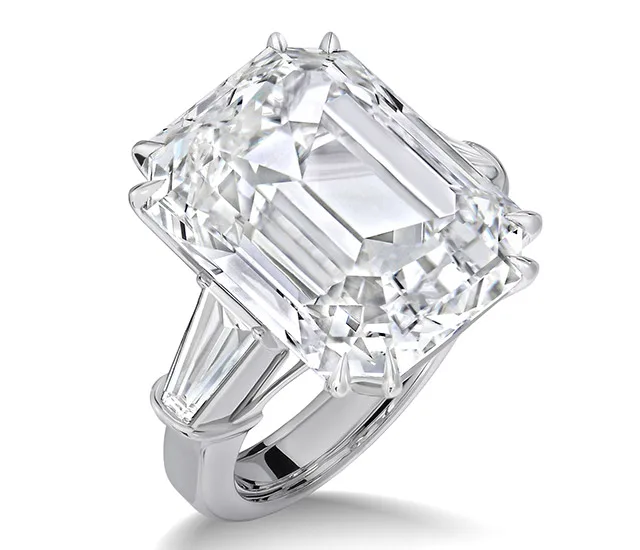 How Much Did it Cost?
The cost of Mariah Carey's engagement ring has never been officially disclosed. Still, it's estimated to have a value of around $10 million, making it one of the most expensive engagement rings in the world. 
Other celebrity rings with a hefty price tag include 
Beyoncé – Her engagement ring from Jay-Z features an 18-carat flawless diamond and is estimated to be worth $5 million.
Elizabeth Taylor – Her engagement ring from Richard Burton was a 33-carat Asscher-cut diamond and was sold for nearly $9 million at an auction.
Kim Kardashian – Her ring from Kanye West is a 15-carat cushion-cut diamond and is estimated to be worth $4 million.
Mariah got to keep the ring when the two separated, and eventually sold it on for a cool $2 million. A substantial drop, but she may have just been happy to close that chapter of her life. 
Who Designed it?
Wilfredo Rosado, the designer behind Mariah Carey's engagement ring, is a Puerto Rican-born jewelry designer who has worked with numerous high-profile clients in the entertainment industry. 
His clientele includes celebrities such as Rihanna, Olivia Wilde, and Julia Roberts. Rosado is known for his unique and innovative designs that combine traditional craftsmanship with modern sensibilities.
Carey shared her excitement about the ring, saying, "It's so heavy I can't lift my arm up!" She continued, "No one else has one like it except for me." Indeed, the ring's unique design and massive size make it a one-of-a-kind piece that perfectly reflected Carey's personality and style.
The relationship may not have went the distance, but we'll be talking about that ring for years to come. Mariah Carey's engagement ring is a stunning example of fine jewelry craftsmanship and design. The 35-carat diamond and unique setting make it a one-of-a-kind piece —- no wonder that this ring continues to captivate the world.