Every week we pick the best and worst engagement rings to emerge from the land of the rich and famous. This week, it's the battle of the Trumps…
Engagements happen on a daily basis in showbusiness. Naturally, every bride – whether famous or not – thinks that their own engagement ring is the most beautiful in the world. The rest of us, however, may or may not feel the same. We scour the web every week for the latest celebrity engagement news, and choose what WE feel are the best and worst. It's all done in the spirit of fun, we mean no harm – and of course we wish the best to all of the happy couples! Here are our picks for this week…
The Best: Ivanka Trump
It's hard not to know who Ivanka Trump is, since she's the 'first daughter' of the new President of the United States. The 35-year-old is the eldest daughter of Donald Trump, and has also been Executive Vice President of the Trump Organisation for the past 10 years. She's been a close confidante of the POTUS for all of her adult life, and is all set to assume a first lady-type role in his administration.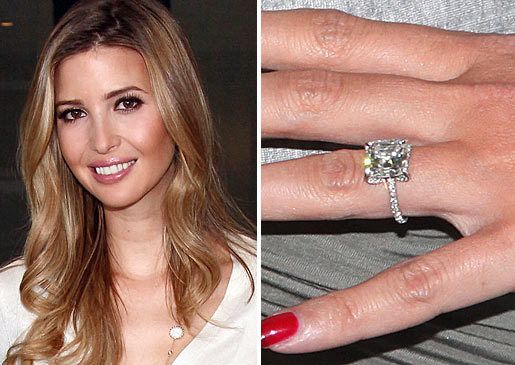 Ivanka is married to real estate investor (and now senior adviser to Trump) Jared Kushner, and the couple have three children together. They've been dating since 2004, and after a brief hiatus in 2008, Ivanka converted to Judaism so they could have the blessing of Kushner's parents to marry. They did just that in 2009, and their first baby followed in 2011.
There's no doubt in anyone's mind that both Ivanka and Jared have healthy bank accounts, so you can rest assured that her engagement ring is jaw-droppingly beautiful. It's a 5.22 carat cushion cut diamond, on a beautifully delicate, diamond encrusted band. You can bet each and every stone is of flawless quality. Jared designed the ring himself, but the price tag is undisclosed (and probably astronomical).
Our Verdict: Whatever you may think about Ivanka's father, or her for that matter, you can't deny she's got good fashion sense. This is a stunning ring, and we can't help but admire it. A lot.
The Worst: Melania Trump
Melania Trump, wife of Donald and now First Lady of the United States, is no stranger to a life of luxury. She was a successful model in Milan and Paris before she arrived in New York, where she met her future husband. Her wedding dress alone cost $200,000, had 300 feet of satin and a 13-foot train, and was made by Christian Dior. So how much could her engagement ring have cost? $1.5 million, if you believe everything you read.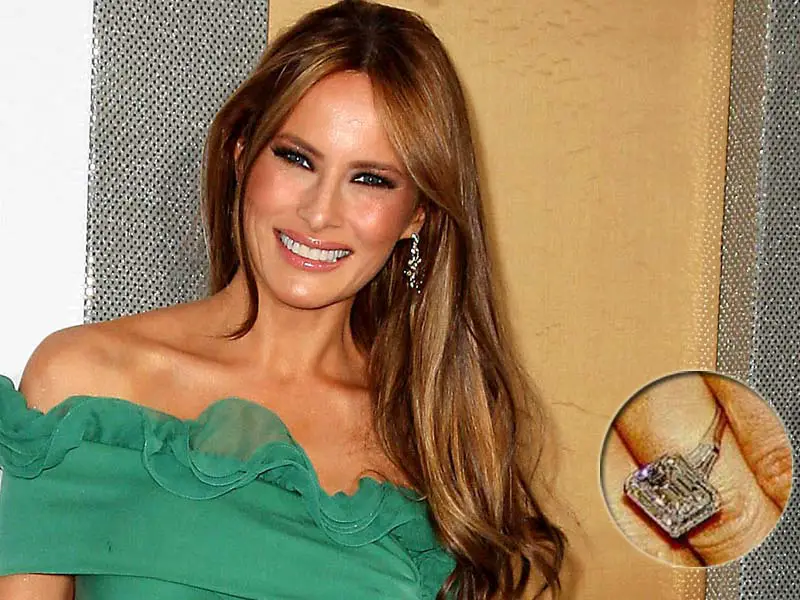 Melania and Donald met at a Fashion Week party 1998. He had arrived with another date, so Melania refused to give him her number when he asked. He persisted however, and before long the pair were an item. They married in 2004 and had a son, Barron, in 2006. But let's get back to the ring…
This eye-popping piece of bling  was designed by Jeffrey Rackover, who has crafted jewellery for the likes of Oprah and Jennifer Lopez, in conjunction with Trump himself and jewellery company Graff. It's a 12-carat emerald cut and is certified as flawless. It's accented with diamond baguettes on the sides and sits on a platinum band.
Our Verdict: This ring is definitely more in keeping with the decadent Trump style…. And that's why we're not such a fan. It's flawless credentials and impeccable design can't be ignored, but we find Ivanka's choice a little more humble and relatable… by comparison, of course.