Every week we pick the best and worst engagement rings to emerge from the land of the rich and famous. In this edition, we compare the bling of two Emmy nominated TV sensations…
Engagements happen on a daily basis in showbusiness. Naturally, every bride – whether famous or not – thinks that their own engagement ring is the most beautiful in the world. The rest of us, however, may or may not feel the same. We scour the web every week for the latest celebrity engagement news, and choose what WE feel are the best and worst. It's all done in the spirit of fun, we mean no harm – and of course we wish the best to all of the happy couples! Here are our picks for this week.
The Best: Mandy Moore
You may know Mandy Moore from her early days as an all-American pop star. Or you might know her for her previous high profile romances, which include US tennis star Andy Roddick and country music superstar Ryan Adams. Or you may only have become familiar with her recently, as she has forged a successful acting and television career in roles like Tangled's Rapunzel, or Rebecca Pearson in This is Us. Either way, this talented lady has had a long and successful career in showbusiness for the past 15 years.
Now in her 30s, Mandy is long over her previous marriage to Ryan Adams, which ended last year and reportedly left both parties broken hearted. It seems like she's ready to do it right this time; she recently got engaged to musician Taylor Goldsmith. They started dating in 2015 after Mandy and Ryan had legally separated, and while details of the proposal are scarce, we do have a pretty stunning engagement ring to drool over.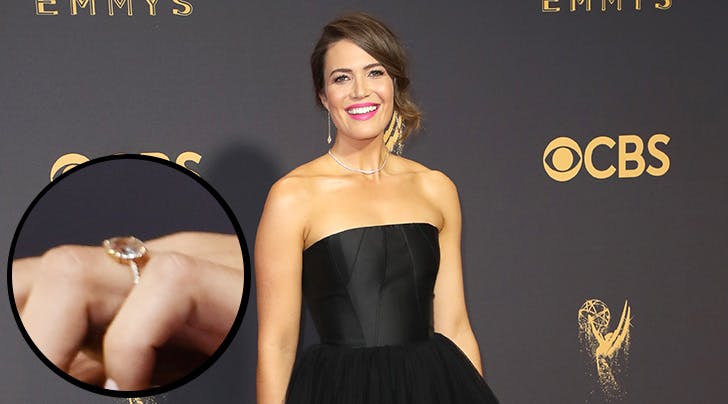 Mandy showed off her new sparkler at the Emmy awards back in September, and we can't wait to catch further glimpses of this ring throughout awards season. Taylor kept things simple but glamorous, and chose a (very) large round diamond with a delicate diamond halo and pave band. At first glance, it looks like it's set in yellow gold.
Our Verdict: Classy, simple and very Hollywood, this is a fuss-free engagement ring that still makes every head turn. The tiny diamond halo and delicate band makes it ultra feminine, too. We can't imagine Mandy wearing any other ring, to be honest.
The Worst: Allison Janney
Another regular at the Emmy awards, Allison Janney has won so many trophies during her illustrious acting career that we have no idea how she fits them all in her home. The always lengthening list includes SEVEN Emmys, six from the Screen Actors Guild, and three Critic's Choice awards – and that's just what she's won. She's been nominated for a hell of a lot more.
You'll recognise Allison from TV shows such as Mom, Veep or The West Wing, or from films including 10 Things I Hate About You, American Beauty or The Girl on The Train, among many many others. Off screen, her life has been just as captivating as her acting skills. She lost a brother to drug addiction and suicide, and had her dream of becoming an Olympic figure skater cut short when she sustained severe injuries to her leg aged 17. Now, she's rumoured to be engaged to a man 20 years her junior; stage production coordinator Philip Joncas.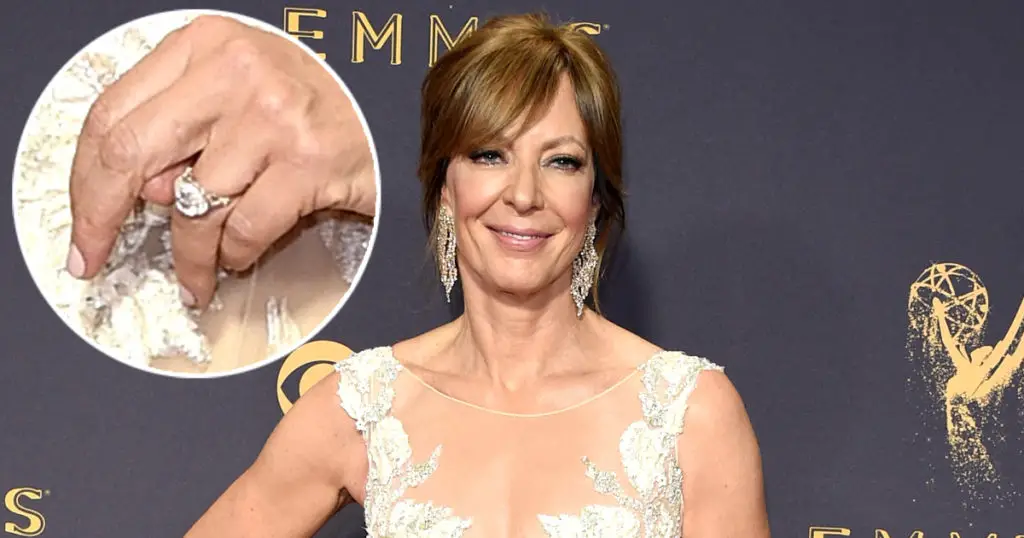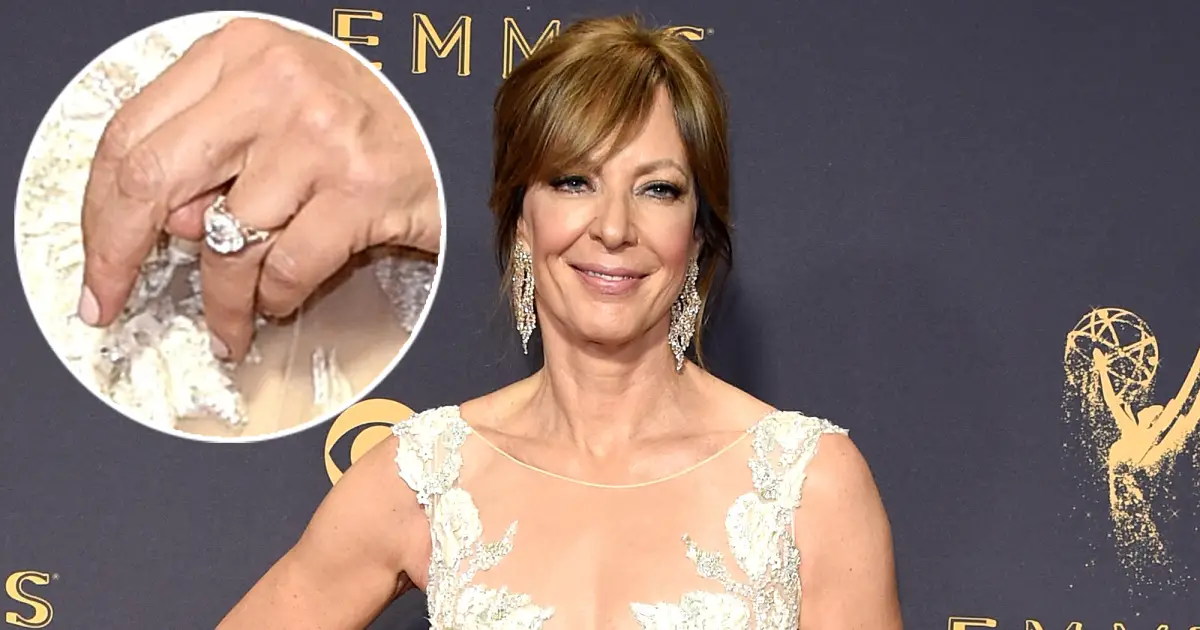 If you ask us, the bling Allison wore to the Emmys is most definitely engagement-related. But if you ask her, it's probably more likely something selected by her stylist to go with her beautiful gown. But hey, we can dream. It's a Lorraine Schwartz piece featuring a giant (upwards of five carats) round white diamond in an elaborate gold setting.
Our Verdict: We do like Allison's bling, but since we're working on the assumption that it's not a real engagement ring, it's out of the running. Plus, Mandy Moore's bling is so simple and so classy, it was always going to win anyway. Sorry Allison.