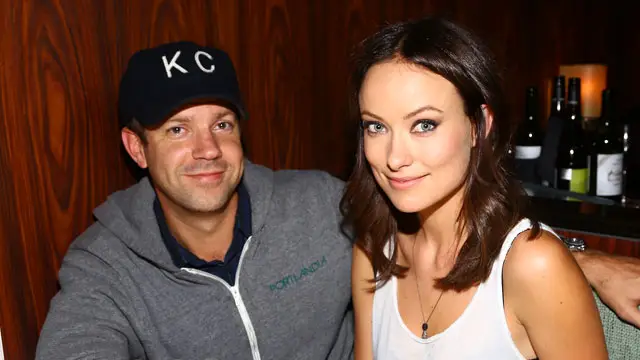 Every week we pick the best and worst engagement rings to emerge from the land of the rich and famous. Since it's Saint Patrick's Day this week, we decided to put two green emerald rings head to head…
Engagements happen on a daily basis in showbusiness. Naturally, every bride – whether famous or not – thinks that their own engagement ring is the most beautiful in the world. The rest of us, however, may or may not feel the same. We scour the web every week for the latest celebrity engagement news, and choose what WE feel are the best and worst. It's all done in the spirit of fun, we mean no harm – and of course we wish the best to all of the happy couples! Here are our picks for this week…
The Best: Olivia Wilde
Olivia Wilde is a shoo-in for this week's ring battle. Not only does she have Irish roots (she spent many summers growing up on Ireland's south-east coast), but she picked her stage surname in honour of classic Irish writer Oscar Wilde. So when her now husband was picking out an engagement ring to present to the beautiful Olivia, it's no wonder he chose emeralds. According to the actress, he chose stones that leaned more towards aqua-marine than mossy green to match his lady love's striking eyes. How sweet!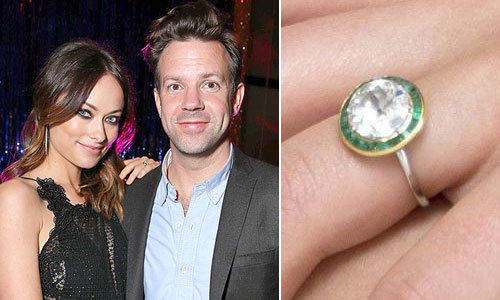 It doesn't stop there however. Olivia's ring is a vintage piece dating from 1920s Paris, and it's simply captivating to look at. The centre stone is a round diamond, and it's surrounded by a halo setting of at least 20 emeralds. For even more understated style, the band and mounting is a mixture of yellow and white gold.
Our Verdict: It's got classic style credentials and hits today's trends perfectly too; this ring literally ticks every box! We especially like the fact that while it's impossibly chic, it's not too over-bearing and is a nice not-too-small-not-too-big size. Kudos, Jason.
The Worst: Zoe Saldana
When she's not fighting interplanetary war lords in Guardians of the Galaxy or following Captain Jack Sparrow in Pirates of the Carribbean, Zoe Saldana is happily married to Italian artist Marco Perego. With creativity a central part of this couple's lives, you'd expect Zoe's engagement ring to be, well, a piece of art. It took until three months AFTER their marriage for the ring to make its first appearance in the public eye, but it was worth the wait. It's definitely art.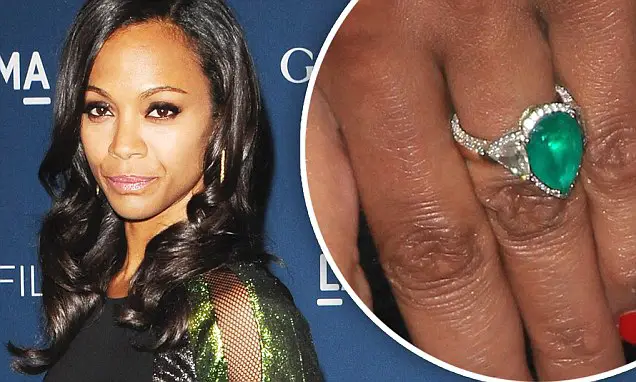 Marco chose a pear-shaped emerald in an unusual cabochon cut, estimated to be between 6 and 8 carats. A trillion cut diamond sits on either side of the emerald, along with a halo setting of teeny weeny micro-diamonds and pave diamonds along the shank of the band. The detailing is exquisite to say the least, and very very subtle. The whole ensemble looks especially stunning against Zoe's skin colour.
Our Verdict: It's obviously a well crafted ring and we have no doubt it was made with the finest of metals and stones. But. Emerald is notorious for being less reliable and more susceptible to damage than diamonds, rubies or sapphires. So we have our apprehensions about and emerald that big. Still though, excellent choice.