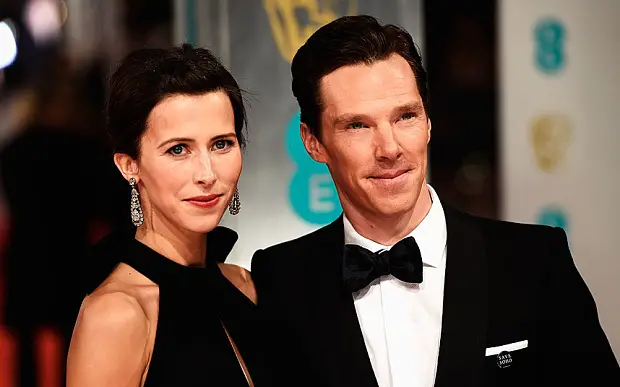 Every week we pick the best and worst engagement rings to emerge from the land of the rich and famous. This week, we put two famous actor's ring-picking abilities to the test. Do you think they chose the right rings for their lady loves?
Engagements happen on a daily basis in showbusiness. Naturally, every bride – whether famous or not – thinks that their own engagement ring is the most beautiful in the world. The rest of us, however, may or may not feel the same. We scour the web every week for the latest celebrity engagement news, and choose what WE feel are the best and worst. It's all done in the spirit of fun, we mean no harm – and of course we wish the best to all of the happy couples! Here are our picks for this week…
The Worst… Jenna Dewan Tatum
Despite what you might think from some of his roles, Magic Mike and 21 Jump Street Star Channing Tatum has been happily married for years to the beautiful Jenna Dewan Tatum. Jenna forged her own career in showbusiness as a backup dancer for Janet Jackson, Pink, Missy Elliott and Christina Aguilera. She also has plenty of acting roles under her belt, and it was on the set of the movie Step Up that her and Channing met for the first time. The couple got engaged all the way back in 2008 in Maui, married in Malibu in 2009 and welcomed their first daughter Everly in 2013.
So how did Channing choose her ring? He certainly knew he wanted the best of the best, because this beauty is a stunning Neil Lane creation. A huge cushion cut centre diamond rests on a close split shank, with a thick band with plenty of twisty-turny, fairytale style detailing interwoven with tiny pave diamonds. She wears it with two wedding bands, both of which feature channel set diamonds all along the band.
Our Verdict:  As a standalone piece, we quite like this engagement ring. With the additional blingy bands however, it's all a little too brash. Some more delicate work on the engagement ring band or maybe a smaller stone is needed to tone it down. Then again, Jenna's a Hollywood star in her own right, so she can afford to be as loud and proud as she wants with her jewellery.
The Best… Sophie Hunter
You probably know her as Benedict Cumberbatch's new wife, but Sophie Hunter is a highly accomplished thespian in her own right. She started out her career as a stage performer before moving backstage, and now writes and directs plays. She also went to Oxford university, is a skilled pianist, and can speak French and Italian fluently. Phew! Sophie and Benedict have been an item since sometime around 2010 – 2011. They married in 2015 and had their first baby boy Christopher a few months later. Judging by their red carpet appearances both Sophie and Benedict have impeccable style, so it's no surprise that her ring is a beauty.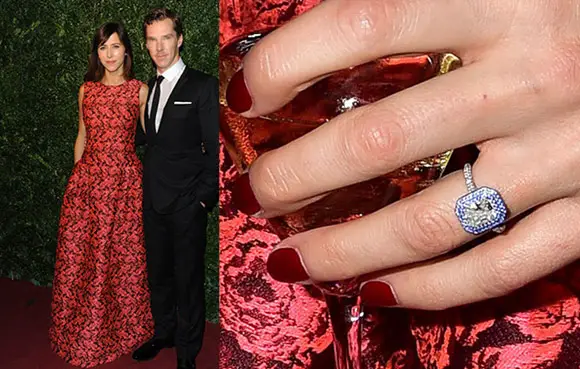 Allegedly worth £300,000, it's thought to be a Tiffany legacy diamond encrusted band and is typically Edwardian in style. The central stone is a square cut diamond, somewhere around the 3 – 3.5 carat mark. It's surrounded by a double halo of tiny diamonds and blue coloured stones (possibly sapphires) – in total the piece has over 100 gems. How's that for Hollywood glamour?
Our Verdict: As far as 'big' rings go, this is probably the most beautiful we've ever seen. Despite its size it's truly understated, delicate, and makes a statement without going over the top in the bling stakes. Benedict, you win this round hands down. Sophie: you're a lucky lady!