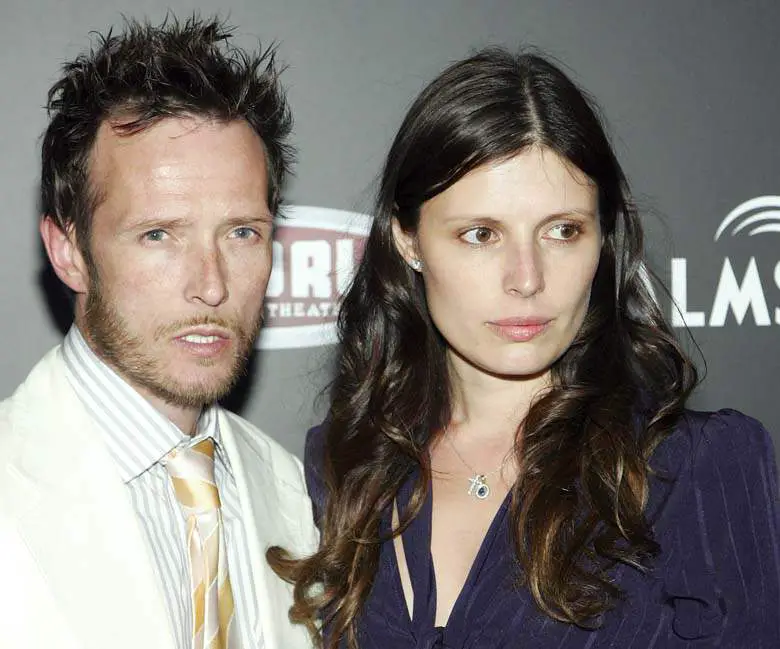 Every week we pick the best and worst engagement rings to emerge from the land of the rich and famous. This week we've chosen a one reality TV star and one rock star widow to compare and contrast…
Engagements happen on a daily basis in showbusiness. Naturally, every bride – whether famous or not – thinks that their own engagement ring is the most beautiful in the world. The rest of us, however, may or may not feel the same. We scour the web every week for the latest celebrity engagement news, and choose what WE feel are the best and worst. It's all done in the spirit of fun, we mean no harm – and of course we wish the best to all of the happy couples! Here are our picks for this week…
The Best: Trishelle Cannatella
Trishelle Cannatella is an actress and playboy model that you've probably seen on MTV's reality show 'The Real World: Las Vegas' as well as 'Punk'd' and 'Fear Factor'. Fun fact; she's also a pretty good poker player.
She got engaged back in July to boyfriend John Hensz, but it's only now that we're seeing close-up shots of the ring. John proposed in New Orleans' French Quarter, hiring a full second-line parade to play a song for Trishelle. She walked out of a restaurant and saw some friends watching the band, but continued the walk down the street. The band, followed, more friends and family members appeared with her family and friends appearing for the occasion too. It's a pretty sweet proposal, without a doubt, and a pretty sweet engagement ring to go with it too.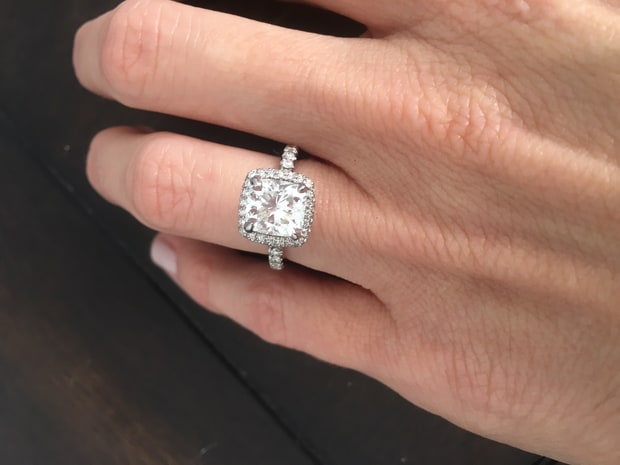 You're looking at a cushion cut white diamond in a halo setting, with a pave diamond band. We're assuming it's all held together with platinum, and we're assuming that diamond is at least 3 carats. Very on-trend, and very pricey too.
Our Verdict: We love it. Simple but glamorous, contemporary but timeless. The all diamond and platinum combination makes it a real dazzler. We'd definitely say yes if someone proposed with this baby, too.
The Worst: Jamie Wieland
Jamie Wieland is the widow of Scott Wieland, the Velvet Revolver frontman who sadly passed away from a drug overdose earlier this year. In an even more poignant turn of events, Jamie has decided to sell the engagement ring Scott gave her on eBay.
The couple met in 2011 and married in 2013. It was Scott's third marriage, and the couple have 3 children between them from previous relationships. Although they seemed to have a happy relationship, Scott struggled with substance abuse on and off throughout his life, and was found dead on his tour bus in December.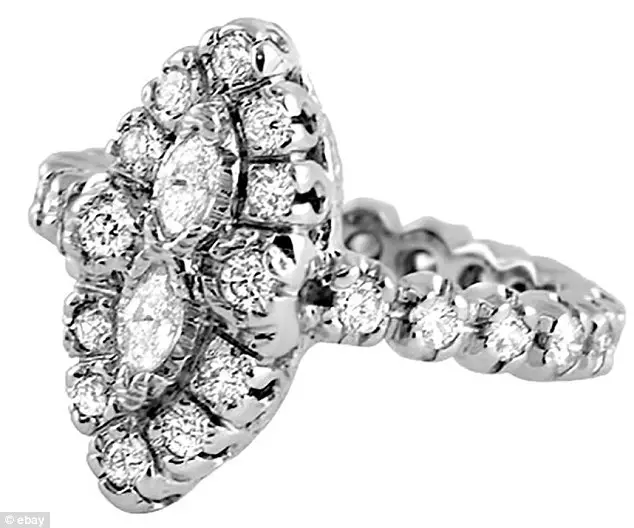 Jamie has said she is selling the ring because "right months into this new chapter of my life, I need to part with it. I am so sad to see it go but it's a truly gorgeous piece and I would love for it to make someone as happy as it once made me." It's a white gold band with two vertically-aligned marquise diamonds surrounded by 18 round brilliant diamonds in a halo setting and band. Very gothic, and very rock star.
Our Verdict: This is quite obviously a very beautiful ring. But the story behind it is just so sad that we can't help but feel little discouraged. We certainly admire Jamie's bravery for parting with the ring – she's working through her grief in a way that works for her – but we wouldn't feel all that comfortable owning it. Sorry Jamie.