Every week we pick the best and worst engagement rings to emerge from the land of the rich and famous. In this edition, two famous daughters go head to head…
Engagements happen on a daily basis in showbusiness. Naturally, every bride – whether famous or not – thinks that their own engagement ring is the most beautiful in the world. The rest of us, however, may or may not feel the same. We scour the web every week for the latest celebrity engagement news, and choose what WE feel are the best and worst. It's all done in the spirit of fun, we mean no harm – and of course we wish the best to all of the happy couples! Here are our picks for this week.
The Best: Alexa Ray Joel
We always expect a couple of high profile celebrity engagements over the holiday season. But we weren't expecting to see one of our favourite engagement rings of the year on the very first day of 2018! It belongs to Alexa Ray Joel, daughter of Christie Brinkley and Billy Joel, and we're head over heels in love with it.
Alexa has followed her dad's footsteps and is a successful singer songwriter. Her other half is restaurateur Ryan Gleason, and the pair have been steadily dating since 2013. He popped the question on a family vacation over the holidays, and mom Christie said "Ryan is the sweetest, kindest, hard working man who sincerely loves and adores my precious Alexa Ray so I love him too and while we have always thought of him as family soon he really will be ! What s beautiful way for our family to start the New Year…. Celebrating their L❤️VE !!!"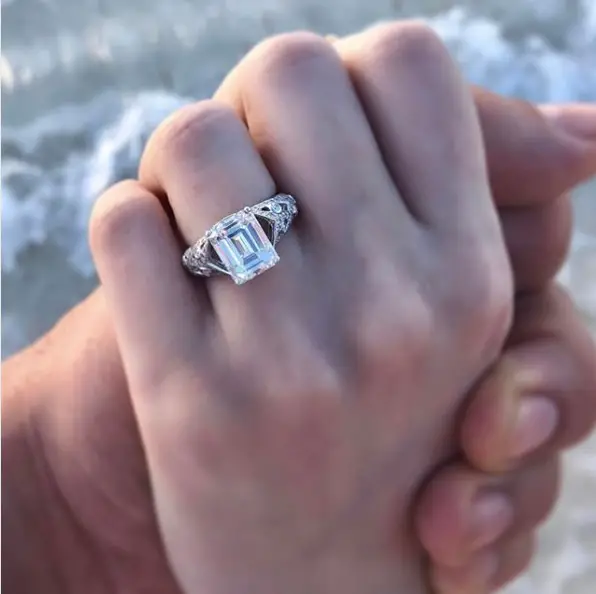 So, what do we know about the ring? It was custom designed by jeweller Chana Regev of Carelle and Ryan himself. Taking Carelle's Florette collection as the starting point for the design, Regev and Ryan adapted it to reflect Alexa's 'unique personality and artistic talents'. The centrepiece is an emerald-cut diamond, which sits in a prong setting on top of a detailed band. The band includes cut-out sections and small round stones in an interwoven, intricate design that can't help but draw the eye. The diamond is pretty hefty, too; we're guessing at least 3 carats, possibly more.
Our Verdict:  We love the little details and alternative vibe of this stunning engagement ring. It's bold, it's sparkly and it's undeniably made with expert hands. Alexa, we have to admit; we're jealous. Congratulations, though!
The Worst: Paris Hilton
Remember Paris Hilton, the socialite and heiress who was literally EVERYWHERE back in the 2000s? Well she's back in the headlines once again. The great granddaughter of Conrad Hilton, Paris has the financial power of the Hilton hotel brand behind everything she does… so when news broke over New Years Eve 2017 that she got engaged, we expected nothing but Hilton-style opulence.
Paris' new fiance is Chris Zylka, an actor and model. You've seen him as Flash Thompson in The Amazing Spider-Man, and he has also cropped up in Everybody Hates Chris, Hannah Montana, Cougar Town and 90210. After finishing college, he cared for his poorly grandfather and it was during that time that he decided to become an actor. He and Paris have known each other for eight years, but have only been dating for two. He proposed in Aspen over New Year's weekend.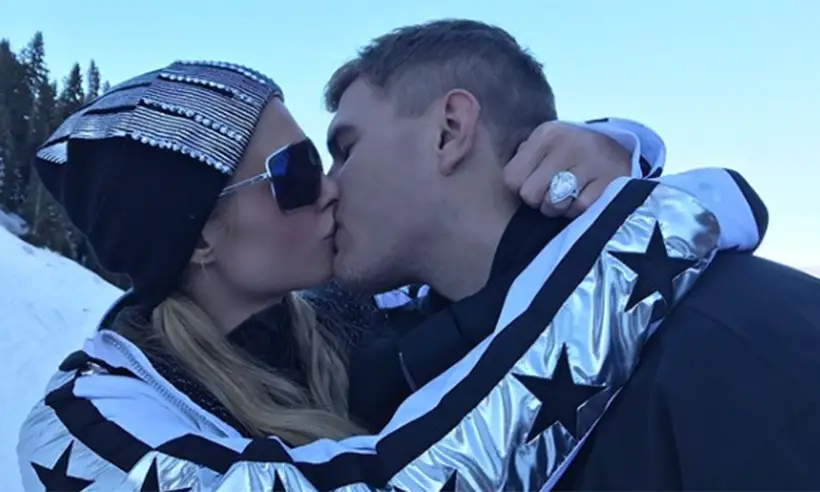 So what about the ring? Well… where do we start? It was designed by celebrity jewellery Michael Greene and apparently cost $2 million. The centre stone is a pear-shaped diamond and weighs 20 carats (WOW!) alone, with a further 2 carats worth of diamonds in the pave halo and band. The split shank bland is crafted from platinum. According to Greene, Chris had asked Paris' family and friends for tips to ensure he got the exact ring she always wanted. Looks like he got it right!
Our Verdict: Paris says this is her dream diamond, and it is indeed perfect… for Paris. There's no doubt that it's gigantic and sparkly, but it far exceeds our definition of 'over the top'. We're sure she adores it, but sadly we don't. Sorry Paris.