Every week we pick the best and worst engagement rings to emerge from the land of the rich and famous. This week's head to head was tough. Very, very tough…
Engagements happen on a daily basis in showbusiness. Naturally, every bride – whether famous or not – thinks that their own engagement ring is the most beautiful in the world. The rest of us, however, may or may not feel the same. We scour the web every week for the latest celebrity engagement news, and choose what WE feel are the best and worst. It's all done in the spirit of fun, we mean no harm – and of course we wish the best to all of the happy couples! Here are our picks for this week.
The Best: Meryl Davis
Meryl Davis is well known for her amazing ice dancing talents. She has several Olympic medals to her name plus many international, world and national titles under her belt. She's been skating since she was five, and since 2014 she has been gracing TV screens in a new ways; as a professional ice dancer on reality show Dancing On Ice.
Meryl has been dating Canadian-Russian figure skater Fedor Andrev – who happens to be the son of her former coach – for the past six years. And it seems like the proposal was worth the wait! The couple embarked on a romantic hike (their favourite couples activity) just outside of San Francisco, ending up at a beautiful beach. Just as they were looking down towards the water, Meryl turned around to find Fedor on one knee, ring in hand.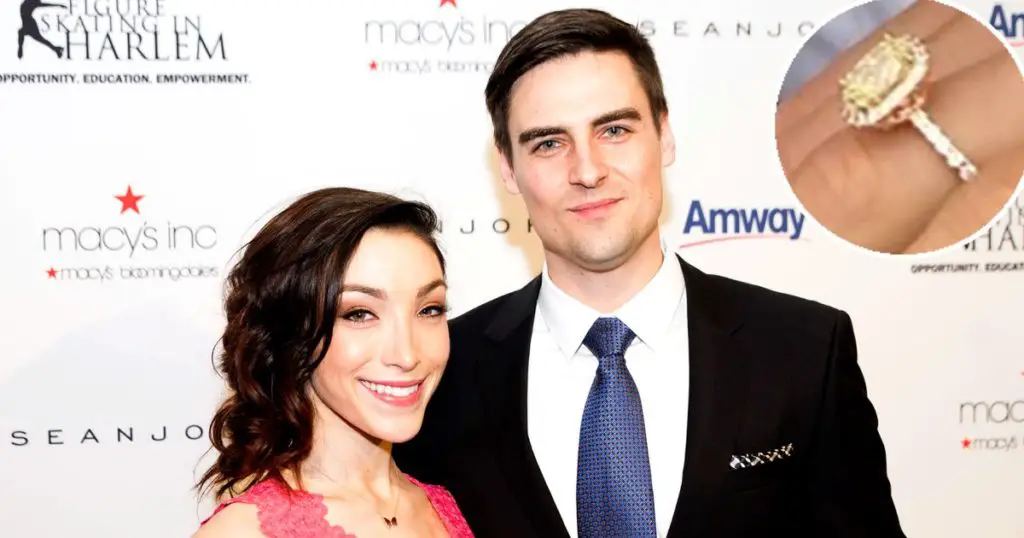 But wait, the story gets better. Fedor didn't just pick any ring from the nearest jewellery store. Meryl had fallen in love with a ring she spotted in Santorini, Greece, on their last vacation. Since he couldn't go back to get the ring, Fedor went one better and got the ring of her dreams custom made, based closely on the original design Meryl saw. It's an elongated cushion cut canary yellow diamond, set in rose gold and surrounded by a white diamond halo. For a personal touch, Fedor also added two tiny hearts into the metal on either side of the diamond. So unbelievably sweet!
Our Verdict: Who could refuse a stunning canary yellow diamond like this baby? Not Meryl, and definitely not us. This engagement ring with its gorgeous hue and classic style was always going to be the winner for us, no matter what it came up against.
The Worst: Christina Perri
Christina Perri shot to fame in 2010 when her hit song 'Jar of Hearts' was featured on the hugely popular TV show So You Think You Can Dance. From there her career skyrocketed – she landed a record deal and released her first studio album within a year. Since then she's lended her singer songwriter talents to the Twilight Saga soundtrack, was Jason Mraz's opening act on tour, and released another two albums. It hasn't all been plain sailing however; Christina recently revealed her struggles with alcohol abuse, announcing in March last year that she had made it to four years of sobriety.
2016 seemed to mark a new phase in Christina's life, as it's also when she began dating her new fiance, entertainment reporter Paul Costabile. The pair had known each other through work since 2013, and Paul commented on this when they announced their engagement on Instagram. "I knew I wanted to ask this girl to marry me the day she walked into the green screen for an interview almost 4 years ago" he wrote. "I finally asked her right here tonight and she said yes !!" Too cute.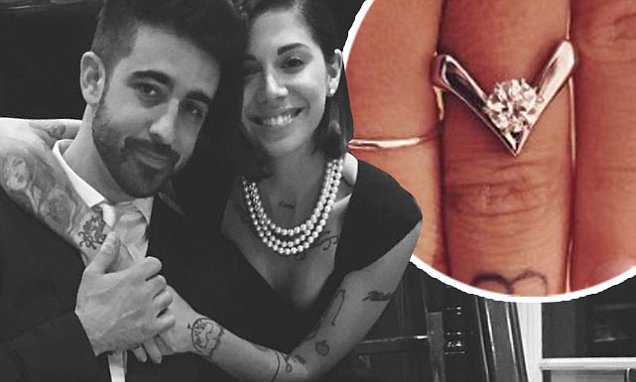 So, let's take a look at the ring. It's a relatively small diamond by showbiz standards, in a round brilliant shape and looks to be around 2 carats. That's where the traditional part ends however; Christina's band is an ultramodern angular design, with the stone sitting at the corner point in what looks like a tension setting. It's presented in shiny white gold or platinum, with a bigger than usual width to draw attention to the unique design.
Our Verdict: This week was a choice between the engagement ring of the future, and the new modern classic. Christina Perri's bold design is awesome, but we're just not sure we're ready for this to become the new engagement ring norm. Sorry Christina, we're traditionalists at heart (we still love you and your ring though!).