Every week we pick the best and worst engagement rings to emerge from the land of the rich and famous. In this edition, it's the battle of the princesses…
Engagements happen on a daily basis in showbusiness. Naturally, every bride – whether famous or not – thinks that their own engagement ring is the most beautiful in the world. The rest of us, however, may or may not feel the same. We scour the web every week for the latest celebrity engagement news, and choose what WE feel are the best and worst. It's all done in the spirit of fun, we mean no harm – and of course we wish the best to all of the happy couples! Here are our picks for this week.
The Best: Meghan Markle
It finally happened! After months of waiting and speculating, Britain's Prince Harry asked Suits actress Meghan Markle to marry him! The world has been waiting for this engagement ring for a long time and believe us, it does not disappoint. But first, some background info…
Prince Harry is the 5th in line to the throne of the British royal family, which means he's unlikely to ever become king. He's never really had the same level of pressure as his older brother Prince William, who is second in line, and in his younger years he took full advantage of this fact. In his twenties Harry gained a reputation as a party boy and an eternal bachelor – but when he met Meghan in the summer of 2016, it all changed.
Meghan Markle is a California native. After studying at Northwestern University, she pursued a career in acting. She's best known for her role as Rachel Zane in TV series Suits, but she has also made appearances in CSI: Miami, Horrible Bosses and Get Him to the Greek. She's also passionate about humanitarian causes, so she should take to her new royal role like a duck to water. The couple met through a mutual friend on a blind date, and enjoyed a couple of dates in London after that. Then Harry convinced Meghan to go camping in Botswana with him – one of the only places in the planet where they could be truly alone together – so that they could get to know one another away from the spotlight. From then on, it was true love.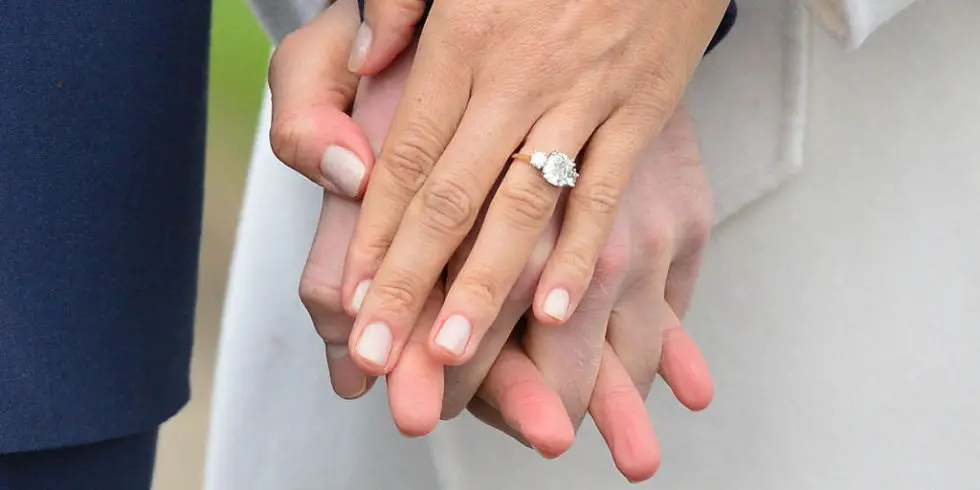 But wait – the story of the ring is even better! Harry designed this beauty himself and it was crafted by Cleave and Company, Court Jewellers and Medallists to the Queen. It's a three stone ring with a large round diamond from Botswana in the centre, honouring the special part the country played in their relationship and in Harry's life. The smaller round diamonds either side of the main stone are from Princess Diana's private collection – Harry's way of making sure his late mother was remembered during this happy milestone moment. It all rests on a classic and traditional yellow gold band.
Our Verdict: We love that Harry honoured his late mother with this ring, AND that he had a hand in the design himself. It perfectly balances Hollywood and royal styles, and let's be honest – it looks fantastic on Meghan. Well done, Prince Charming!
The Worst: Kate Middleton
We've featured this particular ring in this particular series before, and it has always won… until now. Prince William proposed to his now wife, Kate Middleton (or the Duchess of Cambridge, to give her official title) in 2010 using his later mother's engagement ring. The sweet moment came after a long term romance that began when the couple were still in university. Eight years after they first met, in the secluded plains of Kenya, William got down on one knee. Fast forward another (almost) eight years and they have two beautiful children and a third due to arrive in Spring 2018. What a beautiful love story!
But let's get back to the ring. Then known as Diana Spencer, the future princess chose this ring after her engagement to Prince Charles, the heir to the throne, in 1981. The royal family usually have their jewellery custom made by a hand picked jeweller, but trailblazing Diana had other ideas. She walked into Garrard's jewellers in London, saw this sapphire and diamond piece, and picked it. The job was done! After her tragic death in 1997 William received Diana's engagement ring, so he gave it to Kate when he proposed to ensure that his mother's legacy lived on.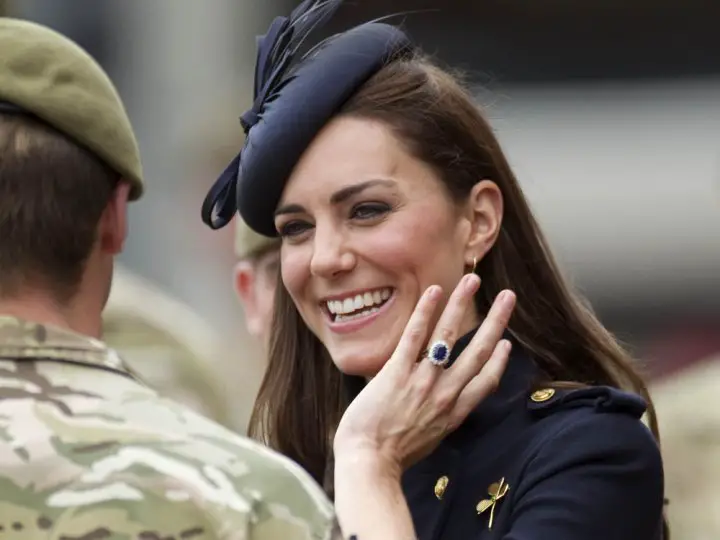 Diana – and now Kate's – ring features a 12 carat oval sapphire as the centrepiece and is surrounded by 14 solitaire white diamonds. It's set in 18 karat white gold and at the time of Diana and Charles' engagement, it cost £28,000. It's now estimated to be worth at least ten times that amount – somewhere in the region of £300,000 or half a million dollars.
Our Verdict: This ring comes with a beautiful story attached. It's unique for a lot of reasons, and it's obviously a stunning and beautiful piece of jewellery. It's full of vintage style, but it's just a little too elaborate for our liking when we compare it to Meghan's new bling. We're siding with Prince Harry just this once – but we still love you Kate!