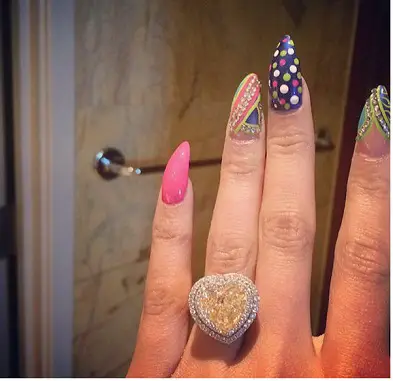 Hip-hop artist and top rated Billboard singer, Nicki Minaj flaunts her amazing ring given by Meek Mill. Nicki and Meek Mill started dating back in 2013 and on April 2014, Nicki posted a mysterious tweet featuring the heart, ring and diamond emoji.
Diamond Size: 15 Carats Diamond
Diamond Shape: Yellow Heart-Shaped Diamond 
Setting: Double Halo of White Pavé Diamonds
Ring: Platinum
Estimated Price: £337,000
Designer/Maker: Unknown
Comment: Even if heart shaped diamonds aren't your thing, you have to admit if anyone can carry off this whopper of a yellow diamond it's Nicki Minaj! We also love how she paired it with this double heart twist band on her index finger.