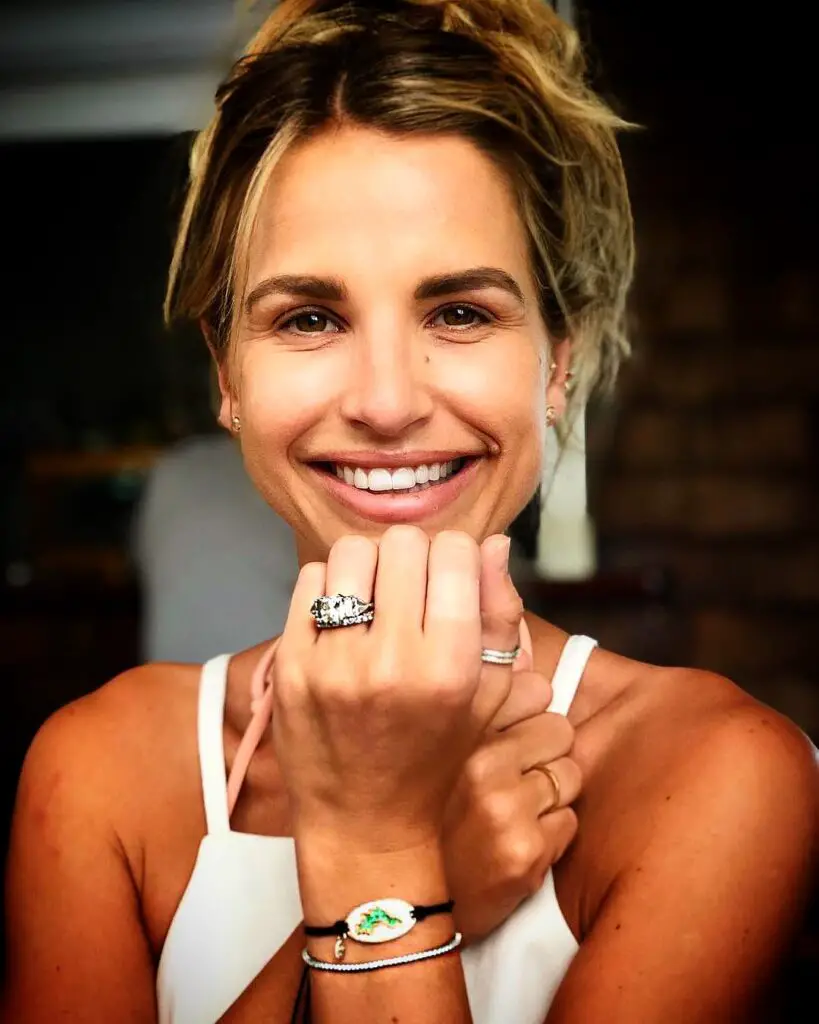 Spencer Matthews isn't exactly known for getting it right when it comes to the ladies. The famed bachelor has broken his fair share of hearts, but he's well and truly settled down with the stunning Vogue Williams. So much so that he sealed the deal with an incredible $200,000 ring.
For those who don't know, Vogue and Spencer first met on the set of the Channel 4 show "The Jump" back in 2017. They hit it off immediately, with their chemistry being the talk of the town. But it wasn't until 2018 that they officially confirmed their relationship, and from there on out, it's been nothing but pure love.
Spencer proposed to Vogue in January 2018, during a backstage moment at the Lion King musical in London. And let me tell you, this wasn't just any proposal. Spencer went all out, getting down on one knee and presenting Vogue with the most breathtaking engagement ring that we've ever seen.
It's a classic oval cut diamond, surrounded by a halo of smaller diamonds, and set on a band of delicate diamonds. It's the kind of ring that would make even the most committed singleton swoon with envy.
Here's everything you need to know about the beauty. 
What kind of ring is Vogue Williams' engagement ring?
Vogue's ring from Spencer Matthews is a five-stone claw, and is reportedly made up of three to four carat diamonds in the centre, with additional one to 1.25 carat diamonds around the main setting.
Spencer came up with the design for Vogue's engagement ring based on his wife-to-be's unusual obsession with bridges. There are five diamonds encrusted into the ring along the band to create a bridge-like shape. Spencer explained that "Vogue has always loved the design and structure of bridges and she loves Albert Bridge, which we live right next to. I devised a way of making the ring look like a bridge by using five stones." I mean, come on!
The clarity of a diamond refers to how many inclusions and blemishes are present within the stone. Vogue's diamond is a high-quality stone with excellent clarity, meaning that it's virtually flawless to the naked eye. 
Vogue is no stranger to beautiful engagement rings: Vogue's engagement ring from Brian McFadden was a stunning square cut diamond.
Who designed Vogue Williams' engagement ring?
The designer behind Vogue Williams' breathtaking engagement ring is none other than Hatton Garden jewelers Duttson Rocks. 
Spencer wrote on Instagram: "My friend Neil @duttsonrocks and I really enjoyed the journey of making this beautiful ring for my fiancée. I loved designing it and believe it suits her perfectly… The countless trips to the workshop in Hatton Garden became worth it the moment she said yes!!!"
Together, they collaborated on a design that was both timeless and modern, classic and unique. The result is certainly a show stopper.
How much did Vogue's engagement ring cost?
The cost of Vogue Williams' stunning engagement ring is estimated to be around $200,000 USD. 
The cost of an engagement ring can vary greatly depending on a number of factors, including the quality and size of the diamond(s), the band, and the designer who created the piece. In Vogue's case, her ring features a center stone that looks to be a 4ct radiant diamond, with parallel baguette and trillion side diamonds making up a total carat weight of at least 1.25ct. That's a lot of diamonds. And a lot of diamonds means a hefty price tag.
In our eyes, it's well worth it.
Vogue Williams' engagement ring is a true masterpiece that reflects the unique love story between her and Spencer Matthews. Whether you're looking for inspiration for your own engagement ring, or simply love to admire gorgeous jewelry, Vogue's ring is definitely one for the books.