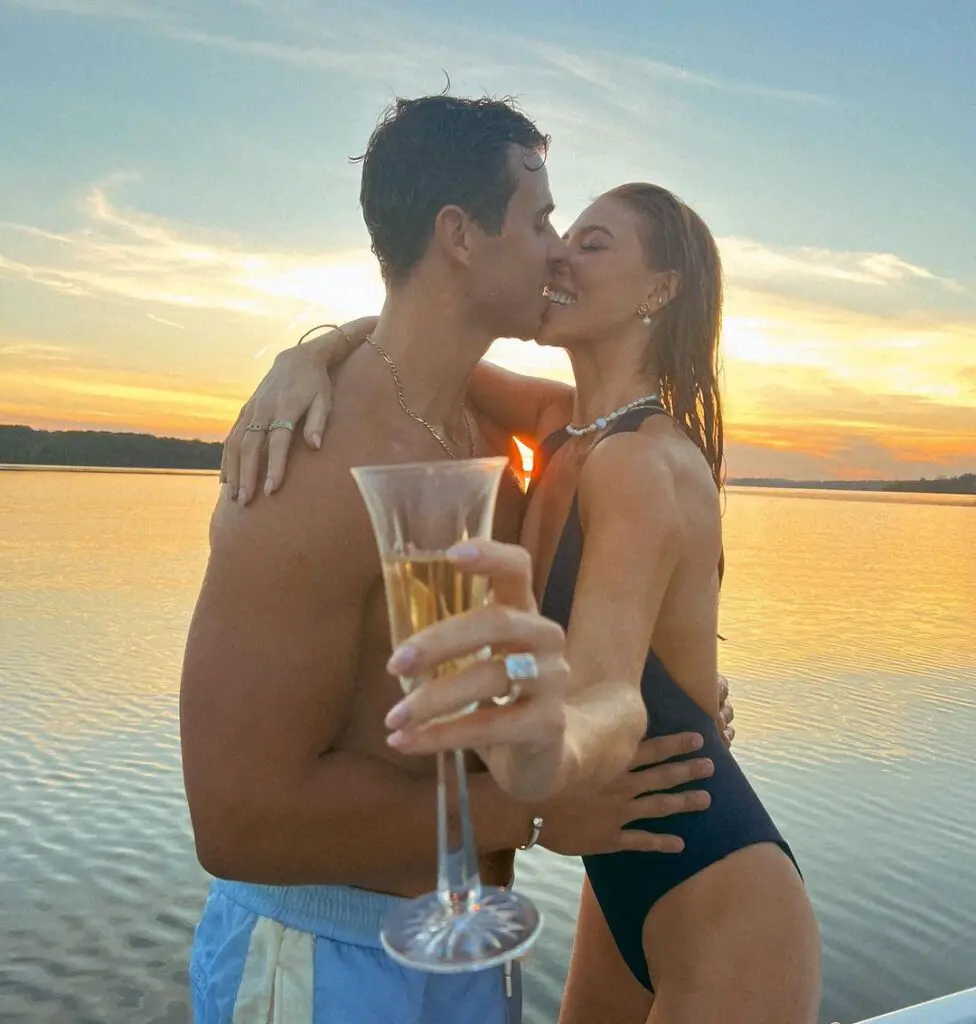 Shannon Ford, the vivacious reality TV star known for that appearance on Very Cavallari is engaged to her boyfriend of two years, James Middleton. By 'that appearance', we mean that very public firing from her job as the social media director at Uncommon James.
Still savvy on social, she took to Instagram to share the news of her engagement. She captioned the picture as "For once, it is not a probably." Shannon also showed off her huge engagement ring and did not hesitate to bring some Taylor Swift lyrics into the caption as she noted: "I'd marry you with paper rings but I'm so glad I don't have to." 
Not one to shy away from controversy, she also posted a video of her leaping into Percy Priest Lake in Nashville during a boat trip, brand new sparkler still on her finger. Fortunately, her precious ring remained unscathed, much to our relief, because let us tell you —- it's a doozy.
"That ain't a ring that's a damn kitchen island," joked a follower, and we couldn't have said it better ourselves. Let's take a look at her radiant cushion cut.
What Kind Of Ring Is Shannon Ford's Engagement Ring?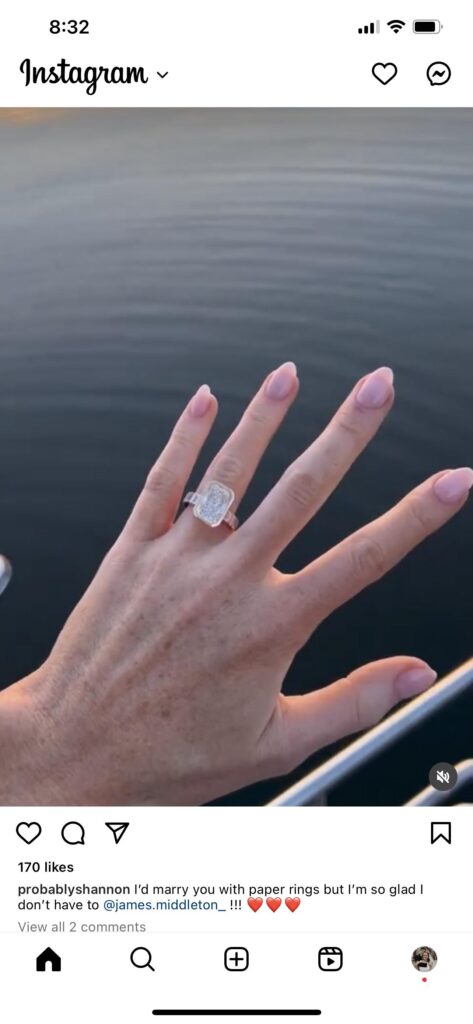 A Shannon's engagement ring features a bezeled radiant cushion cut diamond.
The radiant cut is known for its brilliant facets that maximize the diamond's sparkle — they typically have 70 or 71 facets, combining the step-cut facets of emerald and the brilliance of round-cut diamonds. This unique arrangement creates a mesmerizing play of light and provides exceptional sparkle. Radiant cut diamonds also often appear larger than other diamond shapes of the same carat weight due to their broader table facet and shallow depth. This makes an excellent choice if you want a larger-looking diamond without necessarily increasing the carat weight (and explains why followers compared Shannon's diamond to a kitchen island…)
Combine the radiant cut with the cushion shape, with its rounded corners and gently curved sides, and this ring has a classic yet contemporary appearance that's perfect for Shannon. 
What truly sets this ring apart though is the addition of a bezel setting, which encircles the diamond with a thin band of precious metal. This setting not only enhances the diamond's security but also adds a touch of sophistication and protection. 
Who Designed Shannon's Engagement Ring?
Shannon Ford's ring was designed by RW Fine, a prestigious luxury jeweler nestled in the heart of Dallas, known for its timeless creations. With a legacy spanning decades, they have earned a stellar reputation for offering an unparalleled selection of high-quality diamonds, gemstones, and meticulously crafted rings. 
Each creation from RW Fine is a masterpiece, a fusion of artistry and precision, designed to capture the essence of elegance and sophistication and it's safe to say Shannon Ford's is no different.
How Much Is Shannon Ford's Engagement Ring Worth?
Unsurprisingly, the price of the sparkler isn't public knowledge. 
While we'd estimate a ring of this size and quality to be worth around $75,000, Reddit had other ideas. One user likened the ring to one from Amazon or Party City, hinting at their reservations on the quality of the ring. Another mentioned a friend's experience with RW Fine, saying, "They also don't sell quality pieces. My friend got a necklace then went and got the diamonds appraised and they were not the quality she paid for." Regardless of how much the diamond is actually worth, there is no denying it's a beauty.
We wish them both a lifetime of happiness.