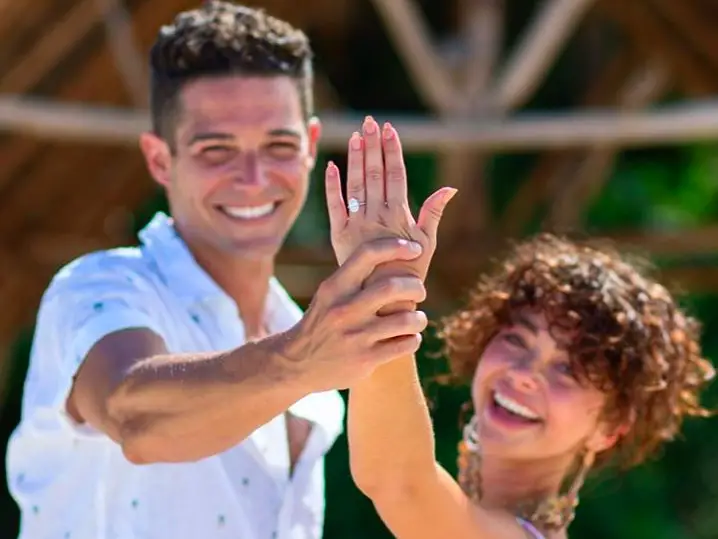 Hold on to your seats, Sarah Hyland, known for her unforgettable roles in hit TV shows like Modern Family and Shadowhunters, has finally gotten engaged to her long-time beau, Wells Adams. 
She took to Instagram and announced that Wells had popped the question during a romantic beach vacation, and the photos are everything. Sarah captioned the shots "that can't eat, can't sleep, reach for the stars, over the fence, world series kind of stuff." 
The proposal was beautiful, sure. But what's really sending the rumor mill into a frenzy is the blinding rock that now sits on Sarah's left hand.
The Lorraine Schwartz mega-carat oval ring is turning heads left and right with its unique design and stunning sparkle, and it's quickly becoming one of the most talked-about celebrity engagement rings of the year. 
Here's everything you need to know about the gem.
What does Sarah Hyland's engagement ring look like?
Sarah's engagement ring features an oval-shaped diamond center stone that's estimated to be around 5 carats, set in a delicate gold band. 
Oval diamond engagement rings are an increasingly popular option for people who want all the benefits of a round brilliant engagement ring (amazing sparkle) but want something a little bit different. It's basically an elongated round brilliant, so does an excellent job of reflecting light back to your eyes, making the diamond sparkle brilliantly. 
The stone has a high color grade — most likely F or G color and VS clarity —- appearing to be a white diamond with a bright sparkle. 
The diamond is set in a solitaire style with six prongs, which enhances the beauty of the center stone and provides a secure hold. 
The setting is simple yet elegant, and the diamond is brilliantly cut to reflect the maximum amount of light.
Who designed Sarah's engagement ring?
Sarah's engagement ring was crafted by celebrity favorite designer, Lorraine Schwartz.
Lorraine Schwartz is a renowned jewelry designer who has gained a reputation for creating some of the most exquisite and unique engagement rings in the world. With a client list that includes some of the biggest names in the entertainment industry — Beyoncé, Kim Kardashian, Blake Lively, and Jennifer Lopez to name a few — Schwartz has established herself as one of the go-to designers for celebrities looking for a one-of-a-kind engagement ring. Her designs often incorporate rare and valuable gemstones, including fancy colored diamonds, sapphires, and emeralds, and are known for their bold and daring aesthetic
How much did the ring cost?
For a white 5-karat oval cut that is most likely F or G color and VS clarity from Lorraine Schwartz, Wells most likely spent around $175,000 to $200,000. 
Quality doesn't come cheap. During an appearance on Ellen, Sarah revealed that she actually picked out her own engagement ring (long before they got engaged) and Wells knew he would need to get saving to make it her dream come true. 
He told Brandi Cyrus in an interview: "I will pay for this ring, I promise you. It will come out of my bank account."
It's safe to say, he made Sarah's dream a reality, and she's now milking it for all it's worth.
Recently, someone commented "How long will you be stretching this out?" under a video of her and Wells sharing a kiss. Sarah fittingly replied "Forever". If we had a Lorraine Schwartz gem, we'd be stretching it out forever too.