Another year is nearing its end, and in the world of celebrity make-ups and break-ups, it was a dramatic one! From Ariana Grande's whirlwind romance with Saturday Night Live Star Pete Davidson (they got engaged after one month of dating in June, but had broken up by October) to Lady Gaga's not so bad romance with fiance Christian Carino, there's plenty to talk about… and plenty of engagement rings to drool over. Here are ten of the best.
Lea Michele
Glee star Lea Michele has had her fair share of heartbreak – in 2013, her co-star and boyfriend Cory Monteith tragically died from a drug overdose. Five years later, we're delighted to see that she has rebuilt her life and found happiness again. She got engaged to beau Zandy Reich last spring, and he certainly lived up to her diva-esque standards with the engagement ring. In the centre is a four carat rectangular radiant cut diamond, adorned with a delicate diamond halo and sitting on top of a pave diamond band. He helped design it with famed Vegas jeweller Leor Yerushalmi, and we think you'll agree it's dazzling.  
https://www.instagram.com/p/BiIH1irhwxd/?utm_source=ig_web_button_share_sheethttp://
Princess Eugenie
Meghan Markle may have hogged all the news headlines, but there was in fact another royal wedding this year. Princess Eugenie (first cousin to Princes Harry and William) announced her engagement to long-term bf Jack Brooksbank in January, with an official photograph that showed off her stunning engagement ring. Echoing her mother Sarah Ferguson's ring, Eugenie wears a floral design but instead of a ruby, she opted for a padparadscha sapphire – a very rare pink-hued sapphire from Sri Lanka. Jack later admitted he proposed without a ring, and that the couple designed the beautiful ring together. We have to admit, that's pretty cute.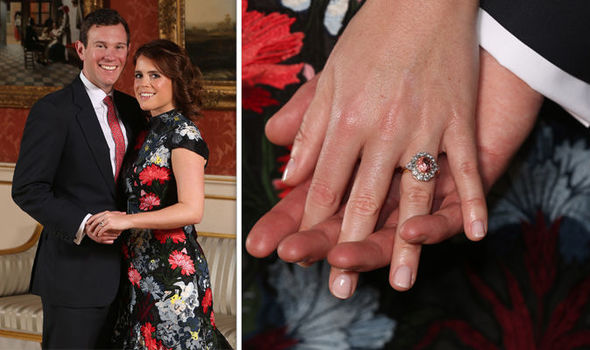 Zoe Kravitz
She's known for her not so conventional style, so it should come as no surprise to anyone that actress Zoe Kravtiz's engagement ring is one of a kind. She secretly got engaged in February, and despite wearing her ring on the red carpet at the Met Gala, nobody picked up on it until she 'casually' mentioned it in a Rolling Stone interview eight months later. She had admired her bling from afar (i.e. on Instagram), and her now fiance had the good sense to choose it for the proposal. It's an 18th century diamond 'half loop' featuring a row of collet set rose cut diamonds set in silver-topped gold. It's perfectly non-traditional, and perfectly Zoe.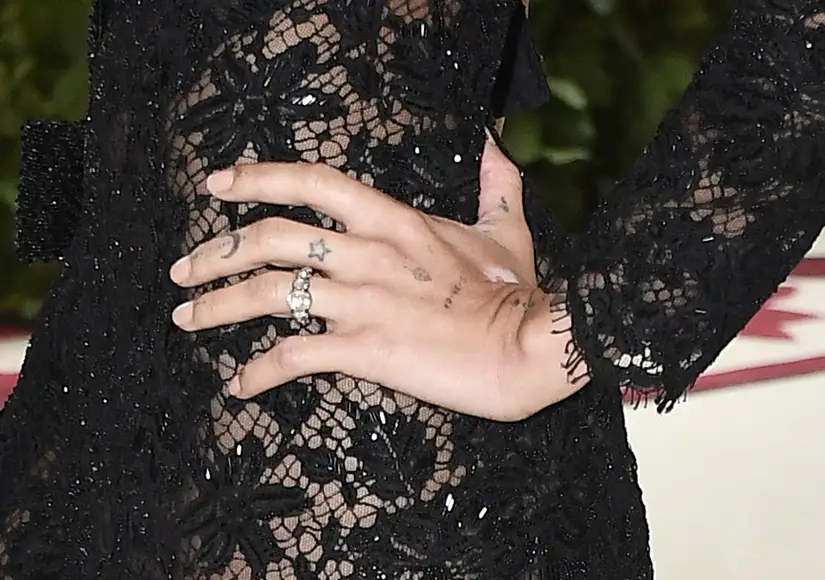 Priyanka Chopra
One of the cutest celebrity couples around, we can't help but smile whenever we see Priyanka Chopra and Nick Jonas together. How can you not be impressed by a guy who shuts down Tiffany & Co. to buy an engagement ring, or a girl who's wedding veil measures 75 feet? This pair don't do anything in half measures, which should've been obvious the moment we set eyes on her engagement bling. It's a cushion cut, four carat diamond set in platinum, with small (in comparison) baguette diamonds and teeny diamond embellishments either side.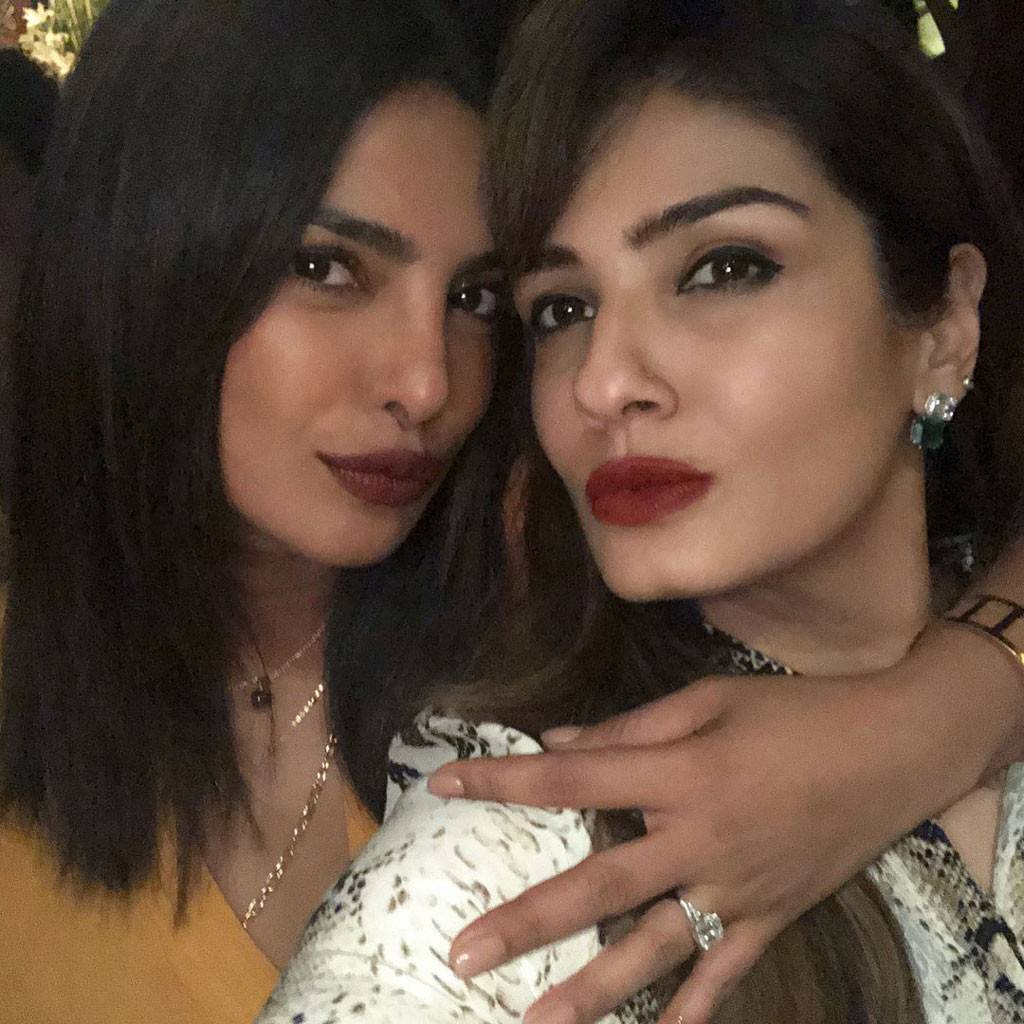 Karlie Kloss
Model Karlie Kloss has been dating her now husband, Joshua Kushner, since 2012. So when they finally revealed that Joshua (brother to Jared Kushner, the son-in-law of Donald Trump), had popped the question, nobody was shocked. When she showed off her engagement ring on Instagram, however, pretty much everyone was lost for words. Her breathtaking ring is a huge cushion cut solitaire, set high above a thin pave band set in platinum. The happy couple tied the knot in October, but there's no word on whether any of the Trumps showed up!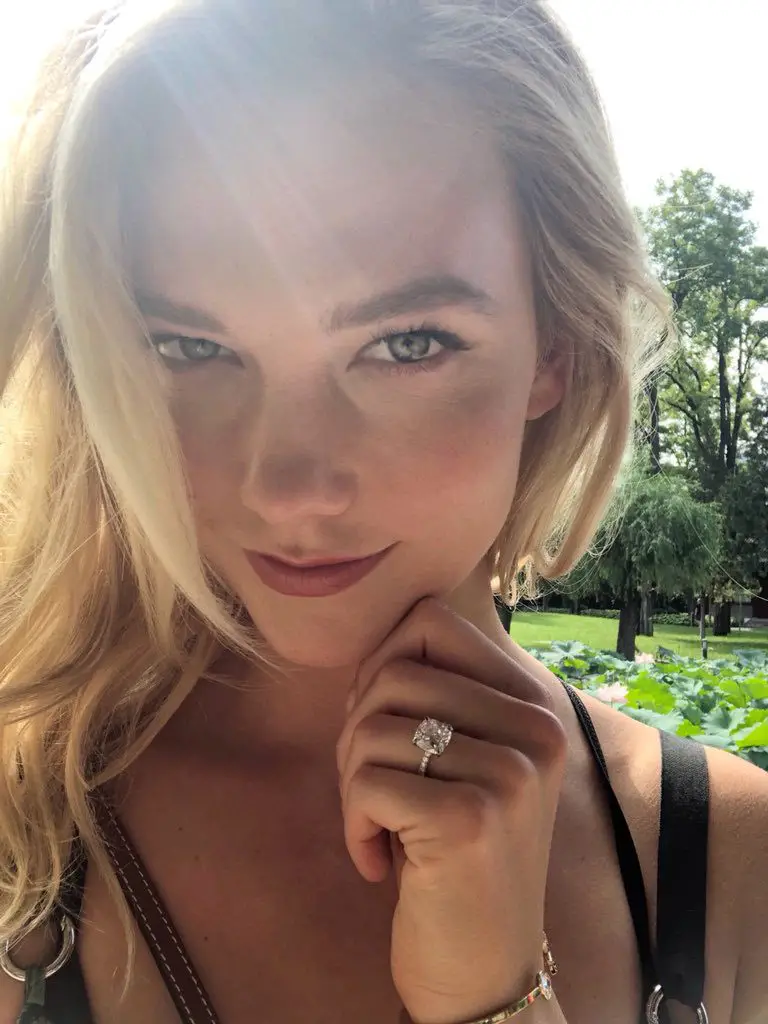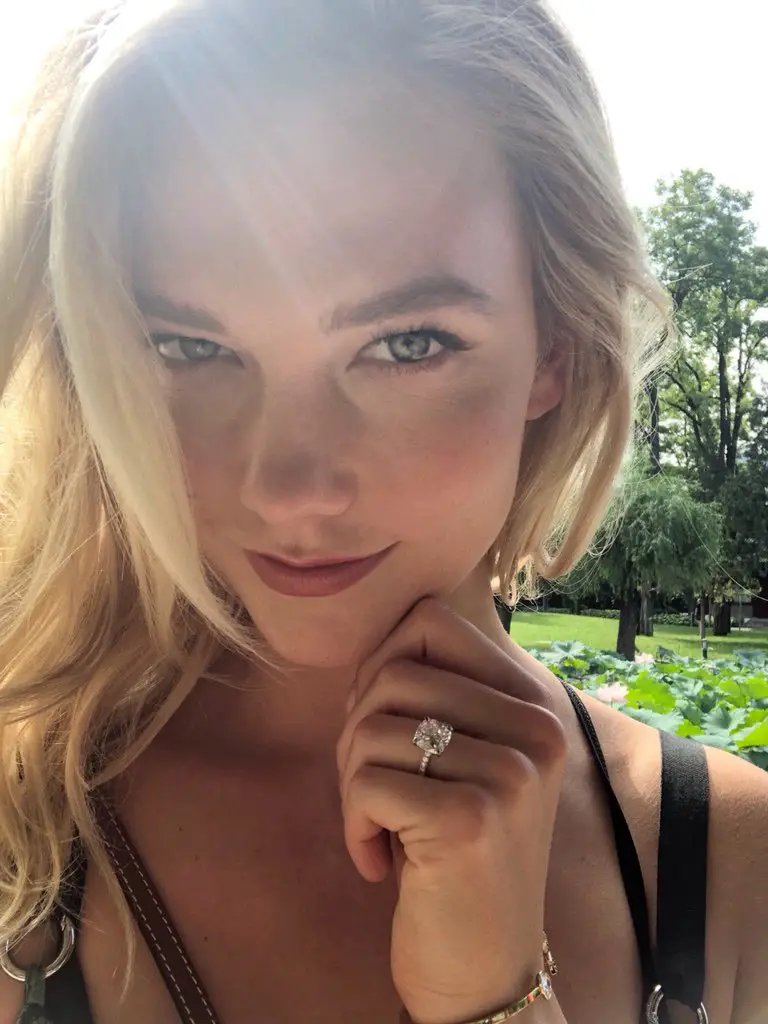 Lady Gaga
A potential Oscar-winning turn in A Star Is Born and a new fiance – it's been a pretty big year for Lady Gaga. The superstar may have used Princess Eugenie's bling as inspiration, because her engagement ring is also a huge pink-hued stone (most likely a sapphire, possibly a padparadscha sapphire) surrounded by round white diamonds in a pretty floral layout. Bigger is always better with Gaga however – the oval-shaped pink diamond is 6-7 carats and the surrounding white diamonds total 3-4 carats. Yep, definitely worthy of Gaga's style!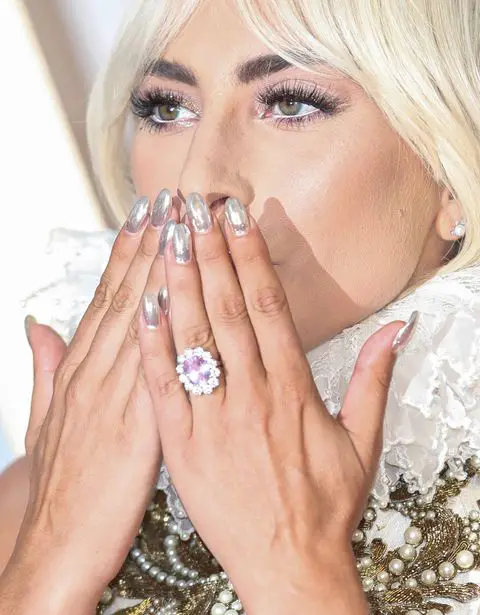 Hailey Baldwin
Of all the celebrities to get engaged this year, we really didn't think that Justin Bieber would be one! The sometimes controversial singer proposed to Hailey Baldwin (yep, that's Alec Baldwin's daughter) during the summer, and her engagement ring is certainly the most show-stopping we've seen. Hailey once tweeted 'if my ring isn't as big as Blake Lively's, I don't want to get married'. Clearly Justin did his research, because Hailey's rock is pretty much an exact – but bigger – replica of Blake's. In other words, it's a huge oval-shaped diamond in a classic prong setting, resting on top of a thin gold band with tiny but sparkling pave diamonds.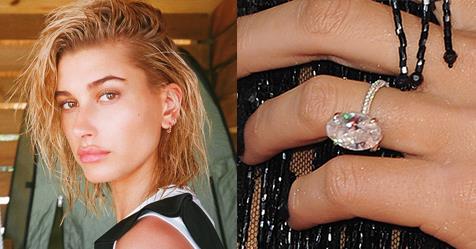 Ariana Grande
Ari has most definitely been on an emotional rollercoaster this past while. From a terrorist attack at one of her concerts, to her ex-boyfriend dying from a drug overdose, to her very high profile engagement (and break up) with SNL star Pete Davidson, she's hardly been away from the spotlight. She may no longer be wearing her engagement ring, but we couldn't not mention it here. That three carat, pear shaped diamond ring was just full of sparkle – much like Ari herself – and not least because of the glitzy diamond halo and pave band.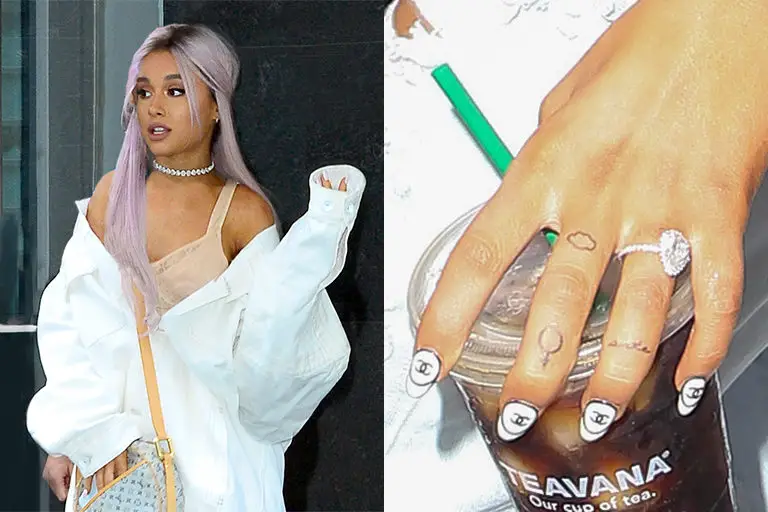 Michelle Williams
Former Destiny's Child star Michelle Williams wins the title for our favourite engagement ring of the year. Her super sweet fiance Chad Johnson was single for 11 years, but made sure to put $150 a month aside for his future wife's engagement ring. Little did he know Michelle would be the woman he bought it for! Her ring is a fabulous square cut diamond with a diamond halo, split shank and pave diamond band. From every angle it's absolutely gorgeous, and we can't wait to see more up-close pictures of this beauty.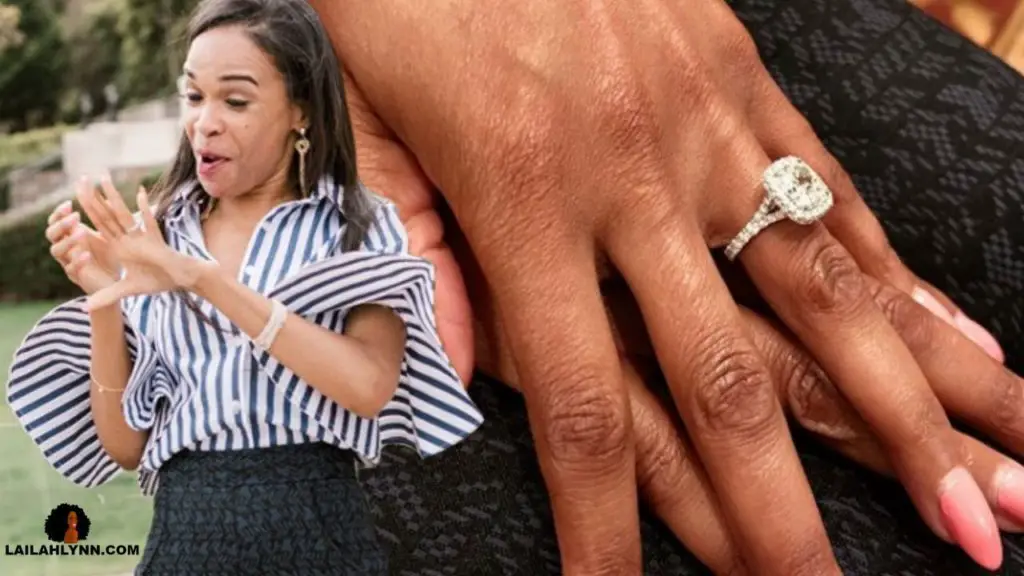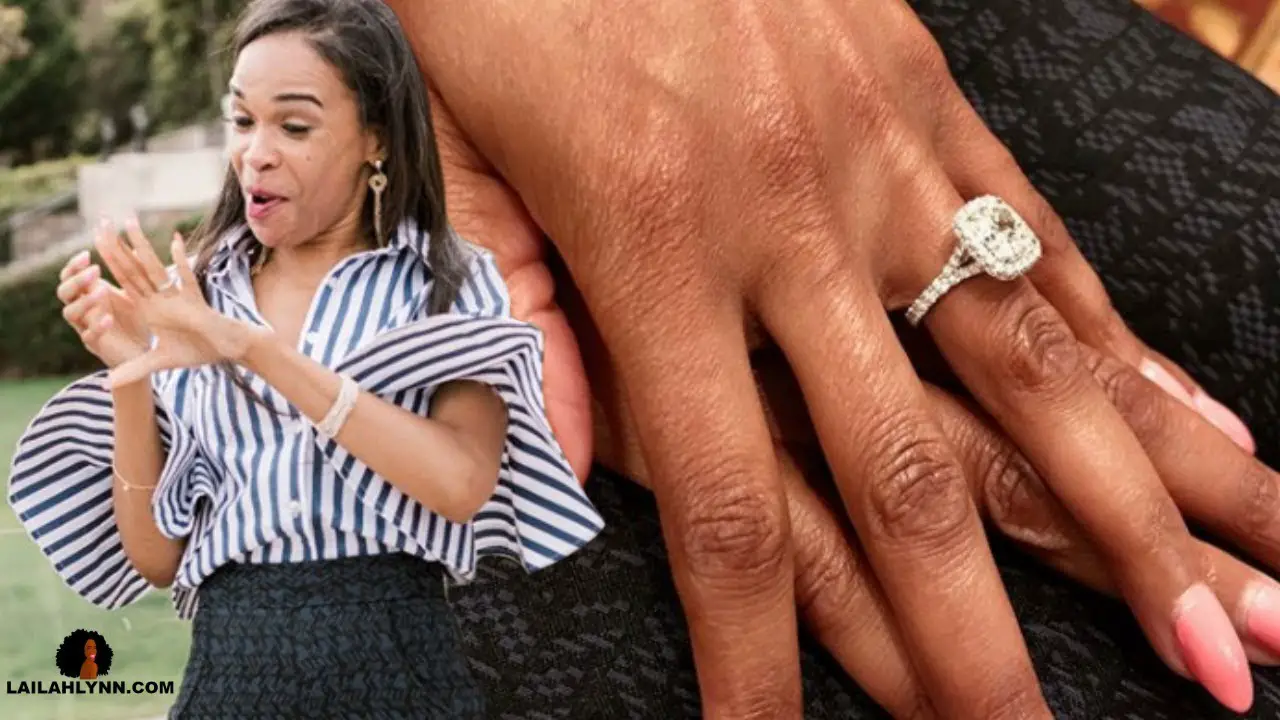 Ellie Goulding
Singer Ellie Goulding has been taking a break from music recently, which means she's had plenty of time to fall in love with and get engaged to art dealer Casper Jopling. The pair had been dating for 18 months when an engagement announcement appeared in The Times newspaper, but because Ellie's 'real' name (Elena) was used, her fans didn't immediately spot it. But now that it's all out in the open, Ellie has revealed some details about her bling. It's a 100 year old antique, and it features a huge round diamond on top with tiny diamond pave details along the band. Doesn't it make you 'starry-eyed'?