With the 90th Academy Awards (or Oscars, to you and me) taking place this tomorrow, we thought we'd look beyond the trophies, scandals and red carpet dresses to see what kind of engagement rings have graced the Oscars stage. Here are 10 noteworthy engagement rings from Best Actress Oscar winners over the past couple of years. Like the fashion choices of the nominees, the style varies a lot, but each and every one of these rings is a winner if you ask us…
Natalie Portman
Black Swan star Natalie Portman won her Best Actress Oscar for playing the aforementioned film's main character in 2010. It turns out 2010 was quite the year for Natalie – she also got engaged to beau Benjamin Millepied (who just so happened to be the choreographer for that movie), and announced that they were due to welcome their first baby together too! With so many happy occasions to celebrate, it's no wonder Natalie has a stunning engagement ring. Designed by Jamie Wolf with Benjamin's input, it's an antique round old mine cut diamond with a double halo of conflict free pave diamonds and set in recycled platinum. This ultra eco-friendly ring ties in with Natalie's vegan and environmental belief systems, and we think that's seriously awesome.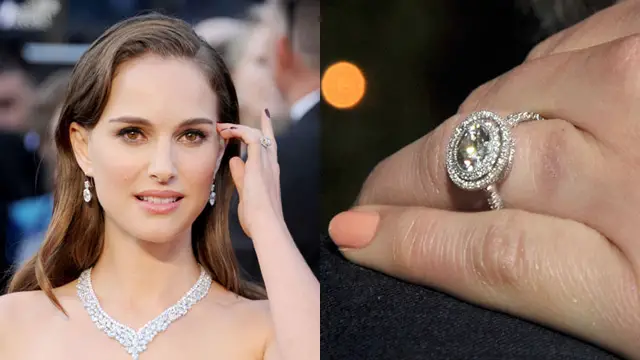 Reese Witherspoon
One of America's sweethearts, it's no wonder Reese Witherspoon won an Oscar for such an iconic, all-American role – playing June Carter in the Johnny Cash biopic Walk The Line. That was back in 2006, long before she met the man who gave her this gorgeous engagement ring. That man is talent agent Jim Toth, who has stayed largely under the radar since their romance and marriage became public knowledge. Thankfully Reese isn't so shy about showing off the ring she got. It's a very unique, 4-carat ashoka cut diamond (kind of a blend of an emerald cut and cushion cut) with a delicate pave diamond and platinum band. The Ashoka cut is very rare because the rough diamond needed must be exceptionally long and of flawless quality – so this is really a one-of-a-kind piece.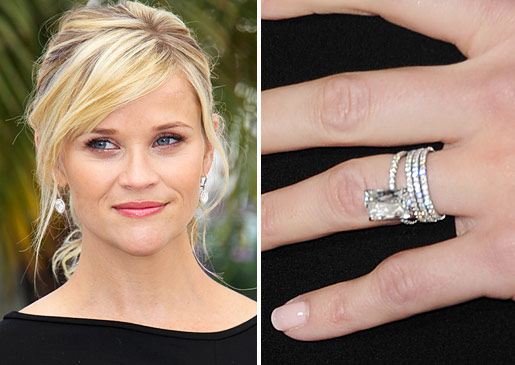 Gwyneth Paltrow
She may be equally as famous for her 'conscious uncoupling' from Coldplay's Chris Martin as her acting talents, but Gwyneth Paltrow is no stranger to the Oscars stage. She won her little golden man for her leading role in Shakespeare in Love back in 1998, but the engagement we're looking at here is a lot more recent – she debuted it on the red carpet this past January. It's from Brad Falchuk, who she met on the set of TV show Glee back in 2014, and who she's rarely been seen without since. The pair announced their engagement in Gwyneth's 'Goop' magazine, and she gave us a first glimpse of the ring. It's a gigantic blue gemstone, we're assuming sapphire, in a prong setting with a thick and detailed, vintage-style band. Trust us, you won't be able to miss it next time she walks a red carpet.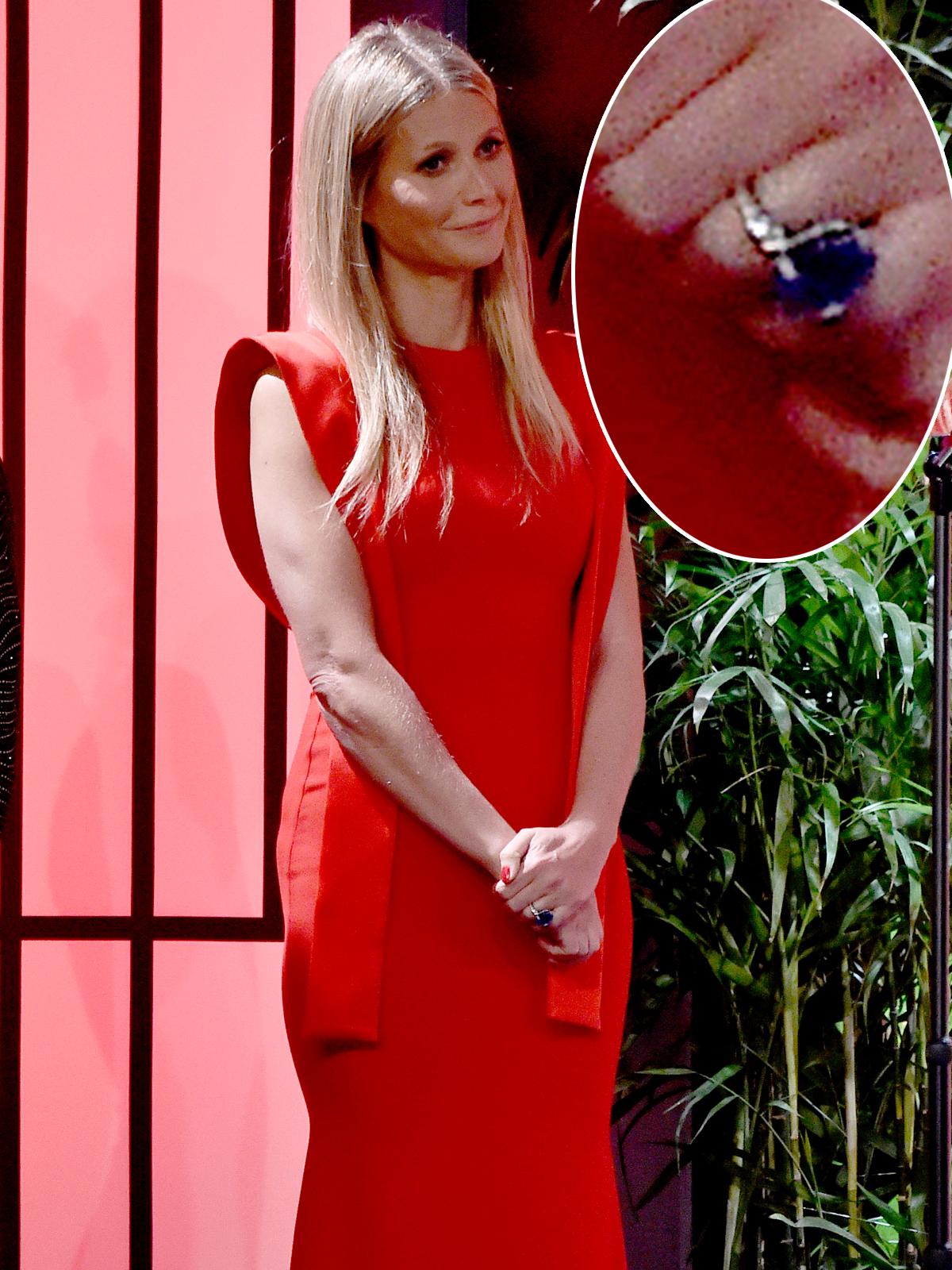 Halle Berry
Halle Berry made history in 2002 when she won her Best Actress Oscar for Monster's Ball – she was the first (and is still the only) black woman to win the prestigious award. It seems Halle's trend for breaking the mould didn't stop there – she is also one of the more recent celebrities we've spotted to sport an emerald engagement ring. It came from her now ex-husband Olivier Martinez and is supposedly worth $100,000. It features a square cut emerald in the centre (w're guessing around 3 carats) accented with two small round diamonds – all in bezel settings. The stones are set in a thick yellow gold band with micro pave diamonds and/or filigree detailing, making this a bold and very unique choice for a very unique star in the world.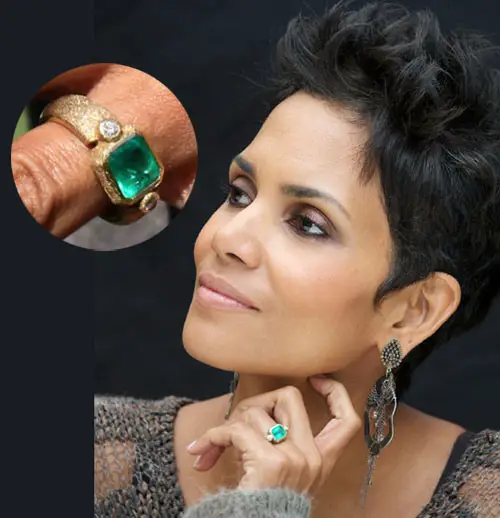 Brie Larson
Brie Larson won her Oscar for one of the most harrowing and uplifting films we've seen in a long time – Room, the story of a mother and son trapped in the captivity of a single windowless room. She won the gong in 2016, which turned out to be her biggest year yet… because she also got engaged to long-term boyfriend Alex Greenwald (lead singer of Phantom Planet). The ring certainly bucks the trend for big and blingy designs the rest of the actresses on this list war. It's a sweet and traditional round diamond maybe 2 carats in size, and it sits on a split shank with beautiful vintage detailing. If we could choose one ring from this list to wear ourselves, this one would be it.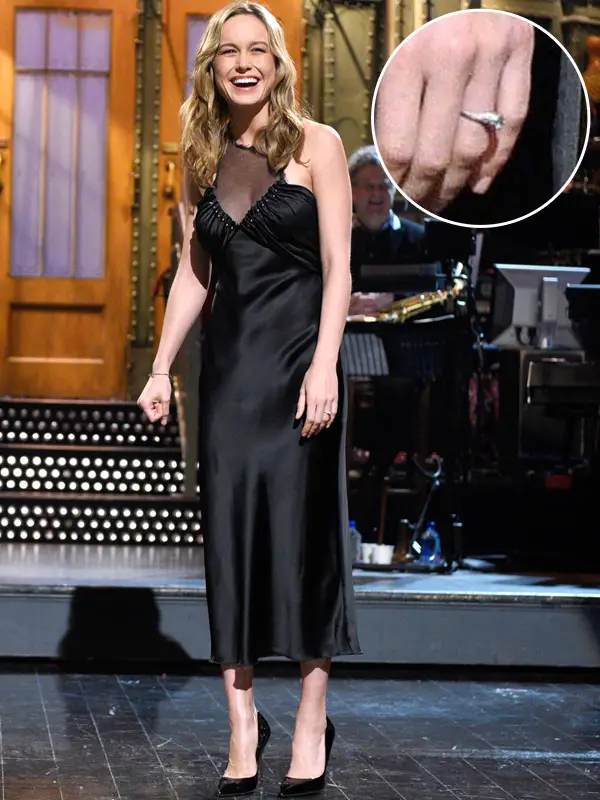 Marion Cotillard
Marion Cotillard is a French actress who won her Oscar for her portrayal of Edith Piaf in La Vie En Rose back in 2007. Naturally, Marion is an ultra stylish lady, and her engagement ring is no different… except that apparently it's not an engagement ring. Despite being given to her as a gift by long term boyfriend Guillaume Canet – who she also has two children with –  Marion says the couple are not married or engaged. Nonetheless, we're considering this an engagement ring. It's a beautiful diamond solitaire, delicate and perfectly crafted. It sits in a prong setting on a yellow gold band. Traditional and timeless, she also wears it with a thin beaded eternity band. An impossibly chic dream team.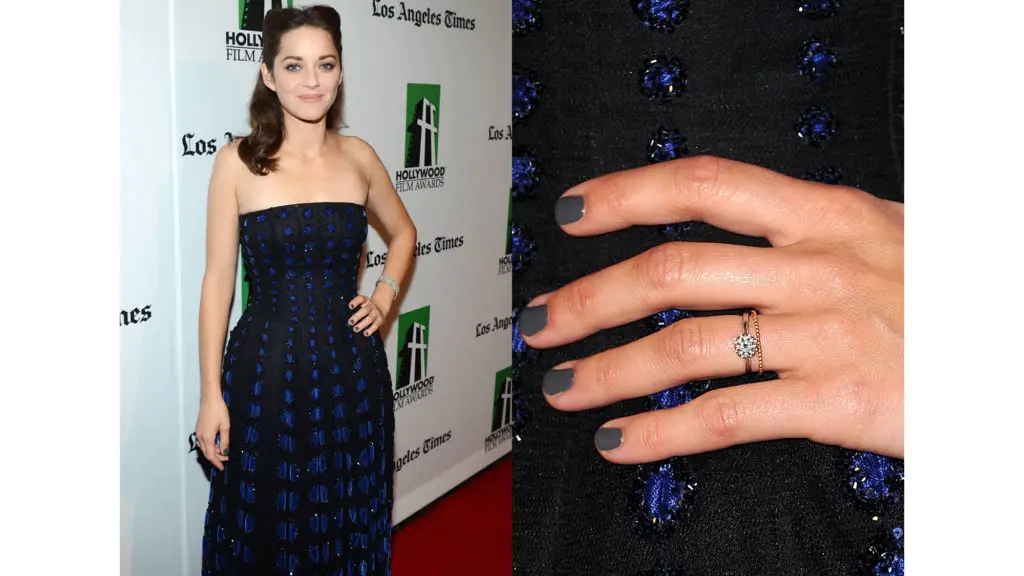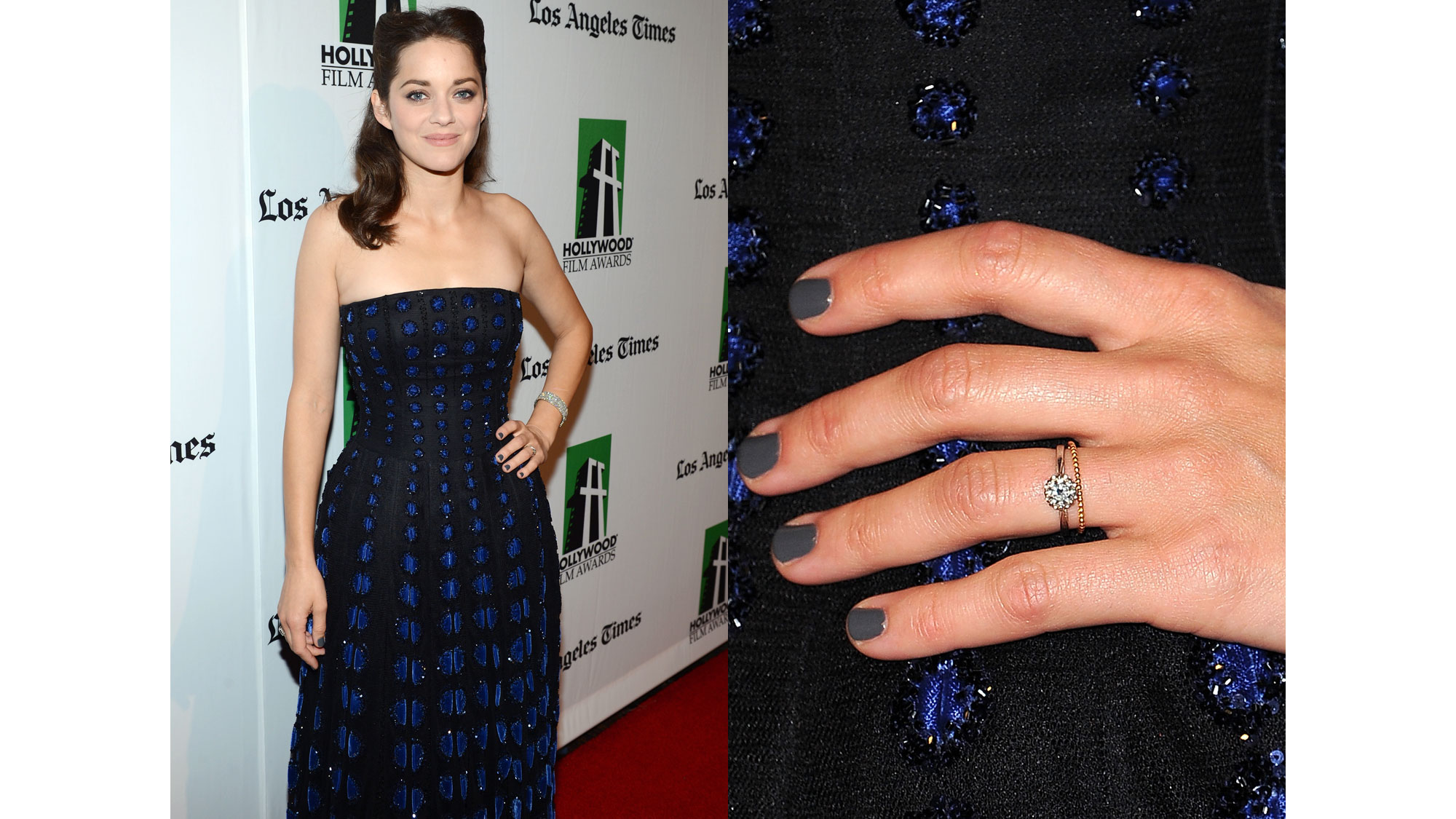 Hilary Swank
The second star on this list to rock the emerald trend is Hilary Swank, who has not one but two Best Actress Oscars. She won in 1993 for her role in Camp Wilder and again in 2004 for her role in Clint Eastwood's Million Dollar Baby. The engagement ring in question came more recently however, when boyfriend Ruben Torres popped the question in 2016. The pair have since ended their engagement, which is a shame, because we really loved this engagement ring. It's a square cut emerald with a white diamond halo, resting on a split shank yellow gold band. That colour combination is simply to die for, and the vintage-inspired design is all the rage right now too.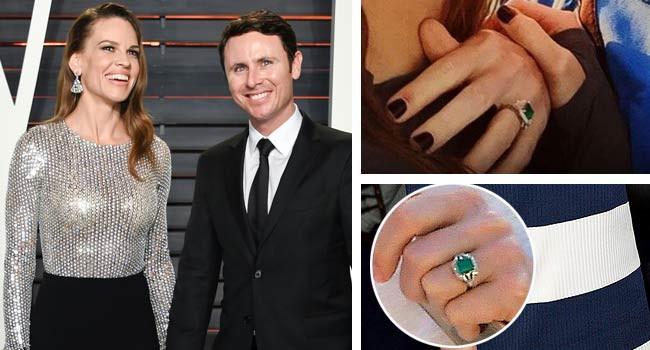 Sandra Bullock
Considering the many stellar films she's been a part of, it's hard to believe that Sandra Bullock only has one Oscar to her name – she won Best Actress in 2010 for her portrayal of Leigh Anne Tuohy in The Blind Side. It came at a time of turbulence in Sandra's personal life, as she was in the middle of not only breaking up with husband Jesse James but also adopting her first child. Since Jesse was the one to give her this eye-catching bling, we obviously don't see it anymore, which is sad! This unique piece is a Neil Lane creation and features two round diamonds, each on their own double pave band. A network of smaller diamonds arranged in a triangular setting sits between the two larger stones, making this a tangle of pure bling that we can't stop looking at.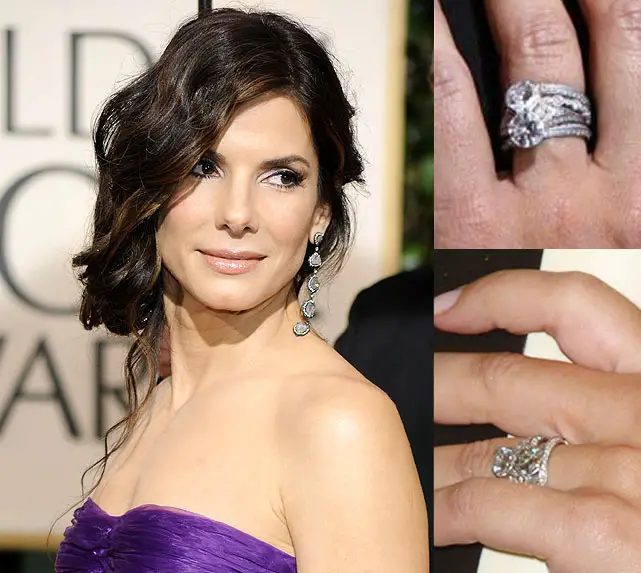 Margot Robbie
Okay, we have a confession to make – Margot Robbie hasn't actually won an Oscar… yet. However, she is nominated for Best Actress this year for her role as Tonya Harding in I, Tonya. We have high hopes that if she doesn't win this year, her time will come very soon. This talented Aussie actress got hitched in 2016 to fellow actor Tom Ackerley, and her engagement ring sparked a trend that shows no signs of going away – the pear shaped diamond engagement ring. Her dainty design features a small (by Hollywood standards) pear shaped diamond on a pave diamond band set in yellow gold. She wears it with a matching pave wedding band for an extra touch of classic glamour. We love it.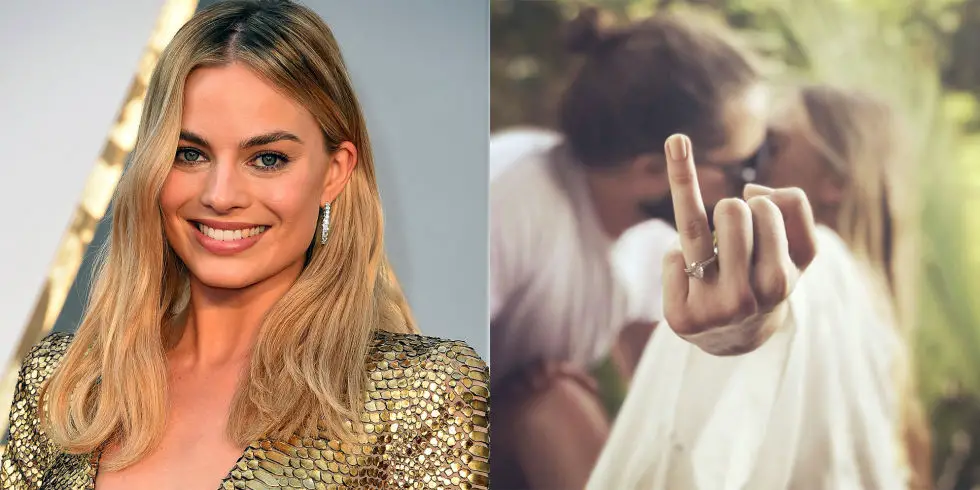 Audrey Hepburn
Style icon, humanitarian and Oscar winning actress are just three of many wonderful things Audrey Hepburn could claim to be. Winning the Best Actress award in 1954 for Roman Holiday, Audrey's engagement ring is definitely our favourite on this list. When she married her first husband Mel Ferrer that same year, he gifted her with not one, not two, but THREE rings. One, the 'official' engagement ring, was a platinum eternity band with channel set baguette diamonds. On their wedding day, he gave her matching faceted bands, one in rose gold and one in white gold. Audrey rarely stacked the rings together, but was often pictured wearing one on her ring finger – usually whichever one matched her outfit the best.