Put it this way, she's making a huge loss…
Diva superstar Mariah Carey currently holds the title of 'Biggest Engagement Ring We've Ever Seen'. Seriously – it's even bigger than Elizabeth Taylor's famous diamond ring from Richard Burton, which weighed in at 33.19 carats. Carey's rock is an even 35 carats, and to be honest, we expected nothing less from her.
Australian media mogul James Packer gave Mariah the aforementioned gigantic engagement ring when he proposed back in January 2016. They had separated by October that same year, allegedly because of Mariah's extravagant spending and reality TV show. The only comment either of them have made about the ill-fated relationship however is that it was 'a mistake' on both sides, so we'll probably never know the real truth.
Anyway, the engagement ring stole the limelight any time the pair stepped out in public together, and for good reason. The 35 carat, emerald cut diamond is set in platinum and accented with tapered baguette diamonds on either side. It was designed by luxury jeweller and Mariah's close friend, Wilfredo Rosado. Packer is thought to have spent up to $13 million on the piece, and Mariah has joked that it was 'so heavy I can't lift my arm up'.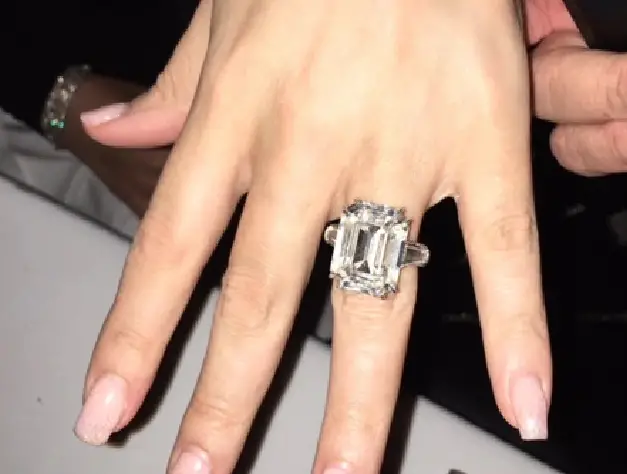 After their romance turned from sweet to sour, Mariah and James ended up having to make a settlement via their legal teams. According to gossip columns the diva wanted an 'inconvenience fee' of $50 million (wow) – we don't know what she got in the end, but we do know that part of the settlement included keeping her engagement ring. She was spotted wearing it out and about until quite recently, albeit on her middle finger. Perhaps a non-verbal dig at James?
As part of the process of 'moving on', Mariah decided to sell the ring under the radar this week…. For a measly $2.1 million. The buyer was an anonymous jeweller in Los Angeles who has been threatened with litigation if he/she comes forward, so that's likely to be all we'll find out about the sale. It's at least $7.1 million less than what her bling was worth, which serves as perfect proof that diamonds have a low resale value and are not, in fact, a good investment. Not that Mariah's financial advisors need to be worried.
We're sorry to see this ring disappear from the public eye, but we're sure Mariah will have many more jewellery pieces to dazzle us in future.